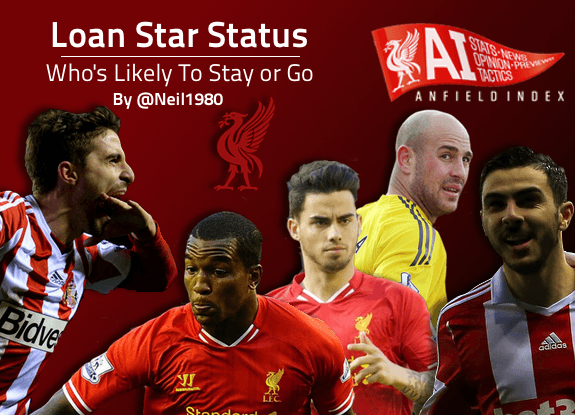 Liverpool's Loan Star Status | Who's Likely To Stay or Go?

Amidst the heady concoction of blistering pace, razor sharp attacking and, at times, haphazard defending served up by the Liverpool first team over the past season, it may have been easy to forget that the Reds also had  twelve players out on loan at various clubs, domestically, across Europe, and even in South America. Liverpool's success in securing a second place finish and, with it, automatic Champions League qualification has made it an absolute necessity to add quality and depth to what is already a superbly functioning, tight-knit, if somewhat small, unit, in order to compete on all fronts. The question is, therefore, can any of the Reds' prodigal sons return to make a significant impact at their parent club and, if not, what's next for them?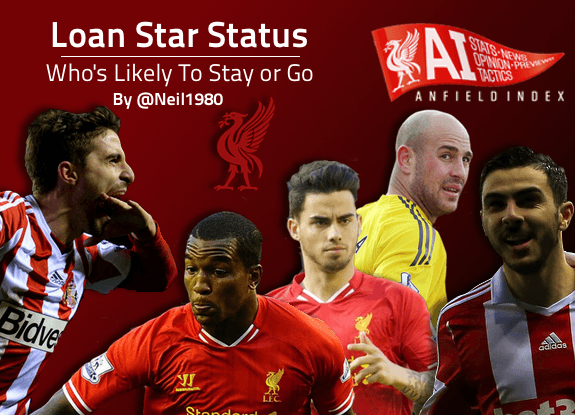 Let's start at home in the Premier League, where the Reds have had two players bidding to impress at clubs famous for playing in red and white stripes; Oussama Assaidi and Fabio Borini – at Stoke and Sunderland respectively.
Assaidi
Signed from Herenveen, for a fee in the region of €4m, in Brendan Rodgers' first transfer window, Assaidi failed to impress at LFC and was sent to Stoke at the beginning of the 2013/14 season. Under Mark Hughes, the Moroccan international performed well in what was a campaign interrupted by persistent niggling knee problems. Five goals and three assists in sixteen starts, including a scintillating last minute winner against Chelsea, have raised Assaidi's stock on Trent and made a permanent move all the more likely. Unfortunately for Assaidi, the aforementioned knee problems have put the brakes on any potential switch. However, providing the injury problems can be overcome, a move to Stoke on a permanent basis seems almost certain, with the Reds likely to do business for around €6.5m.
Borini
The highest profile player to be sent out on loan last summer was, undoubtedly, Fabio Borini. Rodgers's first signing, for a fee of €12m (give or take), Borini struggled to find his place in what was an embryonic Liverpool side under Rodgers in the beginning. A series of unfortunate injuries meant the Italian international was unable to gain any sort of foothold, in what was a year  I'm sure he'd rather forget.
At Sunderland however, Borini was a major player, becoming almost a talismanic figure in Gus Poyet's team's gravity-defying surge up the table, and through the cup competitions. Crucial goals against Newcastle and Chelsea in the league, and Manchester United in the Capital One Cup, contributed to his tally of ten goals and three assists in thirty starts in all competitions (including a wonderful strike to give Sunderland the lead in the Capital One Cup final). Having shown the battling qualities, skill, ability and numbers to prove himself as a regular Premier League performer, and with Rodgers known to like him, Borini looks likely to return to Liverpool and become part of the first team squad, despite strong interest from the Black Cats. Unlikely to displace Suarez and Sturridge too often, Borini certainly provides adequate cover and could see plenty of game-time, with Liverpool set to compete on four fronts this year. A young man, with the attributes and attitude to improve, Borini could remain a Red for many years to come.
Suso
A player who many have had high hopes for since his arrival on Merseyside as a seventeen year old, is Suso. A slight, skilful player, with an eye for a pass, Suso featured in Liverpool's first team on and off during the first six months of Rodgers' reign. Concerns over tactical nous, strength, stamina and attitude, plus the arrival of Coutinho saw the Spanish youth international drop out of contention, and he was subsequently loaned to Almeria. Playing for a side destined to be in a battle against relegation, Suso performed relatively well, posting three goals and seven assists in twenty eight starts. Questions still remain over the youngster's temperament though, borne out by his nine bookings, and his dismissal in a crucial match against Real Betis, for what can only be described as a horrendous tackle. Coutinho's acquisition, strong interest in Adam Lallana, and other attacking midfielders, tends to suggest that Suso is not in the Liverpool manager's future plans. Disappointing as that may be to some, it doesn't come as a huge surprise; as  pretty a footballer as the young man is, he hasn't progressed far enough to be seriously considered as a first team starter and lacks the physicality of a Coutinho or a Sterling. A return to Spain, preferably on a permanent basis, is both likely and best for the club.
Ilori
Moving into defence now, Liverpool had both a young centre-back and a young right-back out on loan last season. Tiago Ilori, the Portuguese flyer,  has never played for LFC. Loaned out to Granada in Spain, the 18 year old impressed in a somewhat injury hampered campaign, helping the Andalucian side beat the drop and stay in the Primera Division. Ilori did so well that Granada are very keen to extend his deal for another season, however Liverpool have not, as yet, acquiesced to this request, leading to speculation that Ilori may well remain at Liverpool as a back up next year. Whether that happens is likely to depend largely on any outgoings in defensive staff, with both Agger's and Johnson's futures uncertain.
Wisdom
Andre Wisdom spent his year on loan with Championship side Derby County, playing a key role in the Rams' run to the play-offs. Unfortunately for Andre and for Derby the run ultimately ended in heartbreak, as the Rams were defeated by a very late winner, despite being by far the better side, and playing against ten men for much of the game. A consistent performer at the top of the Championship, Wisdom did his chances of a return to LFC no harm at all, with assured and calm defensive performances at right-back. An area of his game which hasn't improved, unfortunately, is coming forward, with contributions in the final third kept to a minimum and often  looking uncertain when asked to carry the ball into the attacking sphere. Derby boss, Steve Mclaren, would like to keep Wisdom for another season, however, it seems likely that he may return to Anfield as cover for the 2014/15 season, especially should Johnson be moved on.
Ibe & McClaughlin
On now to two of the youngest players to be loaned out by Liverpool last season, and two whippets with great potential, Jordan Ibe and Ryan McClaughlin. Having broken into the first team during Rodgers' first season, scoring the only goal in the Reds' last home game against QPR, Jordan Ibe at one point looked to be outstripping Raheem Sterling in terms of the pace of the pairs' development. However Sterling's practically vertical rise from the beginning of December 2013, gave Brendan Rodgers the chance to let Ibe go out on loan to gain vital experience. Playing for a team in a continuing downward spiral under Lee Clark, Ibe had his work cut out to make an impact, however, he did just that. A goal and an assist in just four league starts and energetic displays from the bench helped the Brummies avoid a relegation which at one point seemed inevitable. Ibe will return to LFC this summer, and will play a part for the Reds in the upcoming season. Depending on how he develops, and how Liverpool fare in Europe and the domestic cups, we may see Ibe loaned out in January, however, this time to a Premier League or high-placed Championship club.
A successful short-term loan deal at Barnsley has improved Ryan McClaughlin's reputation at Liverpool further still. The 19 year old right-back operated further forward for the Championship side, and showed he has the attributes to potentially play in either position down the flank in future. Mclaughlin will return to the Reds and enjoy a full pre-season with the squad, under the tutelage of Brendan Rodgers, and may be kept around the first team squad for the early part of next season. With Moreno, or A N Other top left-back scheduled to arrive this summer, McClaughlin could again see himself loaned out later in the season to secure experience and playing time, however, he's one that there are high hopes for in the future.
Unlikely to Return
The other five players loaned out by LFC this season are, for a variety of reasons, unlikely to play for Liverpool again. Pepe Reina, spent a largely successful season in Naples, under former Reds' boss Rafa Benitez. High wages, poor form and his open letter upon leaving, make it a near certainty the goalkeeper will be sold this summer. A move to Spain or Italy appears on the cards, however just where he will end up is unclear for now. Conor Coady did well under Nigel Clough at the heart of Sheffield United's midfield. A robust, energetic performer, Coady may do well in the Championship in future, but a return to Liverpool is definitely a bridge too far. Krisztian Adorjan scored three league goals playing in an unfamiliar right-sided role for, Dutch Eeredivisie side, Groningen. Despite Groningen reaching the Europa League play-offs, they are unwilling to make the Hungarian's move permanent. With no place for Adorjan in Liverpool's midfield or front three, a transfer away from the club looks on the cards.
Seb Coates spent the season at Nacional after recovering from a cruciate injury sustained last year. Despite making the Uruguay squad for the World Cup, Coates has shown in his time in England that he doesn't have the requisite pace for a Premier League centre-back. A return to Uruguay on a permanent basis, or a move to Italy after the World Cup seem the most likely outcomes. Lastly, Liverpool will look to offload Jack Robinson after the full-back put in an uninspiring season for an abject Blackpool side last term. Sent off three times in thirty-two league starts, including one for a foul on fellow LFC loanee Jordon Ibe, Robinson has failed to show any hint that a place in LFCs first team squad should be bestowed upon him anytime soon, and he seems destined to be moved on.
Neil also writes at itsallinthegameblog.wordpress.com