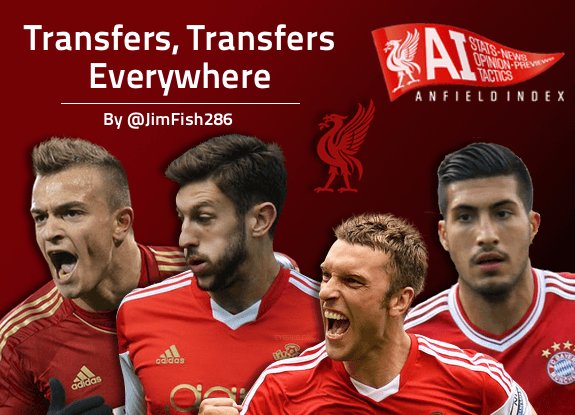 Transfers, Transfers, Everywhere!
Or so everybody with a Twitter account will have you believe. The difficulty, as we know, is getting the right deals done.
It's fair to say, however, that Liverpool have moved relatively quickly in the transfer market and have secured two very different types of players.  One in Emre Can who fits the profile of FSG and Brendan Rodgers. The other is Rickie Lambert, who quite frankly does not.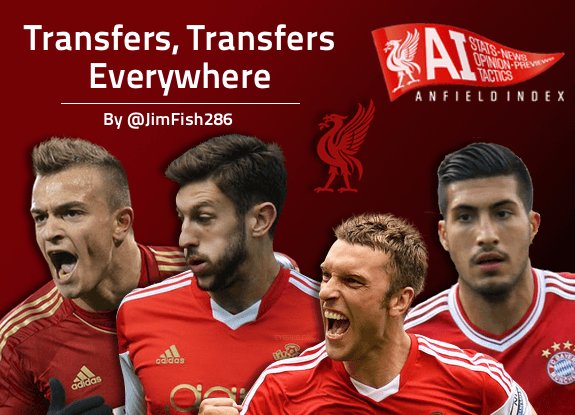 I say that because ever since Fenway Sports Group bought Liverpool Football Club in 2012 we have been shopping in a different market to the other big clubs in the Premier League and Europe. We had to find another way to win. The term "Moneyball" was used a lot initially but after the disaster of Damien Commolli's first spending spree that word was removed from the Liverpool management vocabulary.
John W. Henry and his team of advisors wanted to buy young, hungry, up and coming players at a relatively low price, develop them and if the opportunity arises, then sell them on at a profit. They wanted to build and create superstars, not buy the finished articles.
To help them achieve this they employed a young and hungry manager in Brendan Rodgers.
Initially, like any new relationship, there was teething problems. The most stand out issue came at the end of Rodgers' first transfer window in charge when Henry refused to sanction the £6million pound bid for the 28 year old Clint Dempsey. A lack of resale value was the main reason given as to why the deal didn't go through.
Hindsight is a wonderful thing though and we all look back at that near miss and we're extremely grateful for Henry sticking to his guns. Dempsey, although going to the World Cup with America, is now plying his trade in the MLS with Seattle Sounders.
Having seen the success that Daniel Sturridge and Phil Coutinho have had, and to a slightly lesser extent Joe Allen and Mamadou Sakho, it is clear to see that FSG and Rodgers' policy is paying impressive dividends.
So now we sit patiently and wait to see who else will walk through the gates of Melwood and be photographed leaning on anything and everything.
I'm sure it was a shock to everyone when it was Rickie Lambert, the 32 year old former Liverpool schoolboy, being paraded as Liverpool's newest and first signing of this transfer window.
Perhaps it is a sign of the balance of power shifting more towards Brendan Rodgers or perhaps it's a sign that, whilst building for the future is great, if you forget about the here and now then you will inevitably be caught out.
Whatever the reasoning behind the deal, I have to say I am impressed with the signing.
In very much the same mould of Teddy Sheringham , Lambert is a striker not blessed with blistering pace but with an excellent footballing brain. Similarly to Sheringham, Lambert has also worked his way up to the very top of English football through playing in the lower leagues.
It's a very clever piece of business from Rodgers. Lambert will sit on the bench mostly but will not moan nor cause conflict to the wonderful team spirit that Rodgers has worked tirelessly to create. Lambert will also give you goals.
With 117 goals in 235 games for Southampton he knows where the goal is and I'd expect him to get upwards of 15 goals in all competitions next season.
The next man through the door represents more of the out of the box sort of scouting that Liverpool are becoming well known for. Whilst spending plenty of time at Bayer Leverkusen games last season, most people, myself included, thought we were looking at Lars Bender, the impressive German international midfielder.
In fact, we were looking at Emre Can.
A 20 year old midfielder who has represented Germany at every age group apart from senior level and who can play in all the midfield roles, as well as cover in the full-back areas if required. Better judges of players than myself have said this young man is a star in the making and with Rodgers coaching him, who am I to disagree?
Last season, our success was built on a core of young English players, given the freedom to express themselves. The team spirit and never say die attitude that has been cultivated is vital.
So whilst we'd all love us to sign bigger named players, especially as we are back in Europe and hopefully we will yet again be in the title race, I just don't see it.
We will look at players who fit the profile. Players who are young, hungry and multi-functional.  Players who can offer flexibility tactically and who we can get the most out of now and in the future.
So whilst the rumour mill heats up and the list of targets gets longer and longer, just remember we aren't the club throwing money around at big named players anymore. We aren't throwing around the big wages. It's not that we can't attract them. We can, it's just that we're now in the business of building superstars, not buying them.