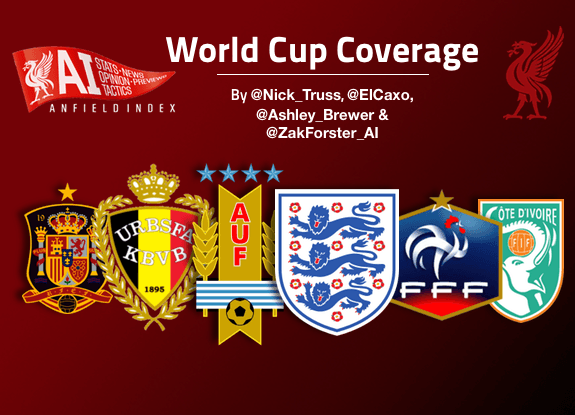 Anfield Index - World Cup Coverage!
Welcome to the Anfield Index writers' coverage of the 2014 FIFA World Cup in Brazil. With the tournament fast approaching the four writers behind this have decided to come together to briefly explain our plan for the coverage and answer a few light-hearted World Cup questions to get the ball rolling.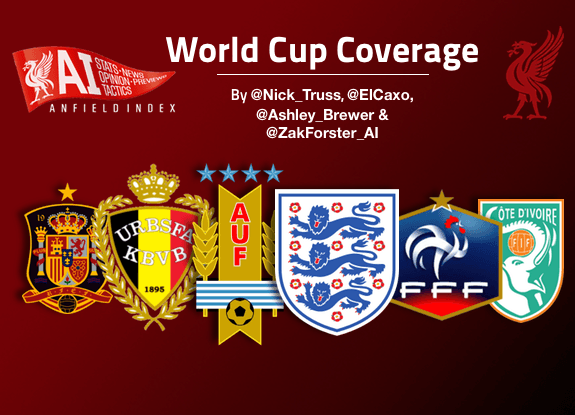 So let's meet the team. There is myself (Nick), Cal, Ash and Zak who will hopefully try to bring you some great coverage of the Liverpool players representing their countries in Brazil, whilst also getting a look at some of our potential new signings. They'll also be a weekly chat – like the one in this article – which we hope you can get involved with by answering some of the questions for yourself or by commenting on our views in the comments below.
As we are planning to discuss the Liverpool players at the World Cup let us start with the Liverpool player you are most looking forward to watching represent his country in Brazil?
Cal: It's got to be Raheem Sterling. He's torn it up all season and now he has the chance to do it on a much grander stage. Only hope Roy Hodgson gives him the chance and freedom.
Ash: For me it has to be Henderson – I want him to finally prove his doubters wrong.
Nick: It can be one man and one man only and that is Kolo Toure…… In all honesty, I am looking forward to watching all of our players ahead of the  new season but if I had to pick one it would be Daniel Sturridge, he's snatched a few chances in the warm ups but I hope he can prove himself to the rest of the world and remove the negativity surrounding himself.
Zak: The LFC player I'm most looking forward to watching is Jordan Henderson. I'm praying that he can take his form into the international setup and tie down his own starting berth for years to come. I hope he is just as pivotal to England as he is to Liverpool and that some of the haters from rival fanbases can finally open their eyes and see his qualities. Raheem Sterling is obviously another big one – if he gets into Roy's team then he can do some serious damage to our Group rivals.
Out of those players going who do you think will get the furthest in the competition?
Cal: France have looked irresistible in their warm up games and have a pretty simple group so I can see Mamadou Sakho doing alright.
Ash: I'm going to agree with Cal and go for Mamadou Sakho with France. They'll be up for this one I feel after the embarrassing show they put on in South Africa.
Nick: I don't think any of our players are going to go on to win the thing (Reina has a chance but does he count?). I think a few could reach the quarter-finals including Sakho with France, the England lads or Suarez and Coates.
Zak: Jon Flanagan. Jokes aside, Pepe Reina, he won't get any game time but Spain will carry him until the end in my opinion.
Many top Liverpool players haven't got the opportunity to go to Brazil either because they didn't make the cut or their team didn't qualify, who out of those players do you wish were at the tournament? And why?
Cal: Philipe Coutinho has got to feel pretty hard done by not making it into the Brazil squad; he's easily been better than Oscar this season. He's always great to watch and it would have been no different in his home World Cup.
Ash: Also Coutinho for me. It would have been the cherry on top of the cake in terms of how far he has come in the last 18 months at Liverpool, and it's his home country so he would have been buzzing around the pitch.
Nick: Iago Aspas is far more deserving of a place in that Spain squad than Fernando Torres; it's a disgrace, he should be in for his corners alone and I hope Spain regret their decision! Like the lads said it would have been nice for Coutinho and for Daniel Agger to captain Denmark if they had qualified.
Zak: I really wish Coutinho was there. I was absolutely gutted for him when Scolari chose to leave him out. I think he's had a stellar season and his improvement off the ball has been profound during this season. I love how hard working he has become and his pressing for Liverpool was so vital alongside the efforts of Henderson and Joe Allen, in that specific department.
Are there any Liverpool transfer targets you are looking to catch a glimpse of in Brazil?
Cal: Shaqiri has been mentioned in the rumour mills so will be interesting to see how he does in a Switzerland side with a bit of a reputation for being boring.
Ash: It would be interesting to see how Adam Lallana handles the pressure in an England shirt; it could define whether the club pay the money for him or don't and move on.
Nick: Lallana has impressed in the warm-ups, still not worth £30 million, but he's winning me over.
Zak: To be honest the LFC target I most wanted to see was Alberto Moreno, having only seen him a couple of times this season, but he was omitted by Del Bosque when the squad was cut down so now I'm really looking forward to seeing Serge Aurier – although he seems more intent on a switch to Arsenal, rather than Liverpool. I also hope Rickie Lambert gets a few games, I think we all wish him well.
S0 lets get onto the World Cup as a whole.
What is your favourite World Cup memory?
Cal: Michael Owen's goal in 2002 against Brazil. Shame about the rest of the match but at the time he was my hero and it was unbelievable.
Ash: The 2002 World Cup on a whole really – the Brazil side they had was magnificent. I remember watching England beat Denmark 3-0 and for the next week I was just recreating the goals, even though they were nothing special at all, and I have a very fond memory of watching the games at school.
Nick: 2002 for me as well. I was around for 1998 but 2002 is the one that sticks in my memory! The game against Brazil isn't a fantastic memory but it could have all been so different!
Zak: Gerrard's opener against the USA from the 2010 World Cup. Because it was Gerrard who scored the goal I went absolutely bananas. I was out in the street and everything. I was buzzing for him, with him being the Captain for that tournament too.
What is your favourite World Cup kit?
Cal: Always liked the Italy kit but Croatia's checkered number is pretty fetching.
Ash: I really liked Germany's home kit in 2006.
Nick: Like Cal I also usually like the Italy kits. The Portugal and France kits for this tournament are pretty smart though!
Zak: I'm not a huge fan of classic kits so mine is going to be a super recent one and by recent I mean current – the new Brazil kit! The standard yellow goes so well with the white shorts and I really like the host nation's third kit too. Sorry, no hipster choices from me.
Which group game are you most looking forward to at Brazil 2014?
Cal: Brazil vs Croatia and Germany vs Portugal.
Ash: England – Uruguay. Come on Luis.
Zak: I'm looking forward to England vs Italy simply because I actually think England can beat them and I think that game is going to go a long way to deciding our fate. I'm absolutely buzzing for the game but I'll probably be depressed after it.
Nick: Surprised none of you have gone for Spain-Netherlands. Spain-Chile could be a good game as well. Away from group B, I'm looking forward to watch any game at the Maracana.
What players are you most looking forward to seeing?
Cal: Modric, Pogba, Di Maria and Luis Suarez
Ash: This has changed a lot recently because all of the players I wanted to see are dropping like flies. There are the obvious ones like Suarez, Messi etc, but I don't know if there is anyone who I really want to see. I'd rather be open to be surprised by players.
Nick: For me its Suarez, Vidal and William Carvalho who I've heard good things about from a Sporting Lisbon fan.
Zak: Personally, I can't wait to watch Neymar because I think he's the hero that the Brazilian pubic are clinging on to and it will be interesting to see if he can carry the pressure like he did at the Confederations Cup last summer.
In your opinion who has the strongest possible starting XI at the World Cup?
Cal: Got to be Brazil, Spain or Germany – quality all the way through
Ash: On paper, Spain.
Nick: Germany or Spain for me.
Zak: The strongest XI is definitely Spain.
How do you rate England's Chances?
Cal: Not particularly highly! If Roy gives the players more freedom then maybe we'll be alright.
Ash: Not a chance in hell. If they get past the group stages I'll be surprised.
Nick: Quarter-Finals as a hopeful England fan. However, after that Honduras game, I don't know. But if we are going to go out early I want it to be a disaster to get the Hodge away from that set up.
Zak: England's chances are slim to none. We aren't going to win it but I fancy us to escape this Group of Death despite the strong opposition. I think the youthful squad is what's giving me this much optimism (which isn't that much anyway) despite ruling England out of the knockout stages the second we were drawn with Italy and Uruguay. Having seen the youngsters in the squad I changed my mind on our chances of escaping the group..
Which non-LFC player are you most looking forward to see playing in the England Shirt?
Cal: Leighton Baines is too good not to enjoy
Ash: Ross Barkley – no question about it.
Nick: Good shouts, for something different I'm hoping Oxlade-Chamberlain is fit and gets a shot.
Zak: The non-LFC England player I always enjoy watching is Oxlade-Chamberlain because of his pace, power and direct nature. I hope he shakes off this knee injury because it'd be a real shame for him after an injury-disrupted season for Arsenal. I'm also looking forward to seeing Ross Barkley, he could be an unreal player.
Final Question – Who are your semi-finalists and who from them is going to win it?
Cal: Italy, Portugal/Argentina, Brazil and France – Brazil to win it if they get that far
Ash: Spain, Brazil, Argentina and Greece, with the latter walking it – I am not just saying that because I got them in the sweepstakes….
Nick: Spain, Argentina, Brazil and Germany with Brazil to beat Spain in the final, although I would LOVE a Brazil – Argentina final.
Zak: Spain, Brazil, Germany, Argentina. Brazil are the home nation and they're a powerhouse so they're getting there no matter what! Spain and Germany are the best of the European teams and I expect those two to get there. Spain will win it from there – they're too good, just too good!
Finally where can the readers find your world cup ramblings?
Cal: @elcaxo
Ash: @Ashley_Brewer
Nick: @Nick_Truss
Zak: My ramblings can be found here: @ZakForster_AI #ramble