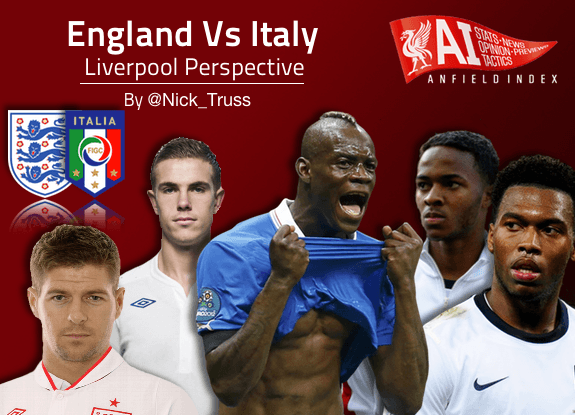 Liverpool Perspective: England Vs Italy Preview
The time is nearly upon us. At 11pm on Saturday night Steven Gerrard will lead Roy Hodgson's England side out of the tunnel at the Arena Amazonia for their opening Group D game against Italy. The last time these two sides met in an international tournament the game ended 0-0 with Italy winning on penalties. It will all be different this time though right? I mean there could be as many as 6 Liverpool players starting, however ,with Roy in charge it's likely to be 4 with 2 on the bench.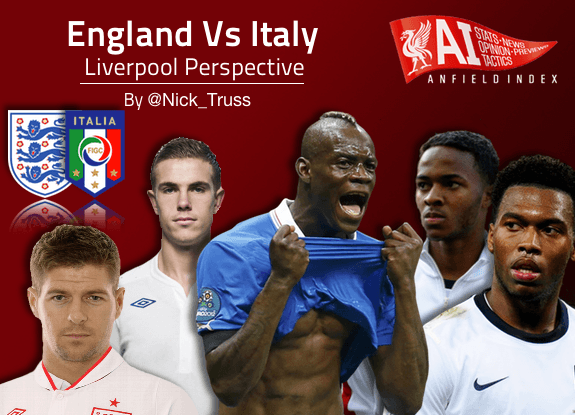 The Anfield Index World Cup team have decide to provide coverage of the World Cup mainly based on the Liverpool players involved in the tournament so this article will now look at the 6 Liverpool players included in England's 23 man squad analysing there potential uses in the squad and the likelihood that they will start the game against Italy on Saturday.

Steven Gerrard
This is likely to be Steven Gerrard's last World Cup so he does not want to go out with a whimper. A natural leader whose experience will be vital with the young squad selected around him. If I had to give a percentage on him starting the game against Italy then it would be 100%, unless he picks up an unfortunate injury in training between now and then. Steven Gerrard has been magnificent in his new role for Liverpool sitting in front of the defence, winning possession back every 12 minutes with a tackle success rate of 71.88%. Not only has he improved defensively but his accuracy from dead ball situations is one to be admired creating 11 assists from set plays for Liverpool last season whilst he also scored 10 penalties which could be vital practice if England face the dreaded task of a penalty shoot-out.
Jordan Henderson
Henderson has established himself as one of the best English midfielders in the game due to his hard work and determination, however he still faces criticism from many including Sir Alex Ferguson. I feel this criticism is unjust and believe than Henderson could play a vital part in any potential England success. I believe there is a very high chance of him starting the opening game alongside Gerrard in the England midfield. In this role Henderson's abilities are stunted as he has to provide the legs for Gerrard instead of applying pressure higher up the pitch. Henderson was an ever present for Liverpool last season and simply did not stop running. (Apart from that unfortunate suspension which could have altered the title race.) The pressing stats collated by Gags for Anfield Index show that over a 6 game period, Henderson made 152 pressing actions averaging a pressing action every 3.55 minutes. This shows that if employed in the correct role Henderson could prove a vital addition against a team like Italy who love to have possession of the ball.
Daniel Sturridge
If you heard me on the AI Writer Season Review edition of the Anfield Index Podcast you will have heard me express my love for Daniel Sturridge and how it is a real shame that he does not get the plaudits he deserves. I voted him as my Non-Luis Suarez LFC Player of the Season and there is no doubt that he should be leading the line on Saturday night. Daniel Sturridge finished the season with 21 Premier League goals, scoring a goal every 108 minutes. This is only 12 minutes more than Player of the Season Luis Suarez. Daniel Sturridge has a slightly better Clear Cut Chance Conversion than his fellow LFC striker with a rate of 56% compared to Suarez's 55%.
Glen Johnson
Probably the last and most undeserving of Liverpool guaranteed starters but with him being the only recognised right-back in England's 23 man squad so like Gerrard  it would seem only an injury would keep him out of the starting XI. There's no doubt that Johnson has had a poor season by his standards but considering the lack of options in this position it looks as if Glen has won himself a free pass to Brazil. I just really hope he can use this opportunity as a platform to find some sort of form ahead of next season.
Raheem Sterling
Raheem Sterling provides Roy Hodgson with his biggest selection headache. He seems to see something in Danny Welbeck which I for the life of me do not understand. For me the decision is easy, 100% Raheem Sterling, however the soft red card in the warm up game to Ecuador has not helped his cause. In reality, Raheem Sterling has been on top form in 2014 and is one of England's most inform players. Sterling successfully completed 92 dribbles last season, over 4 times more than Danny Welbeck's 21. Both players scored 9 goals each but it's creativity-wise where Raheem Sterling wins this battle. Sterling created 11 clear cut chances last season, which was one every 201.6 minutes. Welbeck created a clear cut chance every 1,459 minutes. If Hodgson is serious about progressing in the competition he will pick Sterling despite his youth and inexperience.
Rickie Lambert
Finally Liverpool latest signing Rickie Lambert, and it is likely that Lambert will start behind Sturridge on the bench, which could come into practice ahead of next season. Some interesting stats for Rickie Lambert include his Clear-Cut Chance Conversion of 61% proving that he certainly knows where the goal is. He has also created 13 Clear Cut Chances, which is one every 216.6 minutes. His England record supports this has he has either scored or assisted a goal in 5 of his 6 England games. I for one am looking forward to seeing Liverpool's first summer signing get some game time in Brazil. He's not bad a penalties either, scoring one in the World Cup will be good practice for Berlin next year.
The Line-Up
I asked the rest of the AI World Cup team for their line-up for the game on Saturday and here's what they said.
Ash: Well, due to the fact that Roy Hodgson has picked so many Liverpool players, I feel he should adopt their formation too, in order to get the best out of the midfielders (of course, he won't).
There's a better fluidity about England's attack when Rooney gets taken off.
Cal:
For more on Cal's suggestions head over to elcaxo.wordpress.com
Zak:
Rooney on the left might not be the most popular of choices but Sterling's form in that Number 10 role has been sparkling this season and his link-up with Sturridge could help England.
Nick:
I can't see Hodgson reverting from his trusted 4-2-3-1 formation for the opening game so here is my view on the team I would like him to play in that formation.
A lot of people are saying they wouldn't start Wayne Rooney, I agree his performances haven't been up to scratch for England but on his day he can produce something special, which is what the World Cup is all about. He would be the first I would pull off if the game wasn't going to plan, and bringing on Barkley as his replacement.
I would like England to play a 4-4-2 diamond formation similar to the one we witnessed Liverpool play towards the end of the season, the line-up in the formation would be as follows.
Allowing Gerrard to play in his new position not only has enhanced his performances for Liverpool but it also allows Henderson to be deployed further up the pitch where he can have a much larger impact on the game. As Zak mentioned, Sterling has been immense in the number 10 role and is full of confidence. According to Hodgson, Sterling has been on fire in training and if given the opportunity could be one of the best young players in the tournament.
Got your own opinion on the line-up? Tweet @AnfieldIndex or myself @Nick_Truss or comment in the comments section below.