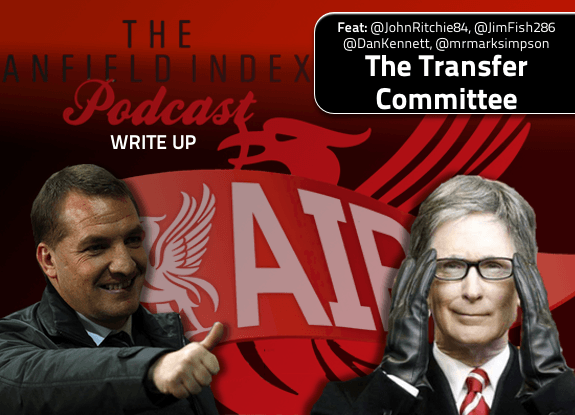 Liverpool's Transfer Committee Explained | AIPodcast Episode Summary
Below is a summary of the recent Anfield Index Transfer Committee Podcast, written in collaboration by myself James Nalton and Mark Simpson, who played the role of chief scout on the podcast. The summary is written primarily from Mark's point of view, and this will be reflected in the reports and conclusions contained. For the more in-depth version, listen to the podcast here , or follow the article and the podcast simultaneously for the full AI transfer committee experience!
It's worth noting that since the podcast was recorded, the club have made great strides in the deals for midfielder Emre Can, and left back Alberto Moreno. There are also reports that Dejan Lovren has emerged as Liverpool's primary defensive target this summer who, very interestingly, does not get a mention on the podcast.
The Anfield Index Transfer Committee consists of four members:

John Ritchie – The Owner: John W. Henry
Jim Fishlock – The Manager: Brendan Rodgers
Mark Simpson – Chief Scout: Dave Fallows
Dan Kennett – Head of Analysis: Michael Edwards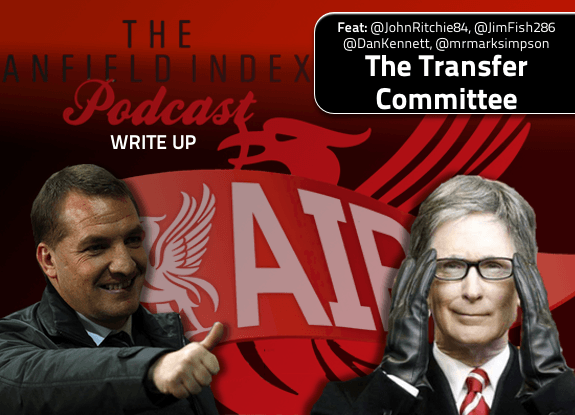 Listen in here:
Introduction, Background & Aims
The committee were set a task which would determine the business done during one of the most important transfer windows in recent memory. The promise of Champions League football can lure the big name players who might have been out of reach in previous seasons, and a team who fought for the title last season should be able to attract some big names. This will be Liverpool's first season in the Champions League since they were knocked out of the group stage in the 2009/10 season.
(Podcast 02:35) To achieve their aims the group were give £60m by the owner, which takes into account player wages but not money brought in from player sales. The owner expects the club to challenge for the league title, reach the quarter-finals of the Champions League after escaping a difficult group, and embark on a good domestic cup run.
Our analyst has estimated that the team will play around 53 games in all competitions, and has identified the positions of full-back and attacking midfield / wide forward as critical areas of the squad which could be left low on quality should injuries occur. The analyst assumed that Pepe Reina, Sebastian Coates, Martin Kelly and Oussama Assaidi wouldn't be considered good enough for the team next year, but Fabio Borini and Suso might.
The manager has stated his preference for a smaller group of versatile players, as opposed to a large squad of players who have little in the way of positional or tactical flexibility. In the previous season the manager believes he had 14 reliable players. Due to the increase in games thanks to the Champions League, as well as the desire for more options from the bench, he would like a squad of 19 quality outfield players and two goalkeepers going into the 2014/15 season, as suggested by the analyst.
The Departure Lounge
Players will need to leave the club either because they're not good enough, or because their current wage doesn't represent value for money and can be used elsewhere. The wages issue will be dealt with in due course, but here are the players the manager would like to see leave the club (with market values from Transfermarkt):
Glen Johnson (£10m)
The committee would like to ease the club's wage-bill by offloading Johnson at any price.
Lucas Leiva (£14m)
Danliel Agger (£15m)
Suso (Loan)
Oussama Assaidi (£6m)
Sebastian Coates (£2m)
José Enrique (free)
Pepe Reina (£15m)
Iago Aspas (£6m)
Conor Coady (£1m)
Incoming
The manager has requested new players in the following positions:
Right-back
Right centre-back
Left-back
Midfielder / Defensive midfielder
An attacking player
Taking into account the manager's wishes, the chief scout has highlighted players who could come into the club in these positions, and has also stressed the need to strengthen the defence.  It was noted that last season most of the goals Liverpool conceded came from defensive errors or by the opposition highlighting our full-backs as the weak point of our defence. Bearing this all in mind the Scout nominated these players for discussion:
Defence
Nathaniel Clyne – Right-Back – Southampton – Age 23 – £7m
Clyne has been impressing at full-back since his days as a youth at Crystal Palace. He continued his progression at Southampton, after signing for just under £3m in July 2012. The chief scout thinks that he'll bring more defensive solidity than Johnson, as well as providing an attacking outlet when required. Clyne bagged four assists last season, and is adept when it comes to stopping crosses.
His wages were also taken into account, and are likely to be much lower than those of Glen Johnson leaving room for manoeuvre elsewhere in the squad.
Alberto Moreno – Left-Back – Sevilla – Age 21 – £16-18m
Alberto Moreno has the potential to fill the left-back position at the club for the next six to ten years. The young Spaniard is a quick, technical full-back who can also do a job further up the pitch, having played as an attacking left sided player at times for his club Sevilla. He scored three goals in La Liga last season, and has Champions League experience. Moreno is also the manager's prime target.
Ricardo Rodríguez – Left-Back – Wolfsburg – Age 21 – £20m
The Swiss left-back has attracted interest from Real Madrid so could be more difficult to sign than Moreno. There's a reason for this, however, and Rodriguez has shown during the past season that he's one of the best full-backs in Europe. He has more assists (9) and goals (5) than Moreno, and also offers a specialist left footed option at set pieces. Two of his league goals last season came from free kicks, two from penalties, and one from the rebound off a missed penalty.
Steven Caulker – Centre-Back – Cardiff – Age 22 – £8m
The scout believes that Caulker would bring leadership and organisation to the back-line, and would also offer goals. He found the net five times in a team which managed just 32 goals all season, putting just him two behind the seven goals scored by Martin Skrtel. It's also thought that he will be a future England regular, and possibly captain material. He's a very realistic target, a player who the manager likes, and one who the manager believes could be coached to a higher level.
Javi Martínez – Centre-Back/Midfielder – Bayern Munich – Age 25 – £30m
There are doubts as to whether the Spain midfielder would want to move from Germany to England, and also doubts that we could afford his transfer fee depending on other players coming in. The manager would want Martínez to play in midfield, dropping back to right centre-back only if necessary.
Our chief scout commented that the game is evolving in such a manner that defenders who are accomplished on the ball are becoming more and more vital to a team. Martínez is very much in this mould. The analyst also noted his aerial dominance, as well as the fact that he played half his games last season in the centre-back position.
Signing Martinez would be a real statement of intent that the club want to take things to the next level, and would greatly improve the side whether playing in midfield or as a central defender.
Midfield
Emre Can – Defensive Midfielder/Centre Midfielder – Bayer Leverkusen – Age 20 – £9m
The first thing which catches the eye with Emre Can is his versatility. Last season he played in defensive midfield, central midfield, left-back, and even saw playing time in the centre of defence and on the left wing. The German has been talked about as a future star since his days at Bayern Munich, who still have an eye on signing him back next season. Can would provide cover for Steven Gerrrard, as well as being able to play in the same eleven as the captain in other positions.
Lars Bender – Central Midfielder/Defensive Midfielder – Bayer Leverkusen – Age 25 – £20-25m
Our scout believes that Lars Bender would bring a lot to the midfield in terms of energy and passing ability. He's able to play in the centre of midfield, but could also cover a deeper role if required, and would bring similar attributes to those possessed by Jordan Henderson. Henderson's suspension towards the end of last season showed that we need another player of his ilk in the squad. Bender would provide this.
Morgan Schneiderlin – Defensive Midfielder/Central Midfielder – Southampton – £8m
An excellent defensive midfielder who has an advantage in that he's already accustomed to playing in the Premier League. The Frenchman would be a cheaper option when compared with Martinez and Bender, but he plays mainly as a deeper lying defensive midfielder – an area of the field currently occupied by Steven Gerrard.
Attack / Attacking Midfield
Adam Lallana – Attacking Midfielder – Southampton – Age 26 – £25m
Lallana would be the ideal signing according to the chief scout, as he's positionally flexible, has great technical ability, and brings goals along with leadership qualities. The player was compared to Marmite as the manager was not willing to sanction a move for the player for the fees quoted.
Henrik Mkhitaryan – Attacking Midfielder – Borussia Dortmund – Age 25 – £25m
The Armenian was a target for the club last summer, and would transform any team. Offered nine goals and ten assists last season for Dortmund, and comes highly recommended by our chief scout. Whether he would be available is another matter altogether .
Roberto Firmino – Attacking Midfielder/Forward – Hoffenhiem – Age 24 – £13m
Statistically, Roberto Firmino is one of the best Brazilians playing in Europe, especially when it comes to his attacking output. He scored 16 goals and assisted 11 in the league for Hoffenheim last season, playing mainly as a central attacking midfielder. He also has the ability to play wide left and as a false nine, and he's not averse to defending from the front.
Conclusions
After much discussion and deliberation the committee came to this conclusion.
The committee decided that Nathaniel Clyne would be a useful addition to the team, but wouldn't be a priority if it meant the money needed to be spent elsewhere.
Both Alberto Moreno and Ricardo Rodríguez fit the profile required by the club for a left-back. Moreno especially, is a versatile player who can play further up the pitch in wing-back or attacking midfield roles. The committee came to the conclusion that each player would cost around £20m, and attempts will be made to negotiate with their clubs in an attempt to eventually agree a deal with one of them.
In terms of central defenders it was decided that Steven Caulker would solve a problem with leadership across the back four, and would improve during his time at the club to become a top player in his position. However, Javi Martínez emerged as the main target and plans to sign Caulker would be shelved if the club could land this major transfer deal for the Spaniard. The club would free up wages by selling Daniel Agger.
A top priority for the committee was a midfielder who can cover a number of positions but primarily act as a defensive midfielder. Emre Can ticked all the boxes and would be an ideal signing if he could be brought in on a wage which reflects his age and experience.
Two main targets for midfield would be Lars Bender and Maxime Gonalons. There are rumours that the latter has already agreed a deal with Napoli, so the team will head to Bayern Leverkusen with the aim of signing Bender or Can.
The committee agree to make moves for Roberto Firmino, and if signing the Brazilian proves too difficult, attention will be turned to Adam Lallana  or possibly Henrikh Mhkitaryan if the opportunity arose. The manager doesn't want to pay over the odds for Adam Lallana, but both the scout and analyst have stated that he will be an improvement on Philippe Coutinho. The owner believes that any potential problems with the fee can be solved by staggering the payments for the player over a number of years, provided it doesn't go over £25m.
So how would a Anfield Index Transfer Committee Liverpool FC line up look next season?
Final Notes by Mark Simpson
When John asked me to be a part of the Transfer Committee for a Anfield Index podcast it sounded like great fun. What I didn't expect was how much work was required in such a short space of time (48 hours). YouTube, Who Scored, Transfermarkt.co.uk and blogs were all used to gather players that the Gaffer (Jim) requested.  Whether it was by design or fault, the majority of the players I lined up for the committee were those who have been recently linked with Liverpool.  Players like Moreno, Can, Lallana and Caulker made sense to me because of their age, technique, value and (estimated) wage demands.  With Liverpool rightfully back in the Champions League, tempting them to move to Anfield will be a lot easier this summer then it has ever been under FSG.
What I found the most challenging was working under the new FFP and Premier League restrictions when it comes to losses and the limit on how much your wage bill can increase year on year. This was all for fun at end of the day, so imagine how stressful this is for the real life "transfer committee"
End of the day, I enjoyed every minute of it. Would I like to do it for real? No chance!
A massive thank you to James Nalton who has put all my notes and words of madness into an excellent blog. He certainly deserves a follow on Twitter @JDNalton
Do you agree or disagree with the choices we made on the podcast? Let us know via Twitter @AnfieldIndex with the hashtag #AITransferCommittee