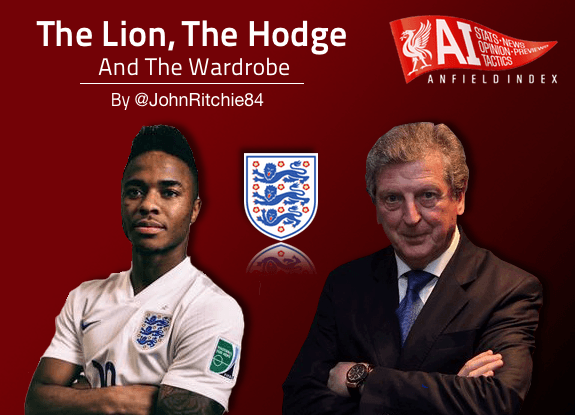 The Lion, The Hodge and The Wardrobe

Watching this World Cup I'm struck between mixture of sadness and joy.
Joy because the football on display has so far been sensational. Sadness, as the famous Tartan army isn't making me dream that we'll win the World Cup.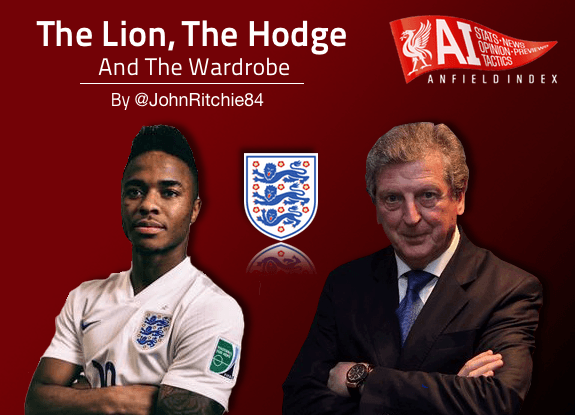 Scotland, in my lifetime, will never win the World Cup, of course. But that's not the point. The scenes of Scotland fans putting bath bombs in the fountains at Trafalgar Square should tell you all you need to know. The kilts, the bonnets, the cans of Tenant's on full display. Scotland fans enjoy football and it's a shame we're not there to bring some Celtic life to the party.
Yet with my sadness, also comes intrigue. Intrigue at this England team Hodgson has assembled. You watch England now and you can see the lion, but one has to ask the question, is the lion ready to roar?
On the surface it seems like the makings of a wonderful blend of the finest malt, yet against Italy you could see the issues of a would be Brew Master trying to adapt to the demands of the modern game.
We all know Hodgson, but for Liverpool fans watching, we all were left baffled by Roy's thinking; playing Gerrard and Henderson in a flat midfield two was an own goal in itself. One of the successes of Liverpool's midfield was the embodiment of the Holy Trinity, a role made possible by one Jordan Henderson.
Henderson was multifunctional; he acted as a shield for Gerrard which would give the captain time on the ball in order to dictate play, this in turn allowed Jordan to press the opposition relentlessly, break up attacks and regain the ball, alongside a licence to get forward to give the attack another dimension which proved so successful.
There was little of that in evidence as the Hodge lassoed the pair to operate tied together in a flat line. Rather than giving Henderson the freedom to play, Hodgson made him look average. We all know Jordan's not average, but that's what you get with Roy.
Also playing with two attacking fullback's left England exposed. In defence you need a balance, and against a good side you'll be exposed either side. For the Azzuri's second goal, Johnson and Cahill crossed over leaving the space for Balotelli to close in and head the ball in.
Time and again Baines was exposed down the left hand side and you can't help but wonder if even Jon Flanagan could have provided more balance rather than Johnson. Not that Glen did too much wrong for once, it was one of the fullback's better games in a long time despite being markedly average.
It's the same old Roy, the Hodge strikes again, we shouldn't be surprised. Yet surprisingly he's gained a sense of adventure, even if it's not quite got the old man dreaming.
As we move with speed into the looming transfer window, it's easy to make assumptions. So often fans make the mistake of thinking that at a World Cup you need the XI best players in all positions, it's the same at club level – 'Let's sign him, he's boss', but is he 'Boss' in the system we want to deploy?
Fine if all of those XI all can work together in a team, but certain players look better or worse due to the system that they're in. England are suffering through players with reputation, it's not quality at the route cause of the problem.
You also need workers, people who do a job. It's an old cliché in football and a lazy one 'he can do a job', but what if you have someone of the requisite quality to do a good job? A job that's spelled out clearly and that your team mate does understand. Liverpool has been guilty of the wrong variation in the pastt, too many players brought in after one good season, more players who do a job. Yet what job do they do? 'Let's sign Shaqiri', but to do what exactly? Have you ever seen him play over a season?
The highlight on Saturday was that we finally got to see a new star come to age in the form of Raheem Sterling. The 19 year old has taken a taken a trip into the wardrobe and came out a superstar on the other-side, after his stunning individual display in Manaus on Saturday. He's made top players look average.
Not only did he make the formidable Claudio Marchisio look like a man lost at sea, he also turned Pirlo with ease leaving the legendary Italian unable and unwilling to give chase. The result a beautifully weighted through ball, on an awful pitch, that found Rooney who placed it perfectly for Daniel Sturridge.
When Raheem come's home and steps back into Melwood, it'll be a like he's stepped back in time again. He'll have the experience of a 25 year old but still in a young man's body. Whilst he's grown on the world stage, back at Liverpool he's just part of the team. He's yet another rising star to add to a growing pack of red quality.
With Suarez, Sturridge and Sterling it's hard to imagine many others improving that forward line. Cast our minds back six months when he couldn't get in the squad, never mind the team. He's a player that gets you off your seat and regardless of England's progress he'll come back a superstar, a King amongst men.
There's going to be more twists for England and in particular Raheem Sterling, but stand up and take notice – if Liverpool continue to get the best from the young boy from Wembley, the future's bright, add to that a decent transfer window, then who knows. It's not a stretch to suggest the future, is Red.