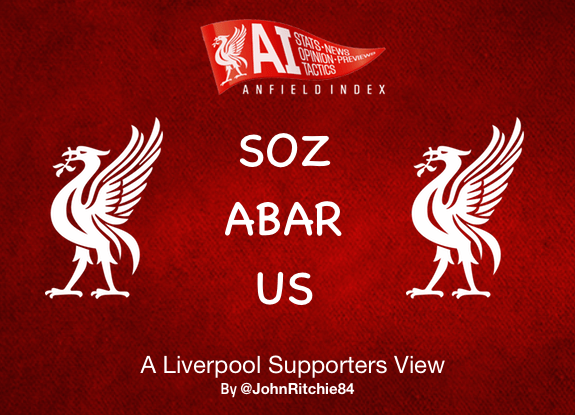 "Soz Abar Us..." | A Liverpool Supporters View
One day, a loving father told his son a story. A story about the Redmen and their mighty exploits, one that captured the imagination like tales from Herodotus and Thucydides and captured the imagination like the sight of a brutal Roman army.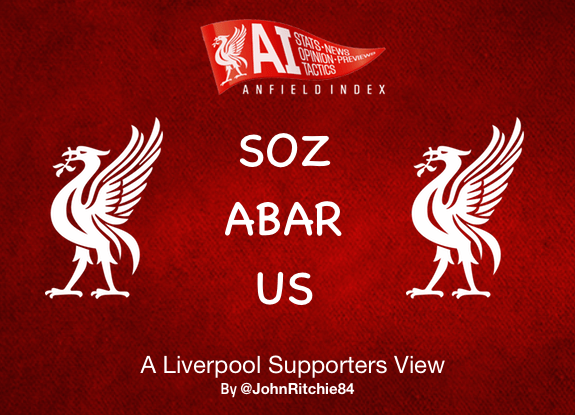 I wasn't born in Crosby or Huyton. I was born in Edinburgh in a different country. But such was the tale told by my father I felt a connection that I hadn't felt with any other side, even my school boy team of Hearts. It's just not the same.

I get to games when I can both afford the money and more importantly now the time. But I pay my membership for a free pin badge and four weeks discount from LFCTV. It's a pointless thing really, I always get beaten to tickets on the members sales, so I rely on friends up there giving me one when they can't make it. But I pay the money, not out of spite or anger, but it's my way of contributing when I can.
There was a bit of a silly spat a few weeks back about some kid with a few followers on Twitter going on about being a 'proper Red', followed by an even further unpleasant statement regarding Asian fans.
I don't know the guy, never once spoken to him, I don't want to either. But let's put this straight right now, regardless of what he or anyone else thinks 'I am a proper Red' and the chances are, if you're reading this, then you are too.
'BUT YOU'RE NOT FROM LIVERPOOL' I hear the cries coming through Twitter and beyond. If you're shouting at your screen right now, then fine. It's your view, but it's founded on prejudice and devoid of reason.
When we lost that game against Chelsea, I went outside, shut the door, held my head in my hands and cried. After that mad Monday night at Selhurst Park, I again retreated outside by myself, and the tears came again, with my wife (an equally aggrieved Norwich fan who'd just been relegated the previous weekend) consoling me.
That night in Istanbul, the tears in Athens, the day I went to Anfield to see Wolves put us to the sword with a small crowd of 33,000 baying Kopites calling for the return of the King. That Chelsea game, the Champions League, the announcement that Brendan Rodgers had been appointed to Liverpool that made me search for Wifi, in a secluded couples resort in Turkey, whilst on my honeymoon. Each with a unique memory, so much hope, fear, highs and lows. Heartbreak and joy that is only trumped by the love of your family and friends.
That attachment doesn't come with a fleeting moment, it comes from a connection which can neither be reasoned or explained, it just is. It's a lifelong bond that I did not choose, some seasoned fans may describe it is the cross that we bear with gladness, especially after recent events.
If you're reading this and you've never been to Anfield, I don't care. It doesn't matter. The question is: do you love your team? Then in my eyes you're a proper Red.
Neil Atkinson said after the Anfield Wrap's visit to Australia: 'It's remarkable that people want to experience this city, this thing'.
It's true. People of Liverpool be proud that your city has inspired such a wonderful love and affection for both you and the club. But using your postcode to deride others, claiming it as some form of first class citizenship? Give me a break and do yourself a favour, get a life.
I've met some of the best people I know through football, it's been kind to me, it's given me a voice to chat on a podcast every week with some of the most entertaining and enlightening people. I've made friends that on most other levels, would be an 'unlikely' fit. But we've one thing in common, we're red to the core.
To end, I'll use a phrase well associated with Kopities down the generations, to those we offend or who are upset by our presence as fans, then simply 'Soz abar us', we're here to stay.