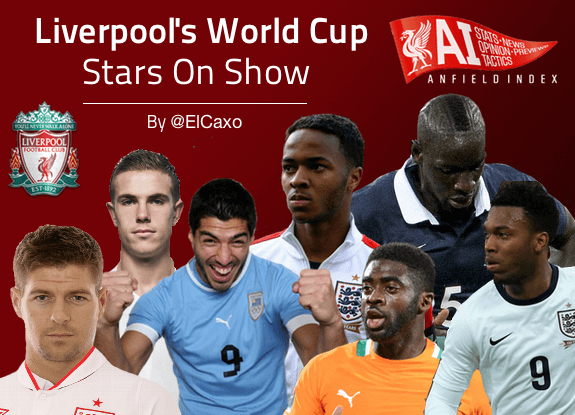 Liverpool's Rest of the World Round 2: Preview
Welcome to the Anfield Index writers' coverage of the 2014 FIFA World Cup in Brazil. With the tournament one round of fixtures in let's look at which players from Liverpool will be playing over the next few days.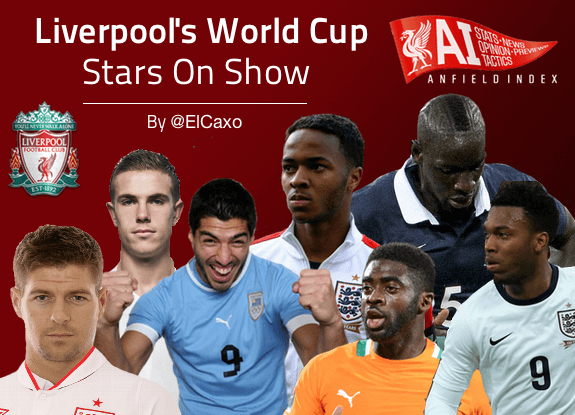 Mamadou Sakho – France vs Switzerland 20
th

 June 8.00 PM Kick Off

Luis Suarez aside, Mamadou Sakho is Liverpool's premier player at the World Cup this summer not in the England squad. As Zak mentioned in the last Rest of the World update, he has captained the side a few times in recent months and is obviously looked to as a leader by many; he was given the mantle at PSG at only 17 years of age. The young centre-back had a solid game and his partnership with Raphael Varane will be something to be feared in years to come. Admittedly, Honduras didn't offer the sternest test in attack but he provided a very good base.

Kolo Toure – Ivory Coast vs Colombia 19th June 5.00 PM Kick Off
Kolo Toure didn't start in the opener against Japan, which is probably due to both Zokora and Bamba playing for Trabzonspor. With this paring probably having a better understanding it's unlikely he'll start in this game. However he does have plenty of experience at this level and will most likely do a fine job if called up.
Luis Suarez  and Sebastien Coates – Uruguay vs England 19th June 8.00 PM Kick Off
Sebastien Coates didn't start in the surprising defeat to Costa Rica but with Maxi Pereira's red card and suspension, a slot might open up for him. Obviously his injury and lack of game time this season will count against him but his shining period so far was at the Copa America and maybe the World Cup can bring the best out of him once more. The mercurial Luis Suarez is almost certain to start against England and after Roy Hodgson's choice words in the build up he will definitely be gunning for us. Claims have been made this season that Suarez falls away a little in the big games, but at the World Cup 2010 he scored 3 goals, set up 2 more and would probably have seen his side through to the final if he hadn't been suspended.
Mignolet – Belgium vs Russia 22nd June 5.00 PM Kick Off
Belgium looked decidedly flat against Algeria even before they went 1 – 0 down due to some poor defending from Jan Vertonghen and it took them until after half-time to start fighting back. Some fight back it was though as substitutes Fellaini and Mertens both scored to win them the game. Thibaut Courtois is obviously one of the world's premier talents between the sticks and although Simon Mignolet is no pushover I don't think he'll wrestle the No. 1 spot away from the youngster any time soon.
Pepe Reina – Spain vs Chile 18th June 8.00 PM Kick Off
Quite frankly it would be difficult for Pepe Reina to come into the Spain team and do any worse than Iker Casillas did against the Netherlands. However, with 155 caps, the Real Madrid keeper has huge experience and influence and won't be dropped. Spain were dismantled by the Netherlands but it's highly doubtful that it'll happen again against an expansive and risk-taking Chile side led by Jorge Sampaoli, the protégé of the original mad bastard coach Marco Bielsa. However Del Bosque definitely needs need to twist rather than stick and allow players like Koke and Pedro to have a pop.