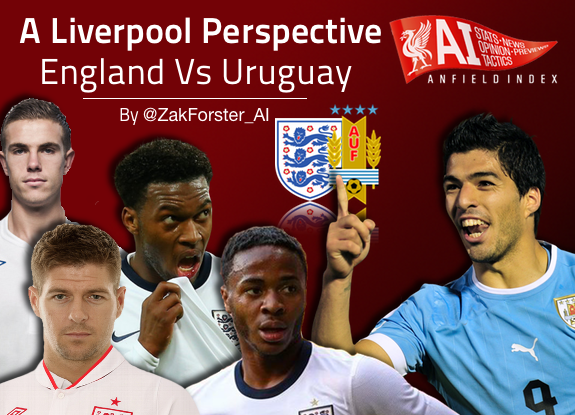 Liverpool Perspective: England vs Uruguay

England will be looking to bounce back against Uruguay after 'The Three Lions' slumped to a 2-1 defeat to Italy on Saturday night. England's second group game will commence at 8PM inside the Arena Corinthians, São Paulo. The last time these two sides met was at Anfield in 2006 whilst the new Wembley Stadium was being constructed – England won that friendly 2-1 but the overall record isn't great with Uruguay beating England on four occasions, compared to just three England wins. The last time these two nations met at a World Cup Finals the scoreline was a drab 0-0 in 1966.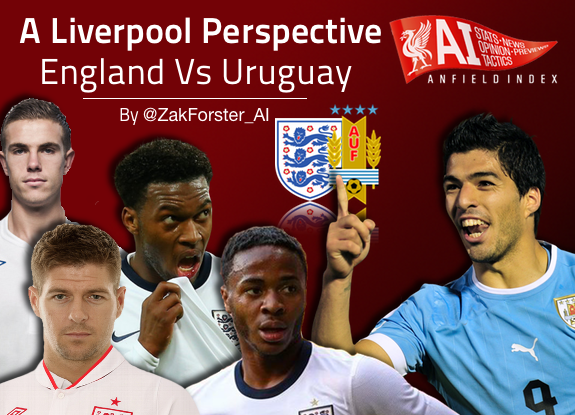 From a Liverpool perspective, there will be six Anfield men heading to São Paulo for the match with Uruguay and we'll give you the low down on each one.
Steven Gerrard
The England captain will be as disappointed as anyone after the defeat to Italy but his thoughts echoed the nation's in that he was proud of what his young squad had accomplished on Saturday evening – they'd improved and shown they can compete with one of the world's best. Gerrard had a quiet but efficient game against the Italians with 92.5% of his passes finding a teammate. Playing in the familiar defensive role which he had occupied for Liverpool during the second half of the season, Gerrard completed three tackles and managed just one key pass and one shot – emphasising his role as defensive midfielder and metronome. Gerrard will hope to improve on his set piece execution during the Uruguay match, with his corners and free kicks often evading teammates during the first group game – including the poor free kick which sailed over Sirigu's cross bar in the final embers of the game.
Jordan Henderson
Jordan Henderson took his fine club form into the first game of the World Cup with his pressing and precision passing a key factor in England's positive performance. Playing role of the deputy in the England midfielder to his captain Steven Gerrard, Henderson set about linking the England midfield to the attack, which allowed the front four of Raheem Sterling, Daniel Sturridge, Wayne Rooney and Danny Welbeck to try and break down the Italian rearguard. Henderson's passing was a shade worse in terms of accuracy than his senior teammate but 88% still represents a good return – the 24 year old also managed a very good four accurate long balls. Henderson took on two shots during the game including a rasping drive on the half-volley which Sirigu had to beat towards his left hand corner flag.
Henderson will be looking to start England's second match but Wilshere provides stern competition with the Arsenal man replacing the young Liverpool midfielder during the Italy game.
Daniel Sturridge
Liverpool's second top goalscorer has already started to make a name for himself on the international stage with a right footed goal in his first World Cup game. The goal will have pleased many England supporters with the flowing, swift move proving England can actually play decent football. Sturridge has certainly kept to him mantra of simply enjoying the Finals and taking in the experience as best he can – and it seems to be paying dividends. The Birmingham born striker seems completely at ease with his surroundings and playing as England's lead number 9 is like water off a duck's back.
Sturridge was effective in front of goal with one goal from three shots and the striker also managed to execute 85.7% of passes successfully, which is quite a bit better than his Liverpool average of 79.3%. Hopefully Liverpool's number 15 can grab another couple against teammate Luis Suárez and give England a much needed points boost in Group D.
Glen Johnson
29 year old Glen Johnson finds himself as one of the most experienced heads in this England setup but the right-back gained mixed reviews for his performance against Italy. Johnson had two shots against the Italians and hit the target with neither but his passing was up to scratch with 90% of them completed. Johnson did complete three tackles but was noticeably out of position at the end of the game with England chasing the game and with Raheem Sterling filling in and receiving a yellow card for his troubles as the youngster chased back to halt the Italian counter attack. Suárez will know exactly how to hurt Johnson when the two players meet on Thursday so keeping that right hand side shut could be key for England and Roy Hodgson.
Raheem Sterling
What a start to the World Cup for young Raheem Sterling. It could have gone better but nobody could have imagined the impact he'd have upon his first tournament match at international level. Sterling was England's Man of the Match and was the man who continued to spark England to life throughout the game with his passing and dribbling abilities coming to the fore. Prior to the game, Sterling was the hot topic of debate with many supporters wanting the young man included in the starting XI and he didn't disappoint with a rasping shot inspiring a few moments of intense celebration when his effort hit the side netting.
Sterling's highlight of the match was his dribble when he made Marchisio and Pirlo look invisible before sliding a low cross into the box from the right hand side. This was a key theme for Sterling with four dribbles and numerous low crosses fizzed into the box – and England's other attackers will have to look at getting on the end of these crosses as they were played into dangerous areas but none were completed, as the stand out example was the left footed cross which skidded along six yard box only to be missed by every England player. Hopefully Sterling can continue to inspire England and perhaps get a goal or an assist for himself.
Rickie Lambert
Lambert was Liverpool's only England international not to appear against Italy despite Hodgson's men trailing and needing a goal. Lambert could have been a decent option from the bench after another positive season for Southampton in which he scored 13 goals and assisted 10. Lambert is also a good option when in possession with 1.5 key passes completed per game for the Saints. It would be hard on Lambert if he made no appearances during the World Cup but that could hinge on England and how they progress in the next two group games – the further they go as a collective the more chance Lambert has of making his mark on the competition.
The Line-Up
How should England line-up against Uruguay? Well I've asked a few of the lads here at the Anfield Index to share their views on England's latest test and here's what they thought up.
Nick: England didn't embarrass themselves against Italy and actually played quite well so there's not too many changes from me. Roy's going to stick with the 4-2-3-1, so I'm going with the same seven of Hart, Johnson, Cahill, Jagielka, Baines, Hendo, Gerrard. I'd still be tempted to drop Danny Welbeck although he wasn't the worst player on the day, that was his fellow United teammate and 'Englands best player' Wayne Rooney – despite his assist. I'd drop them both and bring in Oxlade-Chamberlain and Lallana – assuming the Ox is fit.
Cal: Rooney, again, let the side down so I've gone with Nick and dropped him completely. I also think Gerrard would benefit more with a three man midfield with Henderson continuing in the role of chief workhorse alongside Jack Wilshere who could take another slice of the workload. Johnson disappointed so I've gone for a gamble in the full-back areas. Sturridge and Sterling pick themselves.
Ash: The team that Roy Hodgson started with against Italy seemed to work quite well going forward, but it was defensively where it wasn't up to scratch. A lot of Italy's attacks went down the right, with Candreva and Darmien ganging up on Baines due to a lack of help from Rooney on the left.
If he is going to pick Gerrard for the position he has been, he doesn't just need Henderson, his best performances have come in a three man midfield and I think Wilshere can play in that Joe Allen role, both helping Baines in defence and contributing to attacks.
For the attack it came down to Welbeck or Rooney, and due to the fact that Welbeck impressed me, and the latter didn't, I'd give him the nod. A pacey, tricky trio would also give Lugano and Godin nightmares.
Zak: I was really pleased with the England performance against Italy but Hodgson's in-game management and, ultimately, the result were disappointing factors. Rooney's performance didn't surprise me, Welbeck's did – I was very pleased with him. If Hodgson is still obsessed with getting Rooney into this team then change the formation to 4-3-1-2 and drop Welbeck – but the levels of harshness would be extreme! This formation is also comfortable to the Liverpool members of the squad especially Gerrard who needs those two extra midfielders doing his legwork.
What's your opinion on the England team? Would you change anything from the options above? Let us know by tweeting your thoughts to @AnfieldIndex or to myself @ZakForster_AI