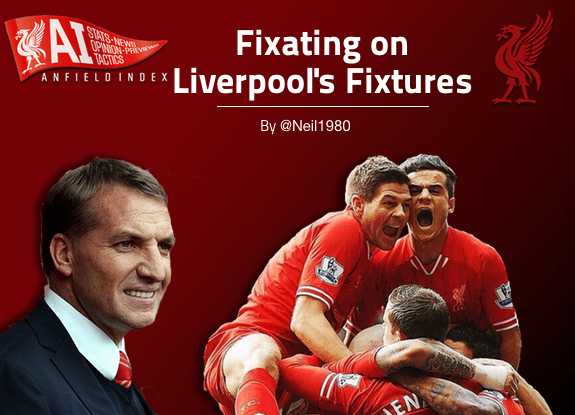 Fixating on Liverpool's Fixtures
All eyes are now, and have been for the last ten days or so, on events unfolding at the World Cup in Brazil. Thirty two nations, a fantastic location, some enthralling encounters and hitherto unrivalled coverage of all the action, have helped to shift focus away from matters domestic, for the short term at least.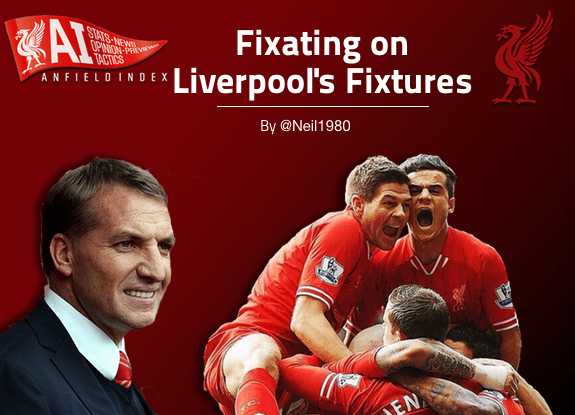 Meanwhile, back in Blighty, the home front has come grinding to halt (after Luis Suarez all but sealed England's somewhat inevitable fate over in Rio), far from it in fact. The Barclays Premier League fixtures for the forthcoming season were released over the course of the last week, and what with all the fun of the fair going on over there, they may have slipped past relatively unnoticed. Have no angst however, this article will shine a light on how the Premier League draw has treated Liverpool Football Club, with a look at our fixture list, and how it compares with some of our rivals'.

There's little doubt that Liverpool were dealt a rather friendly hand last season in terms of opening fixtures, in complete contrast to the nightmarish start handed to Brendan Rodgers in his first year as Anfield boss.
August began with a home game against Stoke, followed by a trip to Villa, with the toughest match (on paper) a home fixture against United to finish the month. The Reds won all three fixtures 1-0 as it turned out, with three hard fought victories. A repeat of that granite-like impenetrability may well have to be summoned up again this season, as Liverpool face a tricky start to the campaign.
Ronald Koeman's Saints visit Anfield to christen the new campaign, with trips to the Etihad and White Hart Lane completing August's league engagements. Southampton beat Liverpool at Anfield in the Autumn of 2013, and whilst the anomalous selection of four centre-backs in the defensive line certainly contributed to the Reds' stunted performance that day, Saints' pressing game had a major impact  too. City were also one of the few teams to beat Rodgers' outfit in 2013, despite Liverpool being the greater force in the game at Eastlands.
Under new management (a sign which should be permanently on display underneath the crest on the front of White Hart Lane), Tottenham are likely to be something of an unknown quantity. Pochettino did very well at Southampton, but Spurs is a notoriously difficult club to manage, and with a plethora of players yet to find their feet in a white shirt, playing them early may turn out to be a bonus. His former club, likely to be shorn of many stars from last season (including at least one who'll be wearing Liverpool red), breaking in not only a new manager, but also one new to English football, may also struggle to hit the ground running.
Glancing at the first three fixtures might give some a slight cause for concern, they certainly could have been more favourable; although they're not that bad either. As mentioned already, two of the three teams have new bosses. Tottenham were thumped twice last year so will have plenty of fear when facing LFC, and whilst Saints triumphed at Anfield, Brendan has an uncanny knack for bettering results from previous years. Manchester City were going to have to be played at some point, and there may be an argument to say that visiting them before they hit their stride could be beneficial.
Moving forward then, the first Merseyside Derby is scheduled for September 27th, at Anfield. The group stages of the Champions League and Europa League will have begun by then though, so it could be moved to the Sunday. Generally speaking, it's best to have the home derby first, as it's practically a guaranteed three points and gives Liverpool the psychological edge for the second one. On a side note, the Capital One Cup enters the third round stage at around this time too, so there could be some fixture congestion here.
Going beyond that, Chelsea are the next big visitors to Anfield. The arrive following a run of games for the Reds, which includes some of last year's weaker sides, along with a couple of the new boys. I've already alluded to Rodgers' ability to improve on individual results year on year and, with this in mind, he'll be desperate to get one up on Mourinho. The  games against Chelsea were two of only a handful of results which actually showed regression against a particular team in  particular games.
The relatively gentle nature of last year's opening few  fixtures led to a very difficult Christmas period in 2013/14, but not so this time. Granted, Liverpool face a trip to Old Trafford and Louis van Gaal's United, followed by a visit from Arsenal a week later on December 20th. Neither of these games should  hold much fear given what transpired in the corresponding fixtures last season. After the Arsenal game, it's a fairly straightforward run (on paper) until hitting a sticky patch in February.
Winter will be in it's final, icy, dank, depressing throes, and Liverpool will face Everton, Tottenham, Manchester City and Southampton in the league, along with a potential Champions League second round double header and the possibility of an FA Cup 4th Round match, all in the shortest month of the year. The saving grace is that the Tottenham and City matches are both at home, and the corresponding four fixtures last season saw Liverpool take ten points, however, this is definitely the toughest looking month of the year for Brendan and the team.
United come to Anfield on March 21st, followed up by a trip to the Emirates a fortnight later, and, after that, the trickiest games in the run in appear to be the final two away days – at Chelsea and Stoke respectively.
I don't like talking about other clubs and how things are for them too much when writing about Liverpool, so I'll keep this part brief. No team which I'd consider to be one of our rivals has a very favourable fixture list. There has been a lot of talk about United's "easy" start to the season. It is true, they start with five games against teams that finished in the bottom half last season (including all three newcomers), however the start of a campaign is generally the worst time to play these teams. They are either still fired up from a great promotion season, or keen to avoid a struggle like the year just past. Either way, they generally play harder and are far less psychologically jaded in he opening weeks, as opposed to later in the year, when that early season shine has lost its brilliance somewhat, and is gradually fading into a familiar dullness.
Another factor of this perceived easy start for Manchester United, and Louis van Gaal first and foremost, is that with that run of fixtures, nothing but wins will do. Given the state in which United found themselves on the pitch last term, with and without Moyes, and the lack of quality in the squad, van Gaal is going to be put under pressure right from the off to get points on the board. He may do just that, he definitely has the pedigree, however given the nature of the fixtures and the beast that is the British football press, the knives will be ready from an early stage, should the points not be forthcoming.
Arsenal and Chelsea both face two of last year's top six in their opening five fixtures, whilst City face these two rivals as well as Liverpool in their opening five. Our Merseyside rivals, Everton, have to play Chelsea and Arsenal in their opening five, before coming to Anfield for their sixth game of the season, so no breaks for them either. The run-in  favours City the most, but again they are all much of a muchness in terms of difficulty level, with no side given a clear advantage.
Some of the fixtures (particularly in the second half of the season) may well be rearranged due to other cup commitments, both domestic and European, but as things stand (and whatever happens in fact) the order of fixtures should hold no fear for LFC fans. The team finished second last season, by a whisker, and is only likely to get better. The only way to improve on second place is, of course, to go out and win the thing and, in order to do that, LFC is going to have to beat just about everybody at some stage of the season, so it matters little at which point that happens to be. Remember: We are Liverpool – and next season, we go again!
Neil also writes on http://itsallinthegameblog.wordpress.com/