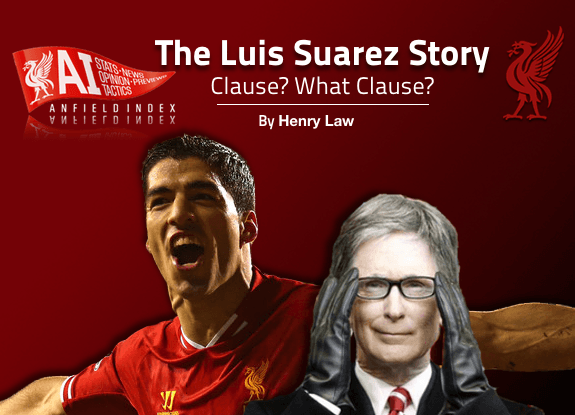 Clause? What Clause? The Luis Suarez Story
In this article I will analyse the complicated world of football contracts, in particular focusing on release clauses, buy-out clauses and the difference between the two.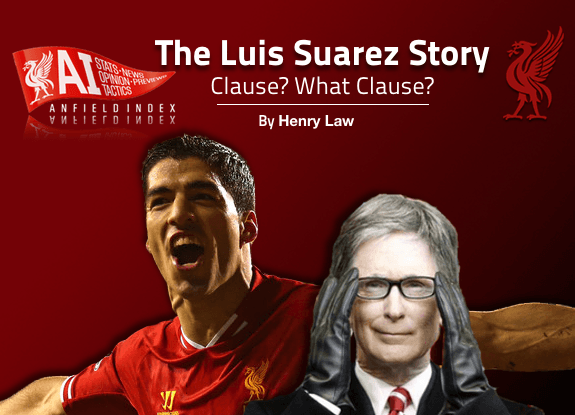 Less than a year ago Liverpool fans were subjected to one the most farcical transfer sagas in recent years. Like football's equivalent of the Stark's, Marca issued their monotonous warning again and again.  "Madrid, is coming" and Suarez will be leaving soon. Instead we received news of a bid from notorious penny-pincher Arsenezer Scrooge offering Liverpool a paltry £40million for the league's best player and when this didn't work, the geniuses at Arsenal decided to throw in an extra pound to sweeten the deal. They believed they had triggered a release clause in Suarez's contract. John Henry had other ideas.

By all accounts he stood at the doors of Melwood screaming "you shall not pass" to every car that drove by until the transfer window slammed shut. Any clause that apparently existed in the contract was ignored and Henry issued a "come and sue me" plea. In reality Henry was aware that the law was on his side and was more than happy to challenge anyone looking to enforce this now infamous clause. Why was Henry so confident and was this clause even a release clause at all?
Buy-out clauses and release clauses: what's the difference?
Despite what popular media tells us, there is a difference between the two. Buy-out clauses are included in every contract in Spain. These clauses are peculiar in that it is the player (the party to that contract) that has to pay the fee. This means that a club will have to transfer the funds to the player who will then have to buy out his contract. In doing so the player incurs extra tax liability making an already complex transfer more expensive for the buying club.
A brilliant example of this was Herrera's protracted mover from Bilbao to Manchester United. Usually a club will accept the buy-out amount from the purchasing club as it makes the process run much smoother but this is not always the case. The Devils were left Red in the face when, in attempt to spare their blushes, it was asserted that there were mysterious rogue lawyers pretending to represent the club and that they had not sanctioned any deals. As it turns out this was not the case and the transfer fell through due to time constraints and the complexity of the deal.
A release clause is one that, subject to certain qualifying conditions, requires a club to sell the player to a bidding club. An example of such a qualifying condition was the transfer of Joe Allen to Liverpool. His contract with Swansea specified that any of the top 6 clubs (which were named in the contract) could come in and purchase Allen at a previously negotiated price stated in the contract.
The interesting thing about these clauses is that when the buying club is specifically named in the contract they will get rights under the Contracts (Rights of Third Parties) Act 1999. This allows a named party, in whose favour a term of a contract confers a right, to enforce the contract and bypass the privity of contract doctrine (whereby only parties to a contract can sue). While the legality of these clauses hasn't been fully tested at a European level it is highly unlikely that such a clause could be ignored. Where a third party isn't named the player themselves can enforce the clause. At this point it might be prudent to remember that Luis Suarez has taken a previous club to court to force a transfer from Groningen to Ajax. Why didn't he do the same in this case?
You may remember the term "good faith" release clause being bandied around midway through last summer. It is this unusual clause in Suarez's contract which caused such controversy. The clause was reviewed by representatives of Suarez, Liverpool football club and even the PFA. What they found is that the clause only required Liverpool to entertain offers of £40million or more and then to negotiate in good faith. Good faith requirements are common in EU law especially in areas regarding consumers but haven't as yet been introduced to the more adversarial landscape of commercial contracts. In order to satisfy the requirements all Liverpool would have to do is say: "how much? £40million and one pound? We're actually ok thanks." It is even possible that an express clause to negotiate in good faith wouldn't even be recognised by the court in this commercial context, although there has been a trend in recent decisions to enforce such clauses.
Liverpool didn't have to sell Suarez, only open a dialogue with the potential buying club and state their demands. It wasn't a case of Henry standing over the cowering Gazidis, cigar in hand, screaming "not on my watch." Neither Suarez nor Arsenal had a case against Liverpool and Henry knew this.
Unfortunately it wasn't management heroics, or a flagrant disregard for a binding clause that kept Luis Suarez at Anfield, it was an abnormal clause which was interpreted in favour of Liverpool. Suarez has since signed a new contract with Liverpool which is rumored to contain a more concrete release clause and may even name check certain clubs. For reasons explained above it is unlikely Liverpool would be able to ignore such a clause if a bid was to activate it this summer but just in case it does, anyone know the Spanish for #FreeSuarez? I think I feel a petition coming on.