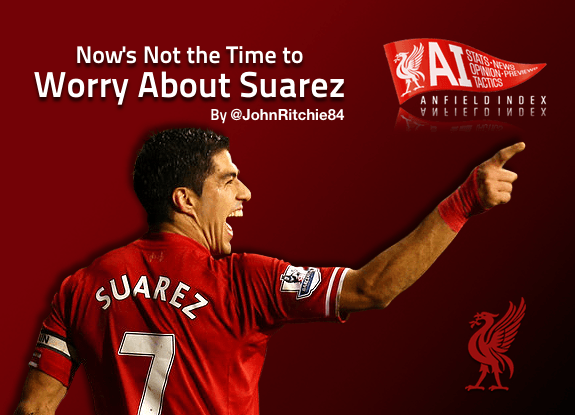 Now's Not the Time to Worry About Suarez
Luis Suarez. Husband. Father. Football genius.
It was always going to be one of those windows. There was always going to be speculation. When you have a player a good as Luis, gossip never sleeps.
The reality is, nobody, barring a close inner circle truly knows the details. But in transfer windows, reality, quite literally, goes out of the window (excuse the pun).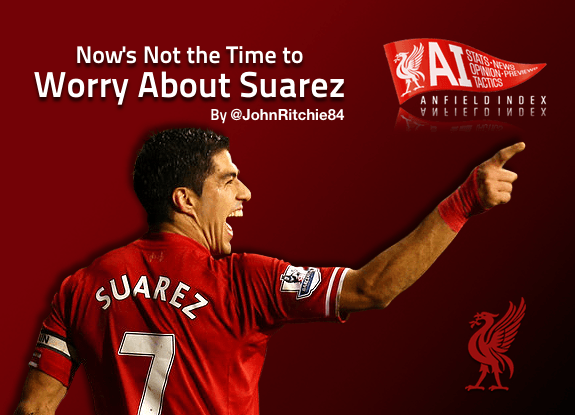 All rumour, conjecture, supposed knowledge; it all has to be taken with a pinch of salt. The likelihood of your good mate who cuts the grass at Melwood knowing anything about transfer business is, with all due respect, remote. Just because I worked for FTSE 100 companies doesn't mean I know the underlying strategies. There are of course signs, strange events only explained by something major about to happen, but knowing the finer details? Not a chance.
Many people do get 'info', but the process of this is usually third or fourth hand, passed on by a journalist, or a friend of a player involved. When people say things, it's usually out of good faith. But if something is watered down once, by the time it gets to an 'ITK' it's almost beyond all recognition. Others who work on the financial side of transfers do know the finer details, but they'd never tell you of a) their involvement or b) the metadata of such a deal.
Tony Evans told me during some research I was carrying out that as the Football Editor of the Times, clubs come to you, contacts give you things. But you need to decipher whether or not it's a) true and b) why they'd tell you in the first place – what's the motive? You spend half of your life being lied to. It's the job of the journalist to report the what and if they can the why. It's always a fine balance between fiction and truth.
The reality is, when something comes from a good paper, with lengthy details, the club has put that out for a reason. What reason, nobody is ever quite sure as to the why or what. Games are played in football, business is done in smoke and mirrors as much as the tactical merry dance on the pitch.
Like Tony or not, he's in a position most of us can only dream about. It's not puffing his chest out with such comments, it's fact. Therefore journalists, even the best ones, will get some things wrong. There's others who, due to the sheer amount of money involved in online advertising, want clicks as you see this with the Mirror, the Metro, the Mail… All of which are just a better version of Goal.com.
In the case of our incredible number seven, a man widely hailed to be the most gifted player since Dalglish himself, you'll need to get used to the fact that he will interest the best of the best. It's a good thing if others want your player, barring someone being unsettled, it's a compliment to the asset you have at your club. It's also an easy way to generate funds if your transfer budget needs a stellar boost. The difference with Liverpool now compared to years before, is that we've realised that we hold all the cards.
The player wanted a move last summer; we said no. His clause in the contract, wrongly believed to be a release clause, was met allowing clubs to talk to the player. We still said no. This time around, things are no different. We can say no if we wish, however, if the overall package is right then why stand in his way?
The stories you're seeing at the moment are simply attempts by clubs to rattle the cage and lower the fee. That will not happen. We made Arsenal look very silly last year; a club who FSG admire and respect, even spending time going around the Emirates, in a tour conducted by senior figures at the London club. Owners and Senior Managers are all very friendly, but FSG don't care about upsetting friends, so imagine what we'd do to a Real or Barcelona if they try to do an Arsenal once more.
The last time around things were not right for Liverpool and unlike years gone by, this club won't be pushed around. The anxiety you all feel is due to years of acting like second best, bowing to pressure when we should have stood firm. That Liverpool doesn't exist in the modern day, FSG have made this clear. It's obvious, from the way we handled Suarez last year, that these days are long gone; Liverpool is strong, a top club in European football, back playing amongst the best of the best. For how long? That's the golden question.
Real Madrid can't afford what we'd need in compensation for such a player. Barca's makeweight of Alexis Sanchez appears to want to go to Juventus; therefore the deal's not likely. Unless Madrid can go to the upper echelons of transfer records, he's staying put. Think about deals that make sense before believing anything you choose to believe or not. This is not Football Manager where add-ons can be found through cheats or in game purchases. This is reality.
This summer will be telling on a number of levels: how ambitious are we in our targets, do the players we want make sense given our system, can we get deals over the line? Who knows… But Rather than sitting there worrying about Luis Suarez, instead focus on the return of this club to the pinnacle once again. If Luis goes, in the end, it will be right for Liverpool. If he stays, and I believe he will, it's right for Liverpool. Events in football are rarely what they seem.