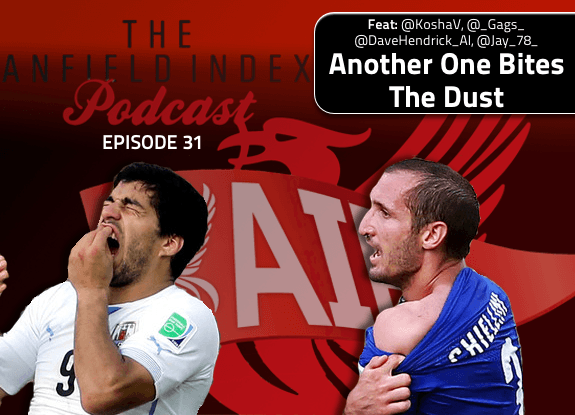 Anfield Index PODCAST: Another One Bites The Dust
Episode 31: Another One Bites The Dust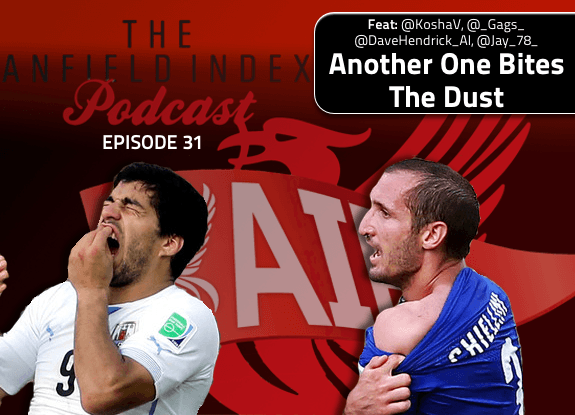 Date: 25th June, 2014
On this week's Anfield Index Podcast we have a special host in Kosha Vyas who's stepping in for the absent John Ritchie. Dave Hendrick returns from holiday and they're joined by Jay Riley and Gags Tandon.

England's dismal performance at the World Cup is discussed; the reasons behind it including Gerrard and Roy Hodgson. The team go through their best players at the tournament and also the teams they wish to win it.
On Liverpool FC there's discussion on the raise in ticket prices with focus on the business side and the supporters view too.
Finally the man being talked about around the world is discussed and the team get stuck into a discussion about Luis Suarez and what his latest bite incident means for his future at Liverpool FC.
All this and more, it's the Anfield Index Podcast!
Download on iTunes
(Only subscribers will receive new episodes immediately)
Host: Kosha Vyaas
Guests: Dave Hendrick, Jay Riley and Gags Tandon
You can listen to the podcast by using the embedded player or you can use the links beneath it.
Listen to this podcast episode | Download this podcast episode (right click and save)