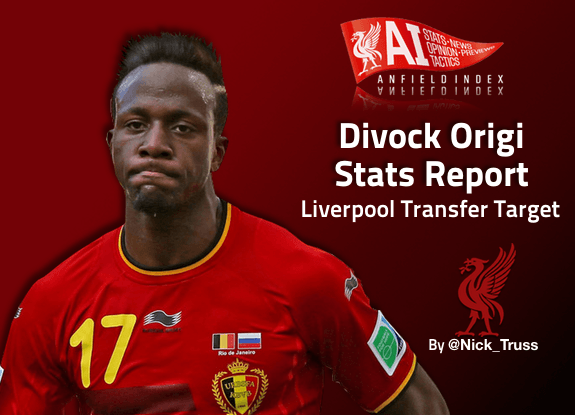 Divock Origi | Liverpool Transfer Target Stats Report
Liverpool have this week been linked with a £6 million move for LOSC Lille and Belgian striker Divock Origi following he exploits at the 2014 FIFA World Cup in Brazil having come of the bench to impress in all 3 of Belgium's group games helping them to 3 wins even scoring the winner himself in the 88th minute vs Russia. What he has shown is his short stints at the World Cup is that he is a young player with plenty of pace who loves to run at defenders and use his strength to cause problems.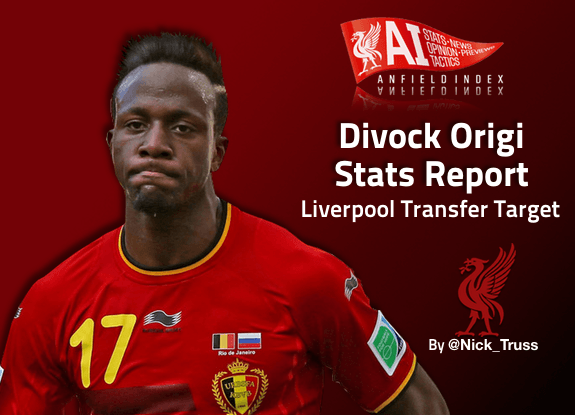 However 3 substitute appearances probably isn't enough to provide much of an insight into a player so let's take a closer look at Liverpool's latest transfer target in stats.

Name: Divock Origi
DOB: 18th April 1995
Age: 19
Nationality: Belgian
Current Team: LOSC Lille
Position: Striker
The 19 year old played 1285 minutes for LOSC Lille last season starting 12 making the other 18 appearances off the bench. He scored 5 goals in this time at a rate of 257 minutes per goal only 40 minutes more than new LFC striker Rickie Lambert managed for Southampton last season. Predominantly deployed on the left hand side of the attack for LOSC Lille starting 7 of the 12 games there scoring 3 goals Origi averages 0.7 successful dribbles per game in France this has been 2 dribbles per game at the World Cup. His dribble success for LOSC Lille is considerably lower than that of Luis Suarez, Raheem Sterling, Daniel Sturridge and even Philippe Coutinho but if he can achieve the same rate as he has done so far in his brief appearances at the world cup his rate would be better than the latter two LFC players.
It is well known that Brendan Rodgers' game plan revolves heavily round the passing game. Origi averages 12.5 passes per game with a pass completion rate of 79.1% therefore he is less accurate and has less than half the average passes of both Daniel Sturridge (25.5 at 79.3%) and Raheem Sterling (28.3 at 81.7%) and less than a third of Luis Suarez' average passes of 38.3 however he is more accurate than Suarez who has a pass completion % of 74.7%. However his sample size is much smaller than the LFC strikers having played over 1000 minutes less, his lack of passes could also be indicative of LOSC Lille's style of football a team in which Joe Cole made a success of himself.
Origi has scored 4/5 of his goals in the first half with 3 coming in the opening 30 minutes, this suggests that he is a quick starter which will fit in perfectly at Liverpool who thrive on getting the early goal.
For those who like a YouTube video here's one for you.
There are reports suggesting that Liverpool will purchase Origi for £6 Million and then loan him back to Lille for next season, however with Suarez banned for 4 months and the impressive performances of Origi on the World's biggest stage he may well prove to be a excellent option from the bench for Liverpool next season and is a player the club should definitely find the money for.
(Stats taken from WhoScored, Ligue 1 and EPL Index)