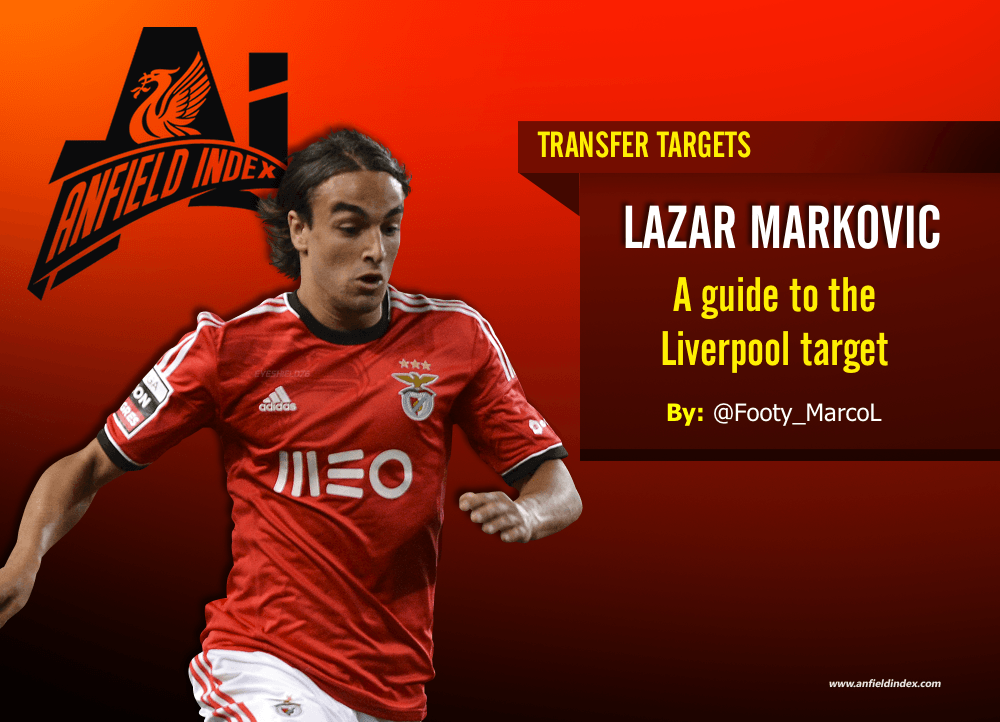 Lazar Markovic | A guide to the latest Liverpool target
Despite World Cup excitement and Chiellini shaped sound bites about Luis Suarez, the excitement around Liverpool's transfer activities have suddenly resurfaced again after spending some brief time catching breath while the world football showpiece steals the bread and butter transfer stories of lazy journalists.
One story capturing the imagination is the news that Liverpool are intending to make Serbian wonder-kid Lazar Markovic their next purchase.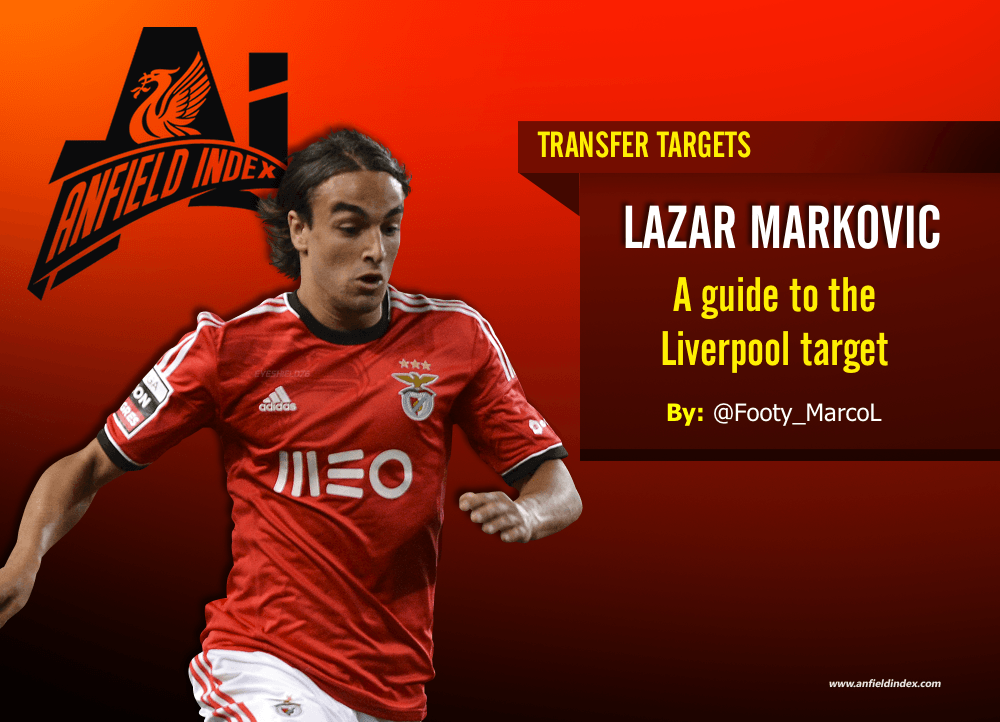 HISTORY
Markovic started his career playing for the Serbian powerhouse Partizan Belgrade. He received his first professional contract in 2011, and spent the next 2 years at the club, lighting up the pitch with virtuoso displays of brilliant skill and acceleration, while scoring 13 goals just for good measure.
In 2013, Markovic was scouted and signed by Portuguese giants Benfica.  He started as if he were a bull in a china shop, with decisive goals to help Benfica through challenging fixtures at the beginning of their season, most notably a brilliant equalizer in the Lisbon derby against a then-stronger Sporting side.  With usual first choice right forward Eduardo Salvio injured, Markovic (usually a left forward) was tasked with replacing the Argentine skill-wizard, and came up with some Serbian tricks of his own design. He played an extensive part in a massive season for Benfica in which they celebrated a domestic treble, and reached their second consecutive Europa League final, with the Serbian contributing seven goals, amongst other things.
Markovic has already been capped a 12 times for Serbia, scoring twice.
CHARACTERISTICS AND POSITION
Markovic is in essence, a wide forward.  The 20 year old is of similar build and style to Raheem Sterling, or Xherdan Shaqiri, although he is a couple of inches taller than both.  Markovic can play a number of positions, and while his native position is along the left flank, Benfica have got considerable value from him as a wide player down the right flank, given licence to cut in and join the attack in the centre, or to drag central defenders out of position after beating his marker at fullback.  Markovic can also apply his trade as a second striker, or possibly even as a false 9.
WHY NOT MARKOVIC?
Let's get the negatives out of the way first.  Markovic plays for Benfica, who have become in recent years as adept as FC Porto in receiving top dollar for their outgoing players.  Their transfer exits in recent years read like a star studded cast of top talent now playing at much richer European clubs, and nearly all of them have enjoyed significant trophy success since leaving.  Fabio Coentrao, David Luiz, Ramires, Javi Garcia, Axel Witsel, Nemanja Matic, Angel Di Maria – destinations being Real Madrid, Chelsea, Manchester City (the odd one out is Zenit St Petersburg, but they are fairly rich, I suppose).
This has two implications, 1. Markovic won't be cheap.  Benfica's recent treble winning side is already being raided massively with the departure of Ezequiel Garay, Rodrigo Moreno, Andre Gomes and if you believe the rumours, Enzo Perez and Nico Gaitan.  Losing another top talent in their ranks will be a big blow, and they're not going to let him leave lightly.  And 2. Liverpool could expect competition for his signature that typically has significantly more financial muscle available.  Liverpool's approach would need to be quick, decisive and far more compelling than warming the bench of Stamford Bridge for excessive money.
In fact, Chelsea represent the largest threat.  Markovic's contract is the topic of much complexity and scrutiny.  Markovic is 50% owned by Benfica, and 50% by a 3rd party fund.  There seems to be a distinct relationship of preference between Benfica and Chelsea, which could be the reason that Chelsea have been given first option on Benfica's 50% of Markovic, but there are rumours that this option was removed during negotiations over the transfer of Nemanja Matic to the London club in January.  Benfica may well value their share of the 50% for at least €20m……leaving the other 50% to haggle over.  That's probably why Portuguese media outlet O Jogo quoted Partizan director Dragan Djuric saying this in January: "Chelsea have loaned Markovic to Benfica for two years."
BUT – and it's a big IF and BUT – if somehow Liverpool have managed to find a way to get him, then the only thing that's really sour about the deal is the economics.
WHY LIVERPOOL SHOULD GET HIM
Strategic fit
From a strategic perspective, Markovic offers Brendan Rodgers a versatile option to fit into the attacking lineup. Markovic's native position is left forward, but he became adept at the opposite flank while playing for Benfica.  Markovic can play anywhere in the front 3 in a 433, and is also capable of playing as the attack minded tip of the diamond in the 442 Diamond, or even as a support striker in the front pair.  Given the options currently available to Rodgers, and assuming Suarez stays, or if he leaves and is replaced by Alexis Sanchez or someone of a similar ilk, Markovic would likely play on either flank.
At Benfica, Markovic has already spent time playing for a team that – similarily to Liverpool – values the tenets of high pressing, ball retention and most importantly, fast attacking transitions.  The tactical approach shouldn't be alien to him.
Technique
Under Rodgers, players with superior technique appears to have been one of the focal points of player recruitment.  Allen, Coutinho, Sturridge are typical examples of this, as is the emergence of Sterling for his technical qualities as well as his work rate and intelligence.
The comparison with Sterling is appropriate because not only do they play similar positions and roles but, while there's clear raw talent in technique with Sterling, Markovic is arguably superior in that respect.  Markovic's highlight reel for Benfica features some audacious touches and goals.  His close control at pace is awesome to watch.  His touches are considered, and he's the type of player who will fancy himself in taking on more than one opponent on the dribble.  He's not just comfortable on the ball – he offers genuine danger and unpredictability.  Benfica often applied his services to unlock stubborn, bus-parked defences, with reasoned success. Markovic possesses similar quickness of movement to Sterling, and explosiveness, and is arguably the better finisher of the two.
Depth and Rotation
That's not to say he's better than Sterling. My opinion won't be popular, but I think Raheem shades it at the moment for a number of factors – game intelligence, decision making, pressing intensity and physicality.  Markovic has the higher ceiling though, and that will be the exciting notion upon which Brendan Rodgers can commence his good work in leveraging the best out of this special talent.
It's also not to assume that Sterling's is his only "spot" to take.  For the sake of reference to guide comparison, Sterling is highlighted in this piece, but Markovic adds unique and different qualities to Sturridge, and Coutinho in certain roles that they play.  As for Suarez,… well, it can't hurt having two or three dribble wizards on the pitch, as long as they pass to each other once in a while.
In the meantime, Markovic offers a valuable option strategically.  He can unlock defences, attract defenders away from Sturridge, Sterling, Suarez or Coutinho, and produce incisive passes to create chances for them.  He already has experience of being part of rotation in a title winning squad, competing on four fronts, and a good stab of European experience with Benfica's Europa League runners up campaign last season.
Whatever else happens, if Liverpool do somehow manage to capture Markovic, it'll be easily the most exciting transfer the club have managed since Suarez's arrival in 2011.
Here's hoping!