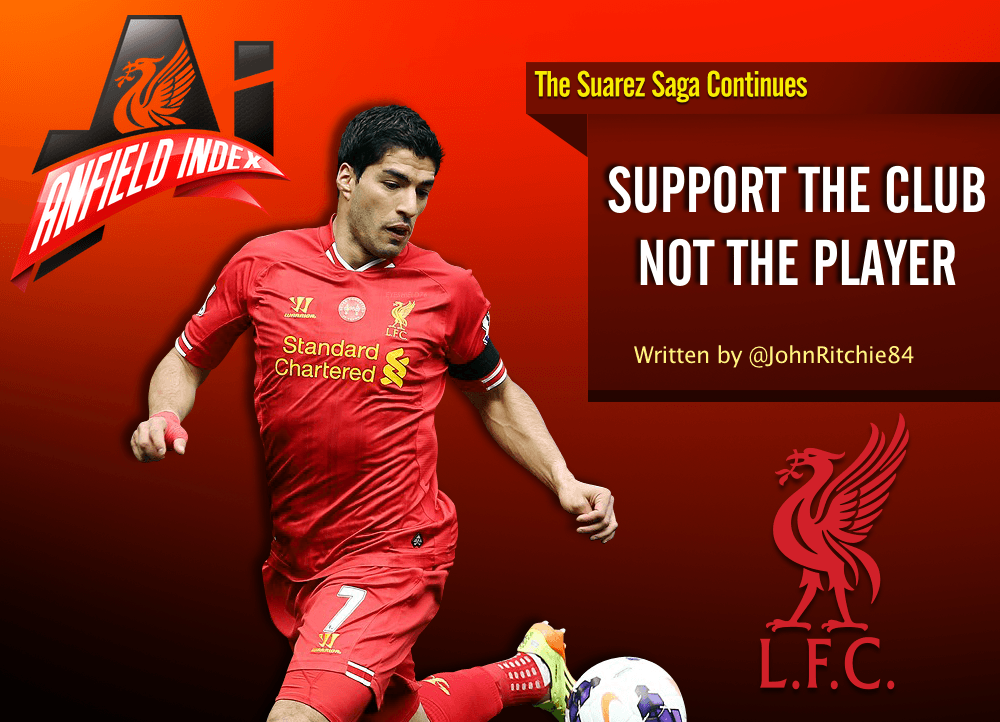 Support the Club Not the Player | Liverpool FC

Remember Norwich at Anfield in 2013, a cold dreary day, in a match that was almost called off due to heavy snow.
Once more the Canaries came to Liverpool FC in the hope they'd avoid a thrashing. Liverpool's form hadn't been great, still fighting on in the Europa league and the FA cup, trying to climb out of the doldrums of the league, the Reds were yet to click. Norwich were confident, they smelled blood.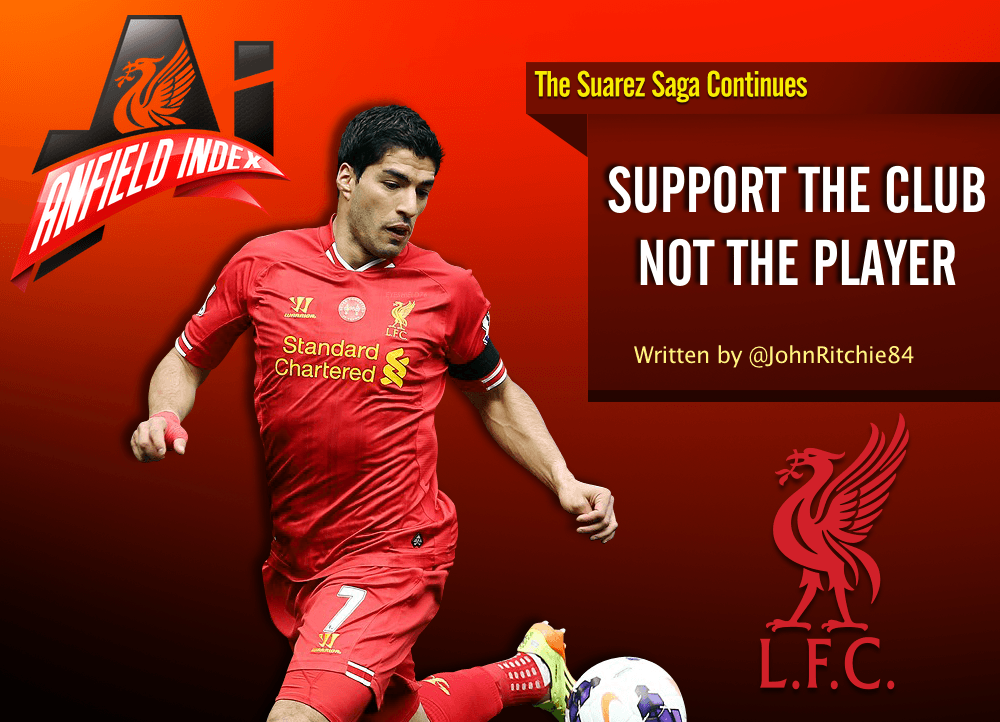 Then, quite simply, Luis Suarez happened. Yes, Jordan Henderson may have kicked off the scoring, Daniel Sturridge shone like a new star being born, but Luis Suarez was the man that caused the Kop to gasp in amazement, as he turned the Norwich defender both on the touchline and next on the by-line, a move that culminated in leaving the poor man clad in yellow and green left firm on his backside wondering what had just happened.
It was not the start of a love affair with the Kop and Luis Suarez, that happened long before. Yet the fans home and abroad saw their hero prove his star quality on the pitch. It's not often fans gasp in amazement, especially when the once great cathedral of sport, the bastion of invincibility, had become more renowned for its groans in recent times.
Luis Suarez was our hero, and even the hardest of hearts couldn't disagree.
Yet I wonder if there is a core question we must ask ourselves in Luis' time of shame. Can we have hero's anymore? Do we support the club or the player? Do we support both, one or none?
In Luis' case, for me, it's fairly obvious. I think he's an idiot. But he's also a genius who I'd love to keep at Liverpool so he can keep scoring goals for fun. But this latest incident has left a bitter taste. After all he's disgraced his country (not that anyone in Uruguay would agree), and more importantly, as far as I'm concerned, he's embarrassed the club I hold dear in my heart.
He's put a scar on Liverpool's great name once again, put a potential sale in jeopardy, put the start of the season in a fragile balancing act at facing the prospect of not having one of the world's best players available for the league, the Champions League and domestic cup competition's until November. Did he think of this when he acted selfishly to bite Giorgio Chiellini? No, it was all about Suarez.
Even now he's apologised. He didn't even reference Liverpool. Luis cares about Luis, he's made that much clear.
But there's been others in the past whom I've held close as hero's who have subsequently gone on to break hearts. Steve McManaman is one I'm not sure that I'll ever get over. He was a genius on the field of play, and when I watched him win a European Cup Final with Real Madrid it was with a heavy heart mixed with satisfaction that my once hero had achieved his dream.
Yet as he lifted his trophy did he care for the broken hearts back in Anfield? Who knows, and frankly who cares. Alas it was just 'nice' to see him do well; he showed the world what he can do and remains one of the few British players to achieve a number of honours abroad in the most challenging of teams during an incredible era of football.
I spoke to David Downie about this subject a while back, his view, can we really support these players? Dave's view was that 'these are just boys in millionaires' clothes, there's not much to support other than doing their best for the team'.
Whilst I can see the logic and whilst I respect Dave immensely, both as a journalist and a top, top guy, I have to disagree. They earn big money because they've achieved their childhood dream playing a game to a standard we all wished we could. I have no envy of these salaries that are paid, they've earned it and I congratulate them on doing so.
Yet I ask again, can I call on these men to be my heroes?
To truly examine and to answer I have to be honest and look to the very foundations of my love affair with Liverpool.
First off I love the club, and somehow in this Suarez saga, the club is the one that's been lost from the debate. What about the fact he's dragged Liverpool through the mud on matters of racism, biting, diving and more? 'But he's our best player' I hear you cry… Maybe he is, but say he played for Manchester United, you'd soon take a different view. Remember the shock and subsequent glee we all took when Cantona kicked a fan, or when Rooney got caught with a granny? Like it or not you must take the objective view. The club is bigger than any one player.
Next season, when fans all line up excited about the start to the season, they'll go to watch the men in red. It's likely that Suarez will have already gone to another club by then, but you'll all still support the team. This club is littered with great players past and present, they come and go, we remain thus whilst you can enjoy players, always remember that it's a Liverbird on our chest, not Luis Suarez or any other for that matter.
What matters is that we're still good at football. That we still want to tear teams apart. That was why last season was so incredible, that's surely why we love the game?
I said on the podcast last season "It's nice to just focus on the football, rather than how big is FSG's intent or any other drama". That is why I became a fan in the first place, everything else, every other piece of maddening stupidity can take a back seat.
For once, Liverpool have a chance to move on. We seem to have wise men in charge these days as opposed to local businessmen who came good, but never really knew how to run a modern football club. We've got owners who are in the black themselves as opposed to the last lot who now can't even afford their own house these days. Liverpool seems in relatively safe hands and that's reassuring.
Most of all Liverpool will still be there. The club is bigger than Luis Suarez and the next time we all gasp in amazement, hopefully it's for what we've achieved together as fans and as a club. That, after all, is the dream.