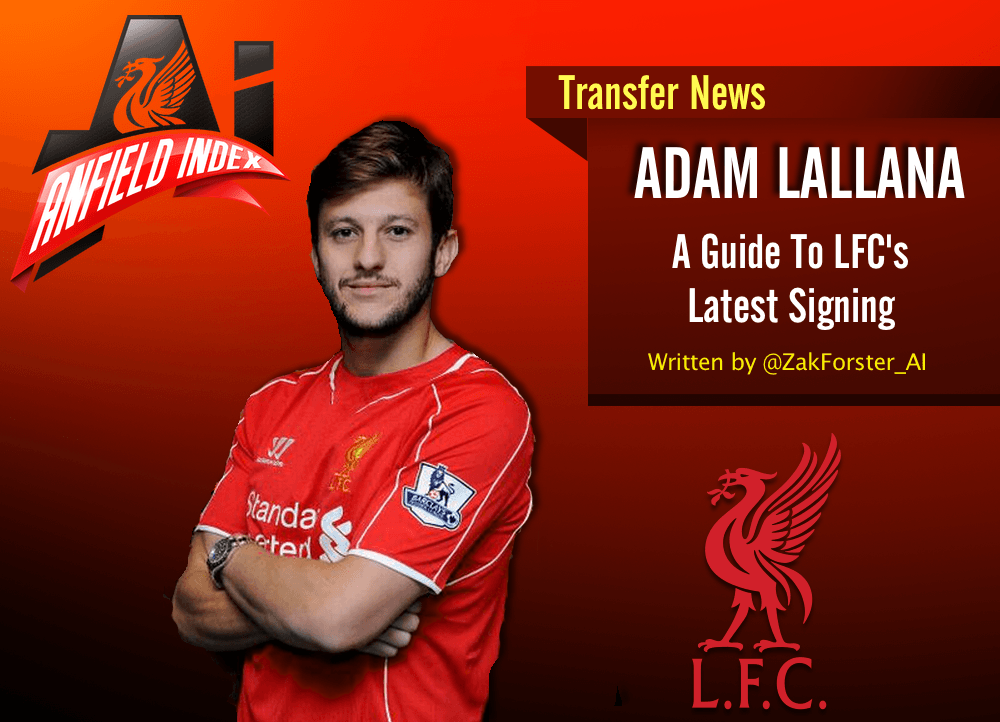 Adam Lallana - A Guide to Liverpool's Latest Signing
Whilst the World Cup continues to enthral and delight us all with its late goals and tight penalty shootouts, the transfer window has finally opened up and clubs are now rapidly tying up their new stars, with contracts finally able to be signed. Adam Lallana was finally confirmed as a Liverpool player on the 1st July and he is now the name on everyone's lips. Liverpool's new man will be well known to many of us who have watched the Premier League for the past two seasons – perhaps even better known by the supporters who have watched League One and Championship football down the years, as the Saints slowly climbed their way back to the top table of English football. In this guide, we'll aim to learn what it is that made Lallana such a high priority target for the Reds and why Liverpool thought he'd help their squad.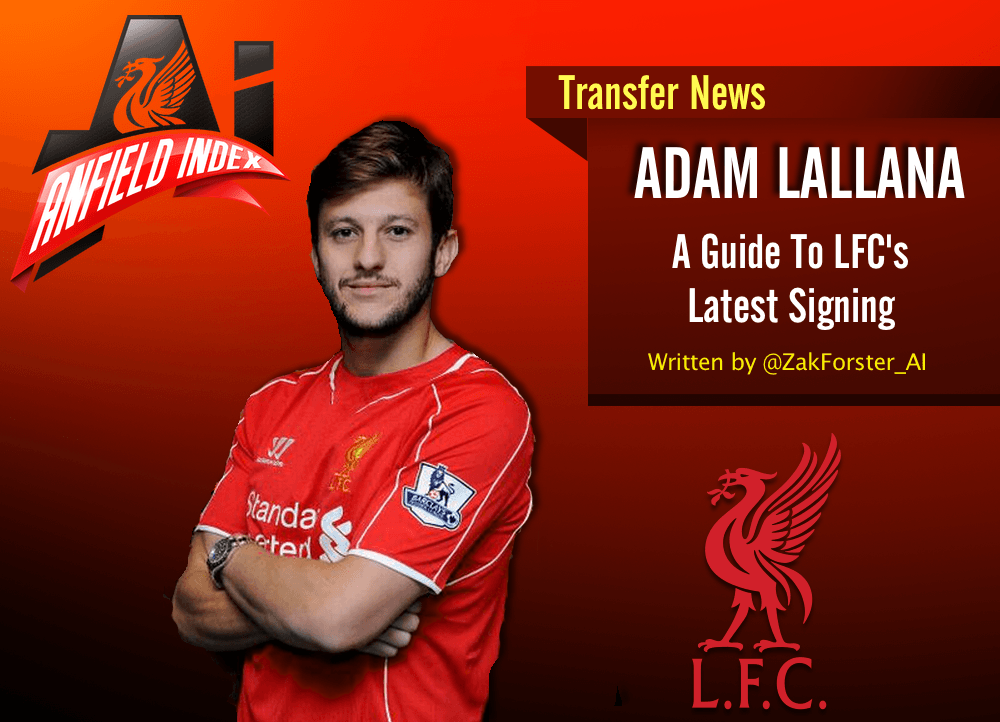 History
Adam Lallana started his professional career with Southampton in 2006 after spending six years as part of their impressive youth team set-up. Lallana was acquired by the Saints in 2000 after impressing for Bournemouth's youth sides. When Lallana turned professional in 2006, he made just six league appearances for Southampton in his first two seasons before moving back to Bournemouth on loan for the 2007-2008 season – Lallana failed to break into the first team on a regular basis and made just three league appearances during the spell before being sent back to Southampton.

However, from the next season onwards (08-09 to 13-14) Lallana has averaged 38 league appearances per season – although some of these appearances were made in the Championship and League One, so playing in leagues with 23 other teams, which therefore means he had more games available to him. Lallana was named in the League One Team of the Year for the 2010-11 season after bagging 11 goals. Following on from Southampton's promotion to the Championship, Lallana continued to produce the goods despite the higher calibre of opposition and was named in the Championship Team of the Year for that season – finishing with 11 league goals once again.
Last season, Lallana appeared in all 38 of Southampton's league games scoring nine goals along the way. He also appeared three times in the FA Cup and once in the League Cup – scoring once in a 4-3 victory over Burnley. Following excellent performances at the heart of the Southampton attack, Lallana was named on the shortlist for the PFA Player of the Year award alongside new team-mate Luis Suarez. The 26 year old midfielder was also voted into the PFA Team of the Year alongside Luke Shaw – Southampton's former left-back.
After another great season domestically, Lallana was selected to be part of Roy Hodgson's World Cup squad and subsequently represented the Three Lions at the 2014 World Cup taking his international record to eight caps.
Characteristics and Position
Lallana is an attacking midfield player who can play in various positions to varying degrees of success. The former Saints captain lacks the pace of Raheem Sterling but makes up for this with strong on the ball skills coupled with excellent ability with both feet. Lallana is agile on the turn and can shoot with both feet, which can be a great weapon to confuse opposing defenders. Lallana's best position is probably the number 10 role which would be at the tip of Liverpool's preferred 4312 formation.
Lallana has also been known to play in a slightly deeper role, which would place the English midfielder in direct competition with Philippe Coutinho for one of the three central midfielder slots.
Lallana has also been known to play in wide positions, although his effectiveness in these positions is thought to be lower than when he plays centrally. Some Liverpool fans may remember Lallana playing out wide against the Reds at St Mary's when a Steven Gerrard penalty rounded off a 3-0 away win. During this game, Lallana was giving Liverpool problems by dropping off Steven Gerrard and finding the space between Liverpool's midfield and defence, before he has switched to the left by Pochettino; Lallana's effectiveness dwindled during the second half as Liverpool took full control. This kind of performance has led to many believing that Lallana cannot play anywhere but in a central position if he is to be of value to Liverpool.
Drawbacks and Weaknesses
First of all, there is the price. Southampton were under no pressure to sell their captain and they were therefore able to command a premium fee for the 26 year old. Liverpool will probably end up paying around £25m for the midfielder's services with around 25% of that figure going to Lallana's old club Bournemouth – who are owed a sell on fee from a previous contract clause. With this high figure, Lallana is almost certainly Liverpool's second most expensive player after the infamous signing of Andy Carroll for £35m (if the £20m sum for Fernando Torres is to be believed and not the £26m which is sometimes quoted). With this fee comes expectation and pressure which has seen many a new signing fall – many supporters, from both the Anfield faithful and rival fanbases, will expect to see Lallana excel immediately and this could get tricky if Lallana doesn't produce straight away. Adding to this could be the fact that Lallana might find himself on the bench at various times throughout the season – and that's one expensive sub for a non-oil rich club like Liverpool. The questions Rodgers will have to ask himself are: is Lallana better than Coutinho? And is Lallana better than Sterling? The answer to both is doubtful and many people will simply say no he is not – but both Coutinho and Sterling are young and require management with their fitness levels so the rotation factor could make this all okay.
Another drawback is the fact that Lallana can sometimes go missing from games. As mentioned previously, a good example of this comes from the match between the Reds and the Saints from St Mary's earlier this year – although this example stems from a tactical tweak from Pochettino not from Lallana himself.
Perhaps the most crucial question mark against Lallana is his ability to finish a full 90 minutes. Lallana's injury record is very good but Pochettino often saw it fit to withdraw the midfielder before the full 90 minutes was up (often around the 75 minutes mark). This has led to people questioning the player's natural stamina over a full game period.
Positives and Strengths
Technique
Lallana is certainly a technically gifted player and is definitely along the lines of where Rodgers wants to take Liverpool. He is great with both feet and loves to dribble at the opposition from both central and wide areas. Lallana could definitely improve his through-ball output with the player playing just 0.1 accurate through-balls per game on average – compared to Coutinho's 0.4, hopefully this is something that Rodgers can bring out of Lallana, which is why I haven't labelled it as a weakness.
The Squad
Liverpool need this kind of quality. The Reds came so close to ending their league title drought last season and they may have been successful had they had just a little extra quality off the bench. Rodgers' men ran out of steam right at the death with just three games to go and part of this was because of the lack of options in the squad – the team picked itself almost every week, especially when injuries became a problem during the festive period. Lallana is a direct upgrade on Moses, Cissokho, Kelly and Aspas in the fact that he can actually change the game. Signing Lallana doesn't just mean that he's going to be changing the games from the bench, it means others can too. If Lallana starts then Coutinho or Sterling can be fantastic options, or perhaps Allen depending on the way the game is going or what type of game it is. Couple this with the fact that the Reds are facing battles on four fronts and this signing becomes encouraging and makes a degree of sense.
Strategy
Lallana likes to keep the ball and so does Rodgers. Sometimes the Reds used counter attacking measures against the big boys last season but Rodgers was brought in with a vision which promoted keeping the ball more than the opposition and using that possession well, and Lallana can certainly help that. He likes to play with the ball at his feet and can operate in tight areas. Something Rodgers often speaks about is courage and bravery on the ball, which Lallana will bring to Liverpool.
Rodgers is also the type of manager who likes his players to be skilful and athletic at the same time. He wants hard workers as well as flair players and Lallana brings that having proved his athleticism throughout the season as a vital cog in Southampton's pressing game – despite the notion that he cannot finish a full 90 minute game. Lallana is just as hard working as Liverpool's very own Jordan Henderson. At the stage where both players had made 33 appearances last season, Lallana had covered 358,000 metres or 222 miles – just one mile less than Jordan Henderson.
All in all, Liverpool have signed one of the breakthrough stars of the 2013/2014 season and I for one can see why he was signed. He's a leader – having captained Southampton in recent years, he's a great addition to the squad and he keeps the likes of Sterling and Coutinho hungry and on their toes. My biggest drawback is the price tag but if Lallana can use that as a way of reinforcing how much Rodgers wanted him then he could be fine on that front. And who knows, for those of you with an England shirt tucked away in your drawer, Rodgers might just improve England again by placing Lallana in the team with Sturridge, Sterling and co. Everyone's a winner here (probably).