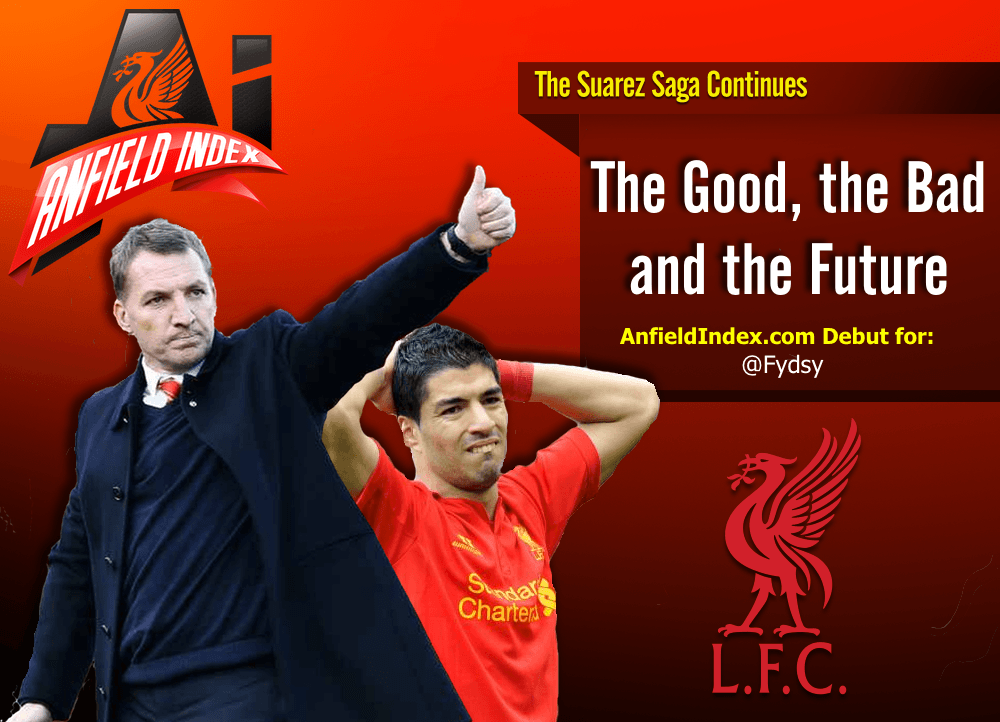 The Good, the Bad and the Future | Liverpool FC
It's been a while since I felt particularly moved to write a piece on the re-emergence from near extinction of LFC. So many others were doing it, some good, some bad some obvious or indifferent that yet another to add to the heap seemed pointless, even gratuitous – we had also just lost Kenny Dalglish as manager, and with my genuine and deeply felt reservations about the new man, Brendan Rodgers, I felt it was better to hang fire – besides, I didn't trust my objectivity at that point.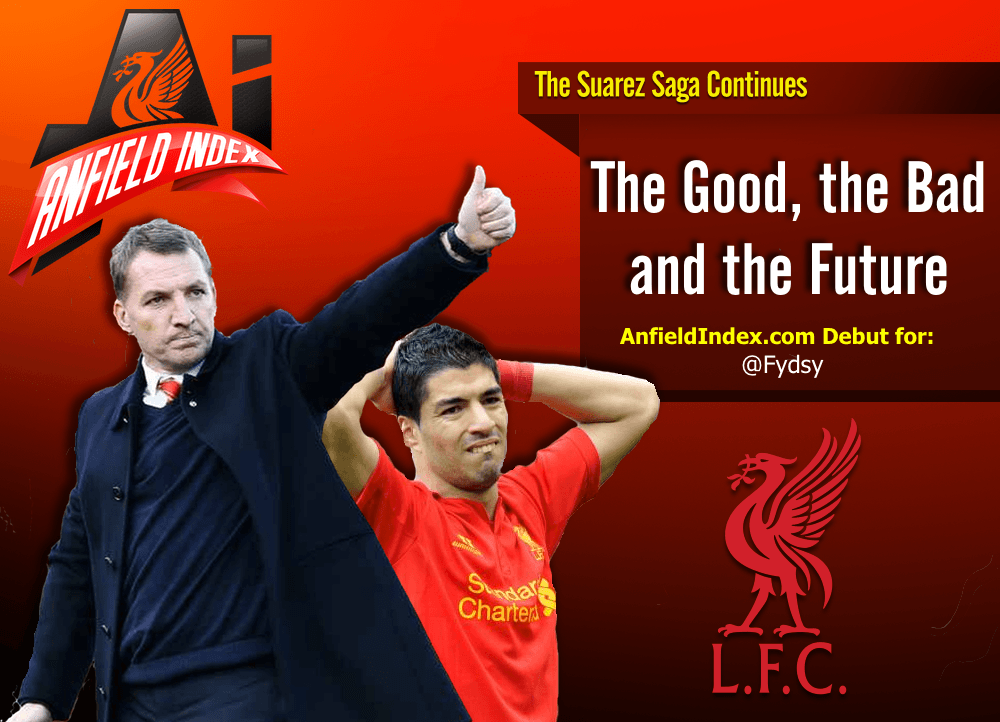 Now, two years on, enough time, effort appraisals and player have passed under the bridge and we stand at another crossroads – this time albeit with the manager still in place and from a far higher base than the previous crossroads promised, a tightly fought title contention that finished narrowly with our second place and Champions League automatic group qualification ensured for the first time in 5 years. However of course, this is only part of the story, so lead on, MacDuff…

When Brendan Rodgers took over at LFC, like so many, I was not best pleased – not because Kenny had been sacked, although I thought two finals (one win)  in one season warranted at least a shot at another year, I could still understand why FSG chose to go for the change – though I thought the untried (at any higher level than Swansea) choice of Brendan Rodgers was more likely to end in tears than applause. For the first six months, my fears of having a learner driver in charge of my albeit shop-soiled Ferrari seemed to be borne out…but then, things changed for the better and so far, we haven't really looked back.
Three key components in this rise aside from Brendan slowly but surely getting his feet under the table were the working establishment of the much maligned, sometimes praised transfer committee who in that first Christmas window of the Rodgers era signed Daniel Sturridge and Philippe Coutinho to the general indifference of our rivals and – if they're honest – most of our own fans. Most were split on Sturridge, the former Man City junior who went to Chelsea and apart from a short and successful loan at Bolton, more or less sank into the Abramovich quicksand reserved for his collection of strikers. The general opinion of Sturridge at the time was not dissimilar to that of Lallana now – some think he could do a job, others thinking why are we wasting £12m on a youthful could-be who never was? Couldn't we do better than this? My – the more things change, the more they stay the same.
Coutinho was an enigma to most of our fans – most had never heard of him, despite the trawling of YouTube and Opta to find something to back up their opinion – any opinion.'Why are we paying £10m for some kid who can't get a game at Inter?' was a common rebuff on Twitter. I knew fairly little about him myself, but former Reds and Inter manager Rafa Benitez HAD played him in his time at the club and thought he really could become one of the best players in the world – that was good enough for me. Their contributions helped turn Brendan's first troubled season around – and although we finished less obviously spectacularly than in Kenny's previous season and with no real positional progress, the progress on the field was obvious to anyone with eyes, meaning most of the media missed it – focused as they were on the story that will eventually bring us up to date – Luis Suarez and a ban for biting.
During the summer, despite Suarez being banned from the first 6 games and elsewhere providing a mini-slurry of injuries, our recruitment flagged somewhat. Alberto and Aspas arrived – most fans thinking that after his showing in La Liga, Aspas would be a useful addition and at the end of the window, the committee chased and got Sakho from PSG. Sakho would – after a faltering start – prove himself an astute buy, Aspas and Alberto would get few chances and would not really shine, though Alberto's pass for Suarez to get his second against Spurs in the 5-0 hammering at White Hart Lane and sealing  AVB's fate, was sublime. Of the two loanees, Aly Cissokho was game and gave it his best shot, even having a few decent games, yet overall he was not a success – although compared to the other loanee Victor Moses…
FSG were not happy with this window and banged a few heads when it became clear that the committee and Brendan were not singing from the same songsheet. The money was made available, so where were the players? Well of course, the fact we had no European Football at all and were still clearly a work in progress wasn't going to impress many of the players we really wanted. Costa's agent got in touch and so we asked Atleti the question only to find that they not only had no intention of selling him, but that this was yet another agent trying to wheedle out a better contract for his client and using LFC as leverage. One Spanish report even had Costa laughing with colleagues on the training ground at both Atleti and LFC's part in his pay-rise. Other potential signings of both this and the previous window had other issues – Mkhitaryan and Willian both had odd, 3-way ownership issues and both were simply being sold to the highest bidder as long as the highest bidder had CL football and would pay dodgy figures in the background – Spurs, who thought they had gazumped LFC, discovered just how treacherous a business this could be when as they were about to announce Willian, his Svengali like frontman Kia Joorbachian of Mascherano and Tevez illegality fame, was seen to be pulling a Chelsea top over his client's head and trousering a further £5m. We didn't miss out on these players, as for various reasons we never really had a chance – we provided a certain form of leverage for their prospective deals, but we were never an intended destination.
The following season, the one just gone, needs little further examination. A tale of massive progress, a return of a whole-team ethic and style of play and a dramatic learning curve for both Rodgers and his still rather paper-thin squad. Some massive wins, goals all over (unfortunately, sometimes at both ends). Our defence was a big question – but often certain factors were overlooked in the hunt for scapegoats. Firstly, for almost the whole season the defence was makeshift – a mix of experience, youth and not always fully fit players and a goalkeeper that has yet to learn to properly command his box or effectively communicate with those in front of him. Some defenders were played out of position due to injuries and shortages – this led to a few problems, the uncertainty or the reliability this and the blend of largely untried youth, new and loanee signings brought meant a nervousness and cock-ups in some games when pressure was applied was inevitable. Added to this was that we played an attacking, pressing game with the fullbacks (often inexperienced) playing high up the pitch which will make any team susceptible to a counterattack at speed. Thankfully, our progressive forward line meant most of the time we vastly outscored the opposition and so defeats were few, wins plentiful.
Having secured second place and automatic group qualification for the CL, we moved into the summer – a summer which looked very bright indeed, with a record TV money deal to kick in, 5 major new or renegotiated sponsorship deals to come on-line, £99.4m from TV revenues earned – more than any other club, and work finally underway on the stadium extension (which bizarrely, some were still not happy about). We were always going to spend big this summer to secure the gains of last season – always at least 6/7 players to improve the first team either as strong starter/alternates or as serious strengtheners in 'thin' positions – other opportunist additions would almost certainly be added if the chance arrived. If we were lucky, we would have 60+ games to come – and it was clearly understood more depth and greater quality were needed and would be paid for. We would go for players who would fit into our system who may or may not be big names – that wasn't important – the fact they could add to what we do and improve it and want to play for us – was.
And then came Uruguay against Italy and the unthinkable became reality.
Once that bite on Chielini took place and the uproar commenced, FSG had a strong and difficult decision to make, and after due consideration, they made it. Luis Suarez could go – but not on the cheap – at a price they wanted or not at all. This was as much a business case as it was a footballing one. Suarez is a footballing genius, mercurial, brilliant but ultimately again and again, disruptive. He can win you a game in an instant, but if he were to stay, in his relatively short time at Liverpool he would have already been banned for no less than 31 games without getting a single red card. Almost a whole season lost to sloppy trigger impulse and the demons within. Add to this the public and media approbation of the player and the club, the broken promises to management and teammates alike and the possible effect on sponsors and unsurprisingly FSG decided the time had come for a parting of the ways, despite the robust fight to keep him the previous summer. They want around £80m – either in cash or a mix of cash and Alexis Sanchez – and they will get one or the other.
So what now? Can we survive and even flourish without Suarez? Of course we can. It may be difficult at first or may be not – but it will be less stressful and more focused. Those of you who listened to the Anfield Index podcast featuring the excellent Football editor of the Times, Tony Evans, the astute Brian Durand and myself will have heard how often we have been here before since the earliest days of Shankly's tenure – and not only survived, but often thrived. Emlyn Hughes, John Toshack, Steve Heighway, Ray Kennedy, Kenny Dalglish, Alan Hansen and even Suarez himself all replaced much-loved icons of their day and although it will stun some younger fans, all were subject to their share of doubt and ridicule at the time, replacing such greats as Byrne, Thompson, St John, Keegan, Lloyd and Torres…and yet…those who think Lallana is overpriced, who have never heard of Can or who believe – should we sign Lovren – we could 'do better', take pause and remember – we have been here before, many, many times and much humble pie has been consumed in hindsight.
Liverpool FC are back – we will, undoubtedly have rough patches still, heroic or stupid failures, but make no mistake – LFC are back, and over here on mainland Europe where I and my partner live, Liverpool are the talk of the Premier League – not Chelsea, Arsenal, City or United – but Liverpool and their amazing attacking football – with or without Suarez.
As the team matures, improves and strengthens – have a bit of faith. We don't often buy stars – we make them – we always have – and watch out when we do.