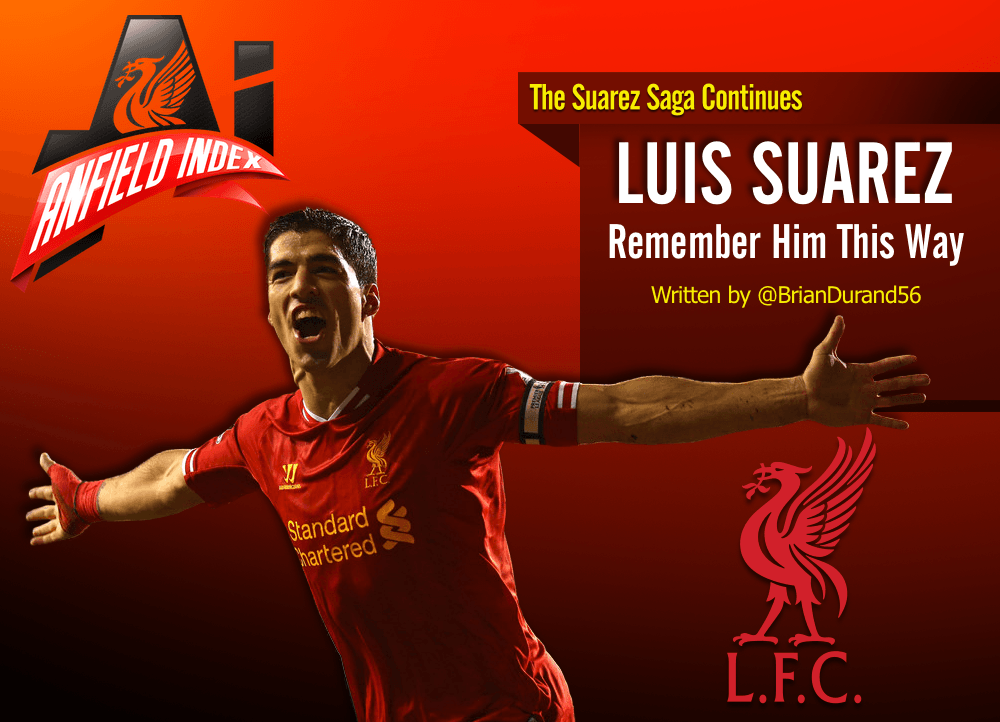 Luis Suarez - Remember Him This Way
From his 79th minute substitute introduction against Stoke on Feb 2nd 2011, until he disappeared down the Anfield tunnel after the players' end of season  lap of honour less than two months ago, Luis Suarez was central to the renaissance of Liverpool Football Club.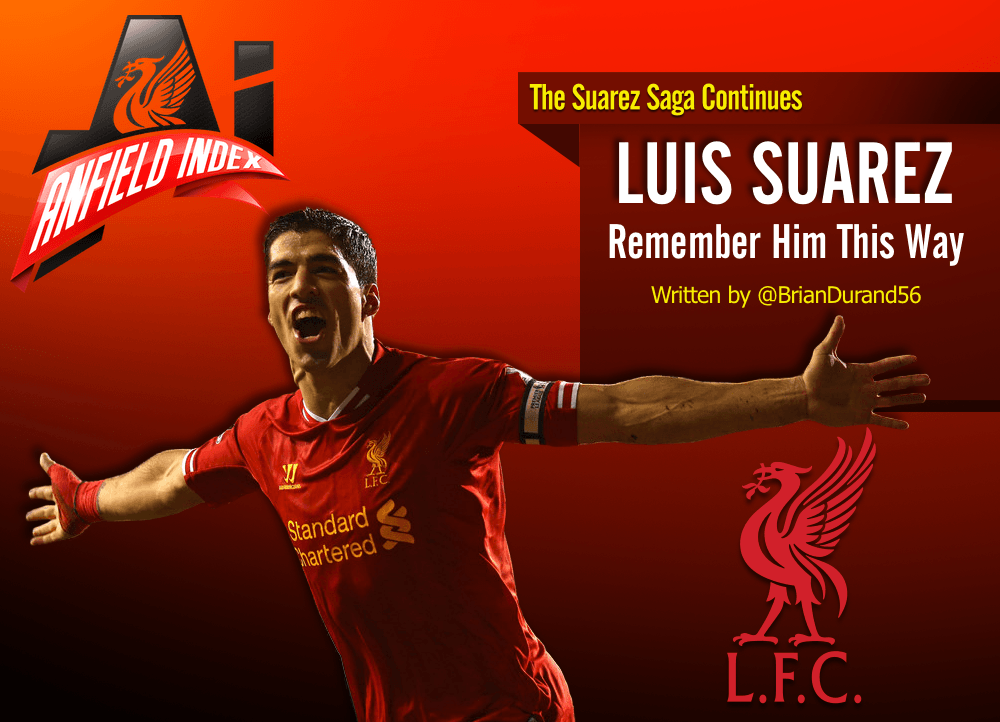 His scruffy debut goal was greeted with joy from those at Anfield that cold winter evening, but few present could have guessed at the highs and lows which lay ahead.

Suarez's arrival at L4 was somewhat overshadowed by the massive transfer story of the day – Torres to Chelsea for £50m, replaced by Andy Carroll for £35m. History has already had its say on the consequences on those two careers, but whilst the nation's journalists sidelined Suarez to a footnote then, they would soon re-categorise him as the headline-maker supreme.
It was a month after his arrival that Luis gave his new army of adoring fans the first glimpse of his very special talents, the first clue that here we had a new idol. League leaders and LFC enemy No1, Manchester United breezed into Anfield expecting their customary victory.  A Dirk hat-trick and a Carra tackle which reduced Nani to a bawling wreck may have grabbed the headlines but it was a moment of sheer brilliance 10 minutes before the break which had the Kopites purring.
Seemingly penned in near the left hand edge of the penalty area, with nowhere to go, Suarez twisted past Rafael, skipped past Carrick and disappeared past Wes Brown, leaving Dirk with the simplest of tap-ins.
Dirk Kuyt's goal, but Luis Suarez was the genius behind it.
It would become characteristic of the artful dodger. Never before in almost 50 years of LFC watching have I seen a player so adept at escaping from impossible positions in the opposition penalty area.
Over the three years since, Luis has thrilled us with just about every type of goal. From his volley at Sunderland from the byline, to his measured 50 yard effort at Norwich; from his 20 yard bullet header v WBA to his sublime 4 goal demolition of the Canaries (again) – he has had Liverpool fans searching the dictionary for new superlatives.
His misdemeanours are well documented. Over- documented.  Obviously he is no saint. In fact, some have questioned his mental state. There is no doubt that Luis loses control in moments, which lets him (and those around him) down.
I've never had the pleasure to meet Luis Suarez, but everybody who has is unanimous in endorsing him as a splendid chap (off the pitch).
Three years on and Luis is leaving Liverpool.
Maybe his infamous red mist moments have contributed, maybe he was going anyway. He is a Spanish speaker and the draw of the Spanish giants has been omnipresent even whilst we lauded Luis and celebrated our love affair.
Unlike other heroes who have left LFC, Luis is not motivated by money.
Unlike other heroes, Luis has not allowed his dreams of pastures new to affect his level of commitment on the pitch.
In years to come when the Luis Suarez autobiography is written (what a book that will be by the way!) we may learn that he has yearned for a move to Spain for years. However, if that is the case, then he never let it show for a single second.
On the pitch he was one of us. Fighting for every ball, contesting every decision, chasing back in the last minute even when he had scored a hat-trick.
He has given a generation of Liverpool supporters a catalogue of stories of a truly brilliant player, which will be passed down in years to come in the same manner that my old fella used to enrapture me and my kid brothers with tales of Billy Liddell.
Lord Alfred Tennyson once wrote 'It is better to have loved and lost than never to have loved at all'.
We loved Luis Suarez for three and a half years. He was paid well during that time, but paid us back with true genius, memories, talking points, sweat and a place in the Champions League. It seems to have passed in a heartbeat.
Liverpool supporters have lost heroes before. Life goes on.
Come August, the Kop will roar the men in red back onto the hallowed turf as we open a new campaign against Southampton. One man will be missing, but like all the players who have been and gone, a small part of him will remain.
Luis Suarez came, he saw and he conquered our hearts. He never left anything on the pitch.
I wish he was staying with all my heart, but alas the die is cast.
This Kopite wishes him all the very best.
Thank you Luis Suarez. Thank you, you crazy Uruguayan bastard.