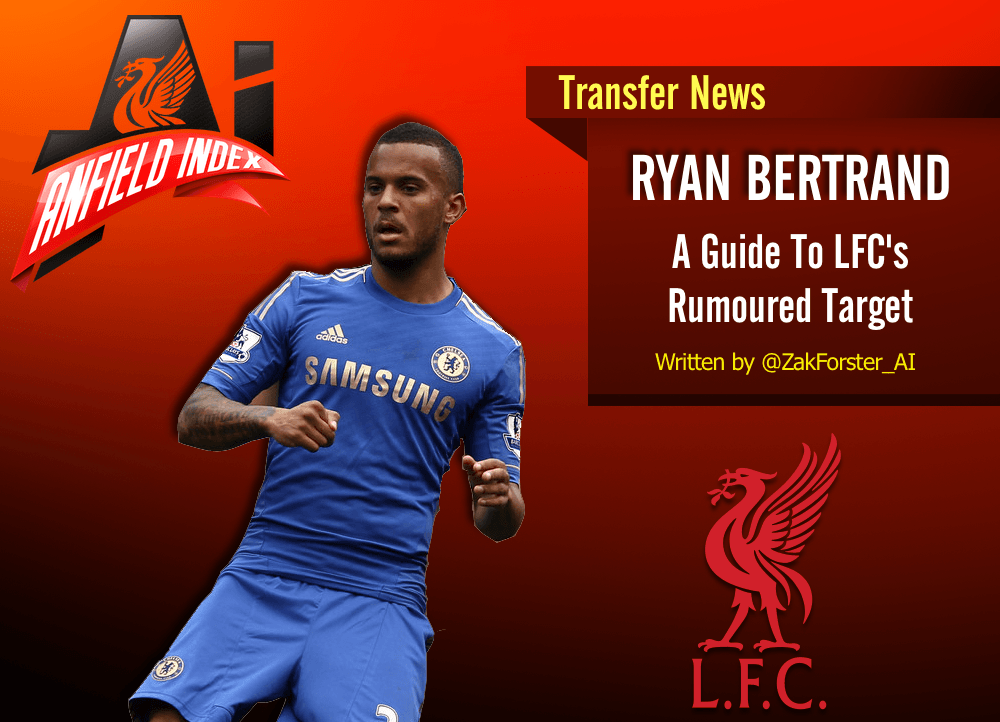 Ryan Bertrand - A Guide to Liverpool's Rumoured Target
Liverpool's busy summer of transfer activity seems to be showing no signs of slowing down despite the Reds already capturing three players on permanent transfers. Rickie Lambert, Emre Can and Adam Lallana have already been hurried through the door whilst outgoings potentially include Luis Suárez, Daniel Agger, Lucas Leiva and Pepe Reina. Rodgers is reportedly interested in a number of other targets including Dejan Lovren of Southampton and Chelsea's Ryan Bertrand – the player who we'll be looking at from here on in.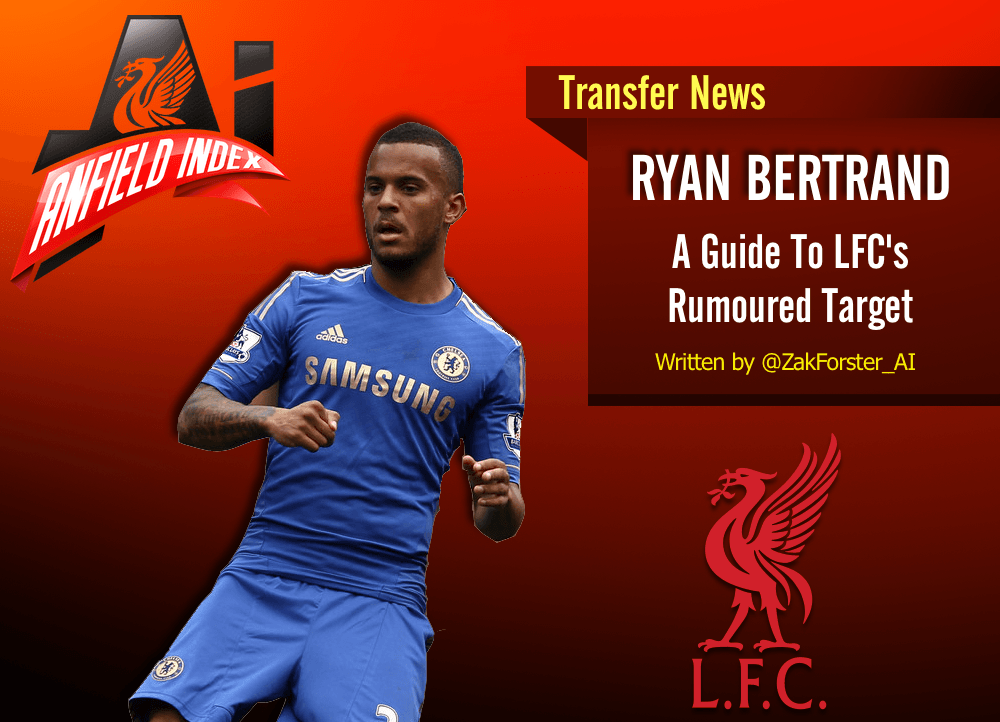 It's no secret that Liverpool have often struggled with the full-back positions in the past. Not since John Arne Riise have the Reds had a reliable left-back who impressed the coaches and the fans – and even he couldn't always be relied on to defend properly. Fabio Aurelio seemed a great choice when Benitez acquired his signature but his body couldn't do the work his mind wanted and soon the Reds were turning to Paul Konchesky (shudders). Now it seems that Ryan Bertrand will be the next left-back to come through the Melwood doors and here we'll look to learn what Bertrand is all about and what he might add to the Anfield club.

History
Ryan Bertrand's professional career started off for his current club Chelsea in 2006, with the left-back signing his first professional contract after impressing in matches for Chelsea's academy during the 2005-2006 season. Prior to this, Bertrand competed at youth level for Gillingham between 1998 and 2005. Since signing his first professional contract, Bertrand has remained a Chelsea player but has spent most of the following eight years out on loan at various different clubs. The English left-back played out on loan at Bournemouth, Oldham Athletic, Norwich City, Reading, Nottingham Forest and, most recently, Aston Villa – where he played for the second half of the 13/14 season.
Bertrand has only made 56 appearances for Chelsea, despite being contracted to them since 2006 – and these appearances are a mixed bag of Premier League, Champions League, Europa League and domestic cup outings. The former Gillingham youth player has found chances hard to come by during his time in London with only two managers really giving him an opportunity – Roberto Di Matteo and Rafael Benitez. As such, Bertrand only represented Chelsea in four of the eight seasons since he signed on, with his best season perhaps coming in 12/13 when he was given numerous first team outings by Roberto Di Matteo and replacement interim manager Rafael Benitez. The left-back made 38 appearances in that season, with nine of those coming in Europe as Chelsea lifted a second major European trophy in as many seasons following on from the Champions League victory over Bayern Munich in May 2012.  The 12/13 campaign was also the first season Bertrand scored a senior goal. His first professional goal came against Manchester City in the Community Shield after Chelsea defeated Liverpool in the FA Cup final the season before (Bertrand did not feature).
The Champions League Final win over Bayern Munich is certainly Bertrand's career highlight with Di Matteo throwing the left-back in at the deep end by giving him his European debut in the Final itself – the first player to achieve such a feat in Champions League history (1992 onwards).
Recently, Premier League supporters will have seen Bertrand playing for Paul Lambert's Aston Villa after Chelsea decided to loan the left-back out for the second half of the 13/14 season. Bertrand made his debut for the Midlands club against Liverpool as the Villans shocked Anfield with a 2-2 draw. Between the 17th January, the day he signed, and the end of the season, Bertrand made 15 appearances for Villa.
Internationally, Bertrand has represented England for the under-17s, under-18s, under 19-s, under 20s and under 21s and took part in the under-19s and under-21s European Championships in 2008 and 2011 respectively. Bertrand has also played for England at international level where he has earned two caps so far. On top of this experience, Bertrand played four times for Team GB at the London 2012 Olympics.
Characteristics and Position
Ryan Bertrand is most definitely a left-back but he has played for Chelsea in the left midfield role – most notably against Bayern Munich in the 2012 Champions League Final. He was also been deployed in central midfield by Paul Lambert during his loan spell with Aston Villa – although this only happened on one occasion.
In terms of how Bertrand likes to play, he's definitely an offensive full-back who loves to get forward but he's certainly not as quick as Jose Enrique, nor is he as physically powerful as the bulky Spaniard. The 24 year old can also be clumsy in the tackle with the left-back averaging over one foul per game last season – although contradicting this is the fact that 60% of his tackles were successful last season which could point towards the fact that playing for a poor team like Aston Villa meant he conceded more fouls as he came under more pressure than he otherwise would for a higher end team like Liverpool.
Sadly, the statistical based website Squawka.com labelled Bertrand the "Worst Man of Match" twice last season whilst he also received the "Worst Attack" three times.
Drawbacks and Weaknesses
There are certainly some big gaps in Bertrand's skill set which makes this potential signing a slightly confusing one to say the least. We know Rodgers likes hard-working, athletic, yet skillful players who can pass in tight areas and dribble at speed, but it doesn't seem like Bertrand has any of these abilities – and at 24 you have to question whether he'll ever acquire them.
The statistical website WhoScored.com indicate that Bertrand has "no significant strengths" whilst his weaknesses are passing, crossing and defensive contribution. If we piece this together, we're looking at a full-back who cannot cross from wide areas (although Liverpool don't often cross the ball anyway), cannot or will not defend because of his offensive nature and a player who struggles to pass – something Rodgers will need from Bertrand. Bertrand's pass accuracy of 76.9% doesn't really inspire confidence, especially when defenders often find themselves with the highest passing accuracy as they roll the ball between each other and the deepest lying midfielders. This statistic dropped even further to 71.6% when Bertrand played away from home which could indicate a weak mentality – another strength Rodgers would normally insist upon, will all his talk about defenders being brave and receiving the ball.
All in all the most worrying part of this is how often he is caught out of position whilst attacking especially with Liverpool's already fragile defensive record from last season. Some of the above weaknesses can be coached and polished, such as getting Bertrand used to receiving the ball and finding a more offensively suited midfielder or attacker but there seems so much to do to make him a viable Liverpool player – if he does sign, perhaps we'll see just how good Rodgers is as coxing progress out of misfiring talent. Nevertheless, he isn't going to be Liverpool's long term solution to the left-back slot and the Reds faithful will surely be hoping he is just being thought of as cover.
Positives
Right, if you're still with me and haven't left in a cloud of depression, here's some positives which could brighten your day, even if it is in the smallest of ways.
Bertrand should be the cover left-back. That'd potentially give Liverpool three choices at left-back should Jose Enrique stick around and Alberto Moreno come in. Liverpool are said to retain their interest in Moreno and are thought to be playing the long game with Sevilla, like they did with Adam Lallana when dealing with Southampton. This three fold depth would allow players like Jon Flanagan to operate solely as right-back cover without having to play out of position at left-back – this applies to Glen Johnson too who has often been asked to play on the left with Enrique proving injury prone since his move from Newcastle.
Another positive comes from the fact that he won't be on massive wages and he shouldn't be demanding them because he knows this may be his last chance to make it at a big club having failed to impress at Chelsea. Bertrand wouldn't create a fuss when asked to play second fiddle to a better first choice left-back and that can be useful in the sense that the Reds are participating in four major competitions next season and Bertrand would be useful for the League Cup games, as well as some of the early FA Cup games should Liverpool draw some lower league opposition.
Perhaps the most encouraging positive is the fact that Rodgers knows him well having been a Chelsea youth team coach before becoming a full time manager himself. Rodgers knows his strengths and knows where he needs to improve if he is to become a Premier League regular for a solid team. Perhaps Rodgers sees something we don't and we should all have some degree of confidence in him after last season although some of his transfer dealings haven't been up to scratch in the past. Perhaps with a friendly environment in which Bertrand will feel wanted and comfortable he can progress like he was meant to when he signed for Chelsea all those years ago.