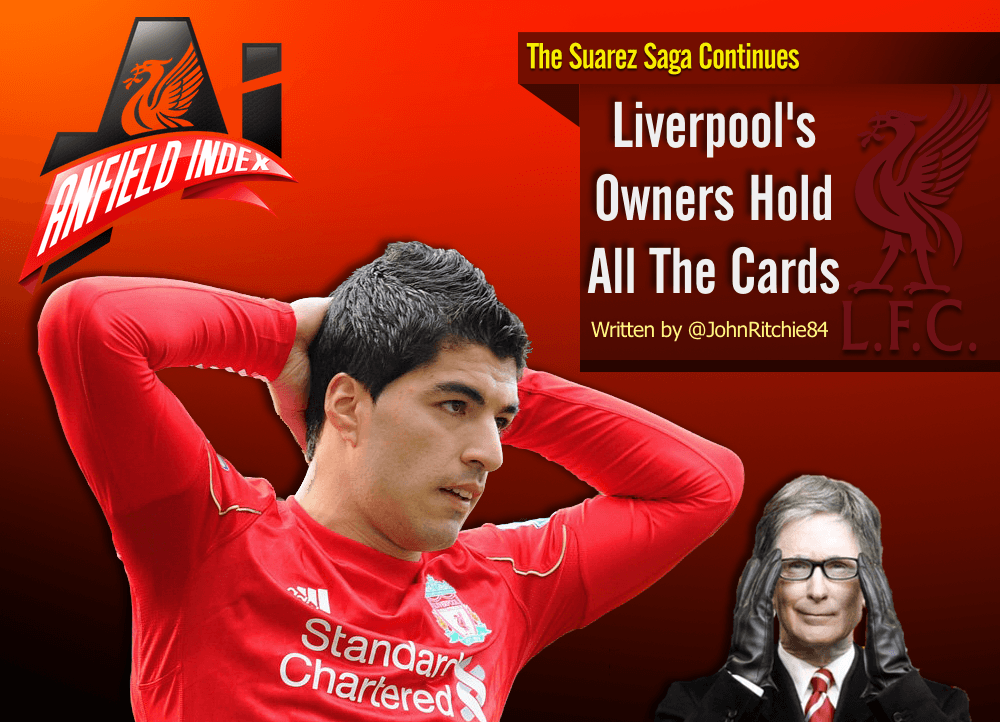 Liverpool's Owners Hold All The Cards Over Suarez
And so it happened. Sanchez said no.
As ever in transfer windows, it's not over until Sky Sources tell you. But it's gone. As hard a pill as that is to swallow, Liverpool do seemed to have moved on.
So what now? Where do Liverpool turn next? Well, maybe that's the wrong question.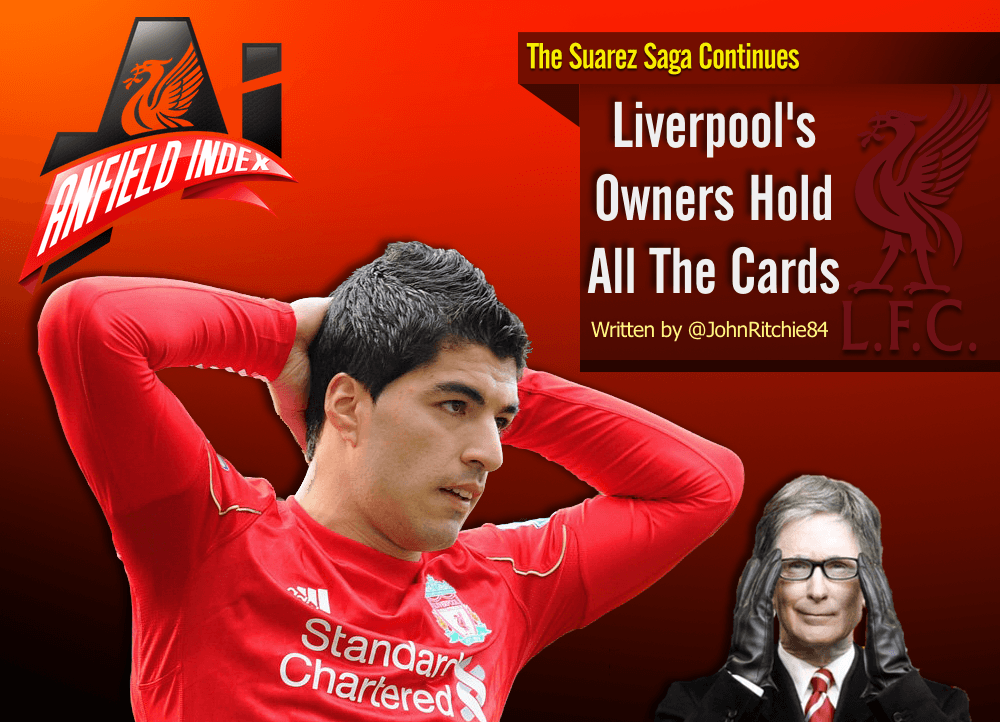 At this moment, as of 6pm on Tuesday the 8th of July to be precise, Suarez still plays for Liverpool. Do I expect him to be around at the start of the season? No. Do I expect Liverpool just to wave him goodbye and best of luck for his time at Barca? Yes and No.
Let's start by adding some context, Liverpool still hold the trump card in this transfer. To blow a popular myth out of the window, you have to agree a payment structure before a player is sold. Rarely do clubs pay huge sums of money up front. We are rumoured to have demanded this in the case of Fernando Torres and Chelsea, after a few weeks of getting upset about the whole thing, reportedly gave in. Yet this is rare in football, it's the exception, rather than the rule.
Look at Spurs for example, they're widely believed to still be owed money from Real Madrid due to the sale of Luka Modric, whilst only on their second set of instalments for the sale of Gareth Bale who cost more than double the amount of enigmatic and exciting Croatian midfielder.
Therefore when people say 'they've met the release clause', that's only true if the payment terms are satisfactory. If they come and say we'll give you £75m over the next five years, then frankly it's up to Liverpool whether they choose to accept such a scenario. Liverpool, or to narrow the focus, ever so slightly, Fenway Sports Group (FSG), whilst vulnerable to the buyout clause, still hold the balance of power; with Sanchez rejecting the soothing tones of Brendan Rodgers, there will be men in Catalunya wiping beads of sweat from their foreheads which have nothing to do with the summer temperature.
Barcelona's challenge is how they now fund this deal. A quick analysis does suggest that £75m, if FSG demand a large sum up front, could well become a significant stumbling block for one of the biggest clubs in world football. These clubs can and do finds ways, but you're talking about the third most expensive signing in history, this is not small change. It's a problem that could become insurmountable.
For fans worrying that Liverpool are the victim of a crushing swoop from Barcelona, you have to frame that in the context of the money on the table. Brendan Rodgers once said if he had £150m he could fix Liverpool's problems in one go. Of course such a comment should be taken in the humorous context it's meant but it makes you think of the sheer scale spending FSG could authorise this summer.
Equally, you need to remember, that as a club we're unlikely to bend to all of Barcelona's wishes, acting like the small club we did throughout both the 90s and all the way up to way up to selling Mascherano. FSG will not be taken for a ride, these are people who whilst far from the sinners we've had in the past, are no saints when it comes to business.
Last season should have told you as much in the treatment of Arsenal; with John W Henry publicly mocking the club without apology or reserve, you should realise by now that this man isn't afraid to play hardball if he doesn't get what he wants, he's prepared to be ruthless. The departures from the dugout of Kenny Dalglish – and to a far lesser extent Roy Hodgson – should tell you this is not a man to cross, when Suarez does go, it'll be the right deal for Liverpool. Don't doubt that for a second.
The challenges for FSG, Brendan Rodgers and the recruitment team is to now find a way to make us a better team capable of winning the title. Emre Can's comments about coming to a team capable of winning the Premier League gives a small, yet significant insight into the recruitment spiel coming from Liverpool this summer 'Come and help us win the title' as opposed to the previous seasons where we've held out the begging bowl, asking for players to push us into the Europa League and if by some miracle the Champions League.
Whatever happens, this summer will define the club's progress for the next three to five years with what we're spending. This window is probably the most profound one in years. But know something, we mean business this summer, as much as we're losing our best player, we're not, unlike the last twenty years suggest, about to sell our soul in the process.