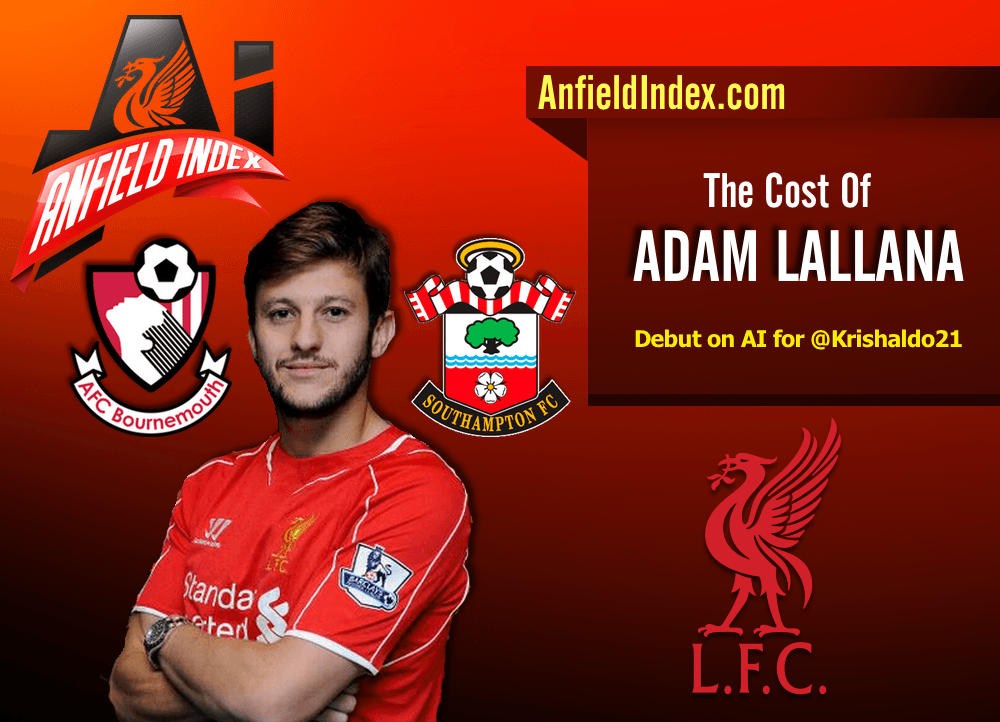 The Cost Of Adam Lallana

After a prolonged pursuit, St Albans-born Adam Lallana finally signed for Liverpool Football Club. Initially, there was a standoff between the two clubs regarding the fee, with Bournemouth being an added complication into what is always a difficult time.
Eventually (after a holiday to Brazil) Lallana signed, but how did the deal come about after Bournemouth were rumoured to be due 25% of any subsequent transfer; meaning that the fee that Southampton wanted was prohibitive?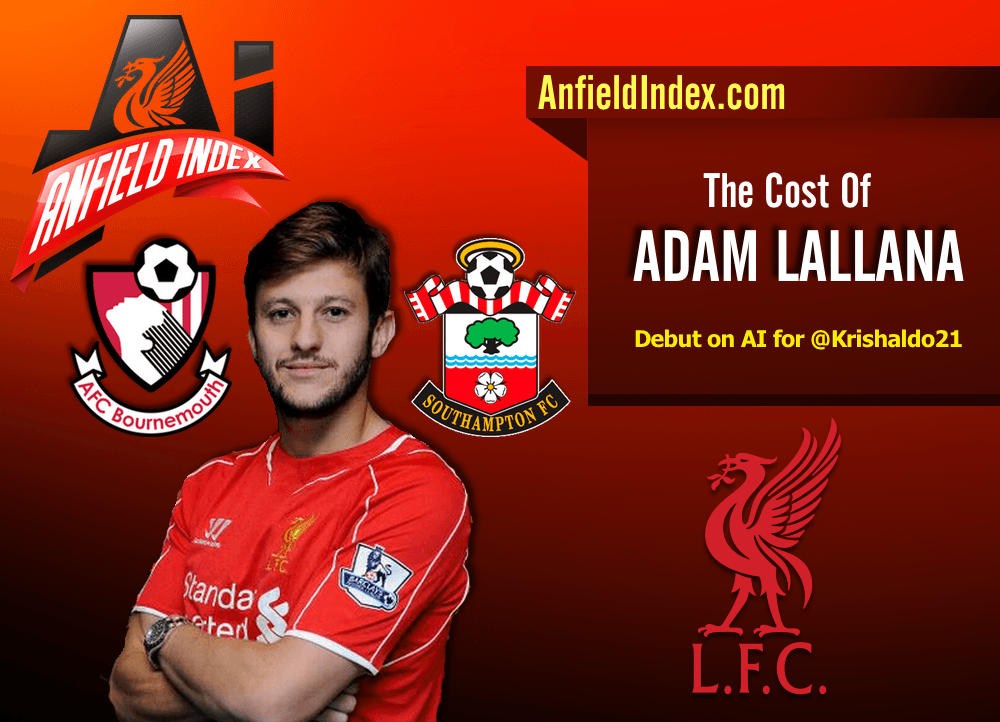 Firstly, the 25% sell on clause isn't a rumour. After some digging, I have managed to find a copy of the actual agreement between AFC Bournemouth and Southampton FC.
Bournemouth went into administration in February 2008, with points deductions given and the very real threat of expulsion from the Football League hanging over their heads. New owners (a consortium of local businessmen) finally took over the club in June 2009 after relegation to League Two. With a change of ownership, clauses such as Lallana's are often rendered void, but as part of the takeover the new board were extremely committed in keeping any such deals in place, foreseeing the potential windfalls that could befall them. And a windfall has!
So how much did Bournemouth actually get?
Well, first of all when Lallana moved to the Saints as a 12 year old boy, the Cherries received £2,000 for the two years he was registered with the club, together with a £1,000 finding fee. Further stage payments were made when Lallana signed scholarship (£5,000) and professional forms (£10,000) for the Saints, while an FA tribunal also made provision for the Dorset club to receive a sell-on fee.
So £18,000 for his time at Southampton. Not a lot for a player who would go on to represent his national team at a World Cup (albeit, Bournemouth weren't to know that at the time).
With the exact details of Lallana's move to Liverpool not in the public domain, we can only use figures given by reputable sources. James Pearce in the Liverpool Echo writes that the move was for £23m. 25% of this is £5.75m.
However, Neil Meldrum of the Bournemouth Echo states that the Cherries, entitled to 25% of the proceeds, received in the region of £4m from the deal. This works out to 17.4% of the headline figure given by James Pearce. This would correlate with the comments from the AFC Bournemouth chief executive Neill Blake:
'The transfer fee is undisclosed which means our cut will also remain undisclosed, but it is certainly not as simple as 25 per cent of any fee which has been reported by the press over the last few weeks,

'There were lots of small sacrifices that had to be made by all parties for the deal to happen, but I think each club involved, and the player himself, can be very happy with the final outcome.'
Given what we had previously heard (rumours that Southampton wanted £25-27m for Lallana) we can read between the lines and say that Southampton wanted to clear c£20m after Bournemouth took their 25% cut (£27m – 25% = £20.25m). A £23m sale fee and £4m to Bournemouth would imply that Southampton ended up with 'only' £19m. Not too shabby for a player who cost you just £18,000.
How much does the deal cost Liverpool?
Obviously, there is the £23m we paid for the player, but there is also his wages. According to LFCHistory.net, he is on a 4 year deal of (estimated) £80,000 a week, this will equate to a total outlay of just under £40m if he fulfils his entire contract with the Reds. People have mentioned 'Why didn't we just spend more and get someone like Sanchez?'. Well, if you look at his proposed move to Arsenal for £30m and wages of £150,000, the entire deal will cost them over £61m for 4 years. Over 50% more than Lallana will cost the Reds. Will his contribution to the team be 50% more?
That's also £21m more we can spend (over time) on other players and wages. When we also consider that Arsenal (now that their new stadium is now paid off) can generally spend more than us, is this a good deal?
Personally, I don't think the Lallana deal is a 'bad' one, but not 'as good' as what we may have got from the continent. We have however seen what the dangers are of buying purely foreign talents (Tottenham), who require time to settle to the league and the club. With Lallana we won't have that issue. Also, I feel that Lallana is in to boost the quality of the squad rather than the quality of the first XI, whereas Arsenal have paid the extra to improve their XI. Rumours were floating around that Sanchez would sign for us if we paid him £190,000 a week (taking the entire deal to just shy of £70m – or 1.75 times more that Lallana). Maybe someone should have shown him a video of the 5-1 at Anfield?
I have a feeling, based on nothing more than what my gut is telling me, that we have a signing or two up our sleeves that will have us forget about what we Lallana may/may not cost us, what he may/may not bring to the team or even that we lost out on Sanchez. Who that player is, I have no idea, but we are in for one hell of a ride this summer and with some Rodgers magic, any player who joins us is likely to be given every opportunity to shine, improve themselves, and most importantly, improve LFC.