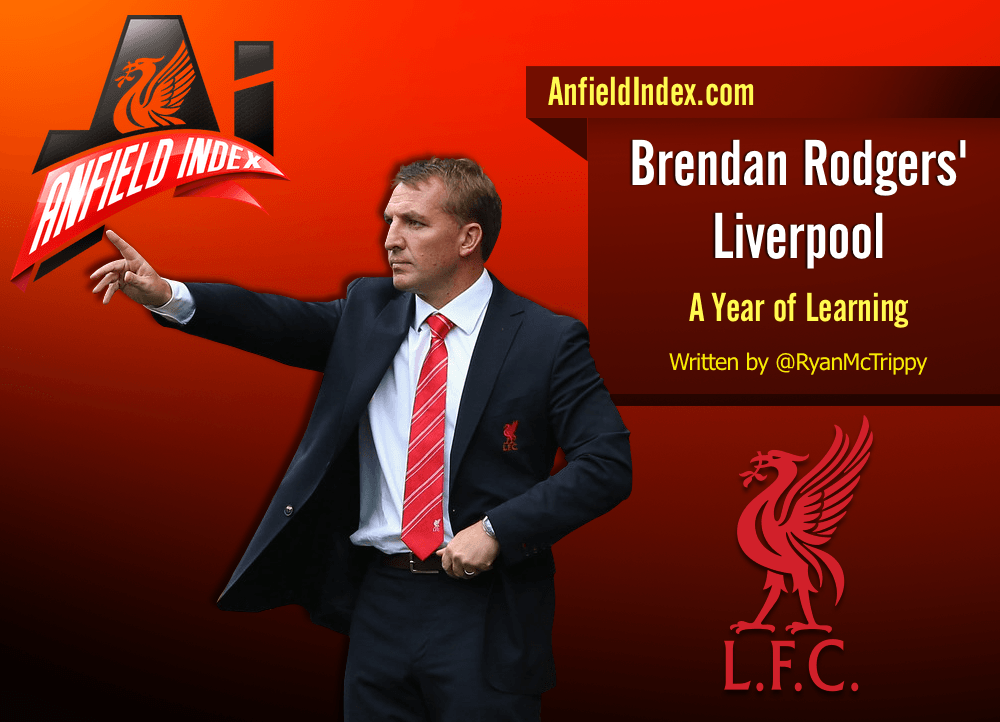 Brendan Rodgers' Liverpool: A Year of Learning
It is at times required to look back to find focus on what lies ahead. As has been recited in articles, podcasts, and books alike, Liverpool's remarkable achievements last season were unfathomable, especially when one considers the obstacles and interrogations of Rodgers' ability which were  met en route.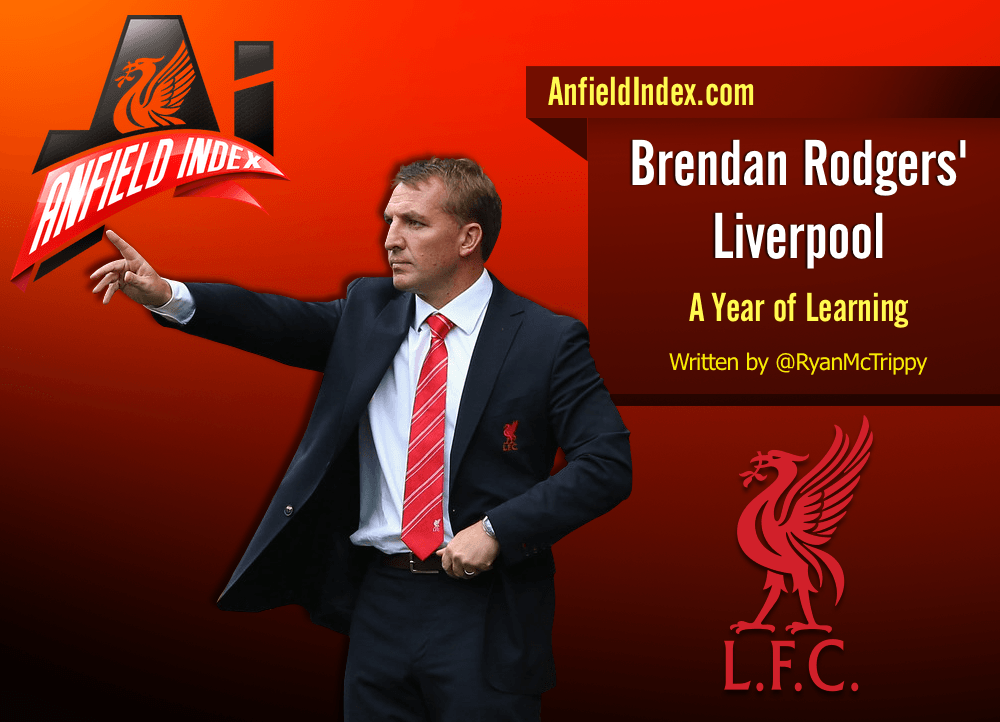 Unfortunately, many believe 'Brenton Fraudgers' will be found out next year, with a number of fans and pundits citing a lack of preparation time this season due to European competition as one of the major setbacks for the Carnlough native. But was Liverpool's manager, entering his third year as manager of the Merseyside giants, really devoting a full week, at times two, to preparing for one game that weekend? Or was he in fact preparing his team for fixtures yet to be announced in seasons to come.
"But that's the problem with being a manager – it's like trying to build an aircraft while it is flying." 
During the 2013/14 season, the Reds lined up in a variation of formations and systems. While many of Rodgers' line-ups were tactically influenced by his opposition, on reflection the season appears to have been a year of tactical education for the Liverpool squad, with their manager the highly gifted tutor. Broadly speaking, the majority of the squad at Rodgers' disposal had never played beyond variations of a 4-4-2, 4-2-3-1, or 4-3-3. Kenny Dalglish had briefly implemented a 5-3-2 formation on a handful of occasions during his return tenure to the Anfield dugout, but Rodgers knew he must imbue these players with knowledge and skills that are often missing in the English game.
Many managers choose systems which define them as a coach, and subsequently the narrative and framing of their respective teams. However, it appears Liverpool's 41 year old manager is attempting to distance this young squad from such intransigent viewpoints. Not only does it make them an incredibly malleable machine, it educates and develops the ability of players who up until now may not have experienced such tutoring in England.
Formations and Counter-Systems
As noted, Liverpool's systemic flexibility caught the eyes of many spectators, but these movements were more than defeating the opponents they faced. When one looks towards the formations Liverpool played last season, it is quickly noted that they are predominantly used throughout England and Europe. The first setup used for the opening few weeks of the season was a 4-2-2-2, at times varying into a 4-2-3-1. Soon after three defenders began appearing at the back, when in truth it was not needed against the likes of Crystal Palace at home who began the match with an isolated centre-forward, which is traditionally the ideal solution to countering three at the back, as three defenders are left marking one attacker, forcing at least one (if not two) of the central defenders to track wide players, or midfield runners, which creates spaces and gaps in the defensive set-up. Rodgers challenged his of squad of players to overcome this hurdle, forcing them into defeating a team whose structure should have nullified the Reds.
This would not be the only case in which Liverpool would be forced into having to think outside the box to defeat their opponents. Rodgers' 4-1-2-1-2 formation was introduced for a period of matches at the tail end of the 2013/14 campaign, but as opposing outfits became increasingly petrified of the irrepressible infiltration of their goal, Liverpool were up against systems they had replicated at the outset of the season: three central defenders flanked by wing-backs. Enforcing the midfield diamond with two up front, Rodgers again asked his team to think and formulate solutions to the toughest of problems they faced ahead of them.The 4-1-2-1-2 formation quite often plays into the hands of a team set up with a 3/5 man defence, as the front three of the diamond (the two strikers and playmaker) can be effectively man-marked by the opposition. This was used to great effect in Kenny Dalglish's 1-0 victory away at Stamford Bridge, nullifying Carlo Ancelotti's Chelsea with this tactic.
This coaching has been of great benefit to the Liverpool squad. Rodgers' favoured 4-3-3 is often seen to seamlessly transition between the primary composition, into a 4-1-2-1-2, and into a three man defence with Steven Gerrard dropping between the centre-backs. Players are now comfortable within these styles, and such transitions are less noticeable and subject to uncertainty.
Conclusion
So, what has been the benefit of these experiments? Firstly, Rodgers made sure to educate his players while winning games. His supposed 'pragmatism' would have meant demolishing his philosophies that brought him to the club in favour of winning matches. The Northern Irishman used his time to expand the footballing knowledge and ability of his squad, preparing them for the many challenges they would face in the future. Not only are Liverpool incredibly extensible, they now understand, through practice, the pros and cons of the most popular formations across the continent. By allowing the team to experience the strengths and weaknesses of multiple formations, they can apply these methods into real life when they face Europe's elite.
In some ways, Brendan Rodgers has managed to reduce his workload this season. Of course, Sunderland's three at the back is different to Juventus', but the initial, practical knowledge of this system has been put in place as Rodgers dedicated ample time to help his squad understand and comprehend this formation, as well as every other one put in place.
While work will have to be done to cope with the personnel of upcoming opponents, Rodgers has used a year away from European football to plan for teams he was unsure he would even face. It complies with the vision of Liverpool under FSG: one which will survive, develop, and succeed with whoever is on the touchline. Luckily for Liverpool, Brendan Rodgers is an effective teacher. As results followed his lessons, and European football became a reality, the Liverpool squad was already groomed for the seasons to come.
Liverpool (and Rodgers himself) still have much to learn together, and new additions will have to settle in a post-Suarez team facing their first campaign in Europe's elite tournament. But the Anfield faithful's worries should not reach preposterous levels: for the team are better equipped than previously imagined.