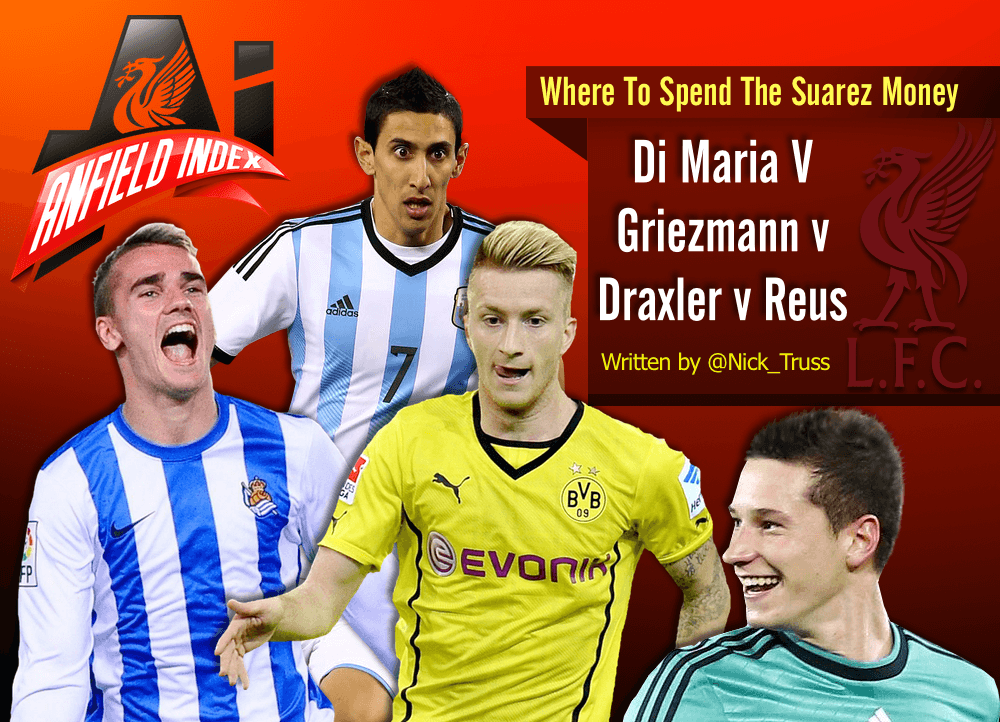 Where To Spend The Suarez Money? Di Maria V Griezmann v Draxler v Reus
You all know the story; Luis Suarez to Barcelona is complete for a rumoured £75 million pounds. The deal has been in the air for weeks as the question of whether Alexis Sanchez would be used as a make-way raged on.
Arsenal came calling and the deal has been done, £35 million will see Alexis Sanchez ply his trade at the Emirates next season but what is next for Liverpool? They must replace Luis Suarez but with who? I have lined up 4 of the best options in Europe to see how the match up to Sanchez, Suarez and the rest of the Liverpool team.
The contenders – Angel Di Maria, Antoine Griezmann, Julian Draxler and Marco Reus.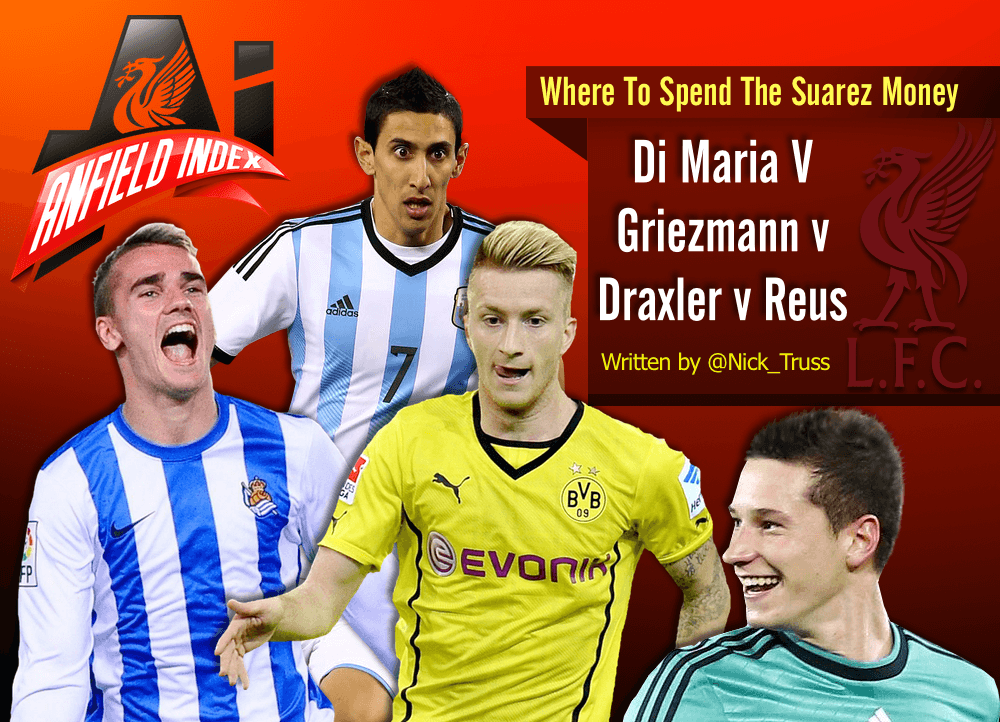 Positional
The tactics board below shows the positions in which each player was deployed in the majority of their appearances last season. Alexis Sanchez was the only one who played predominately on the right with Draxler, Griezmann and Reus playing on the left. Angel Di Maria was deployed mostly central for Real Madrid last season but has found himself on the right of a 4-2-3-1 for Argentina in the World Cup. All 5 are attacking players and are flexible in a positional sense something which has been an important part of player recruitment under Brendan Rodgers.
Goals
Liverpool need to find 31 goals following the departure of talisman Luis Suarez. To find a player to replace all of those goals alone would be a tough if near impossible task, so what should Liverpool's cause of action be? To buy a couple of players to reduce the burden or buy one who will produce with goals and use the rest of the money to sure up the defence and reduce the amount of goals conceded?
Alexis Sanchez scored 19 league goals for Barcelona averaging 0.72 goals per 90 minutes.  This is the best goal scoring record out of the 5 potential replacements with the second best Marco Reus, scoring 0.65 goals per 90 minutes, Griezmann 0.54, Di Maria 0.15 and Draxler 0.08.
As the contenders are all predominately wingers it comes as no surprise that none of them match up to Luis Suarez's 0.94 or Daniel Sturridge's 0.83 goals per minute, but Sanchez, Reus and Griezmann all scored more goals per 90 minutes than Raheem Sterling and Philippe Coutinho – although in fairness to Raheem Sterling he was only given a proper run in the side from the turn of the year and performed admirably from that stage.
Creativity
Not only do Liverpool have to replace Suarez's goals they must replace the creativity: 2.64 chances per 90 minutes. Two of the five contenders have bettered this average, with Marco Reus being the stand-out performer here creating 3.67 chances per game with Di Maria in 2nd with 3.42 chances created per 90 minutes. Alexis Sanchez's 1.78 is slightly disappointing as this is lower than both Raheem Sterling (2.07) and Philippe Coutinho's (2.48) output. Julian Draxler matches Coutinho's 2.48, which is respectable considering Coutinho is seen as Liverpool's creative flair player. Draxler also has the best passing accuracy per 90 of the 5 contenders with 85%.
Looking at the average pass length per 90 minutes, the whole Liverpool team averaged a length of 19.12m with Suarez, Sterling, Coutinho and Sturridge have a range of 14.97m – 17.18m. If you were to take a range of 14.97-19.12m as a prerequisite for fitting into Brendan Rodgers style of passing build up then all 5 of the contenders would be able to slot into Liverpool's first team with minimal fuss.
The Verdict
The stats suggest that Alexis Sanchez would have been a great fit for Liverpool Football Club but they also show that he is not the only option as the new season fast approaches. I'm no ITK so have no idea on LFC's chances of signing any of these players; the selection was made based on players of a similar level to Sanchez in Europe's top leagues. Out of the 4 alternatives its looks as if Marco Reus is the best option with the 2nd best goals per 90 minutes and the best chances created per 90 minutes of the 5 players. Reports suggest he would be available for £35 million and former Champions League winning Liverpool midfielder Dietmar Hamann has claimed that Reus is Germany's best attacking player, which really makes you wonder what would have happened to Brazil had he been fit for the World Cup. Angel Di Maria may be a signing we can only dream of probably demanding a fee in excess of £35 Million. Antoine Griezmann could be available for as little as £25 million and Draxler for even less at £17 Million.
Any of the 4 alternatives would be brilliant signings who could all add something to the squad which will help Liverpool get over the loss of Luis Suarez with the main advantage being they will be able to contribute in the first 3 months of the season.
So what's next for Liverpool? If one things for sure it'll be an exciting and nervous time whilst we wait for Suarez's replacement to arrive. Or is it time for Raheem Sterling to don number 7 shirt? We will have to leave that for another day.