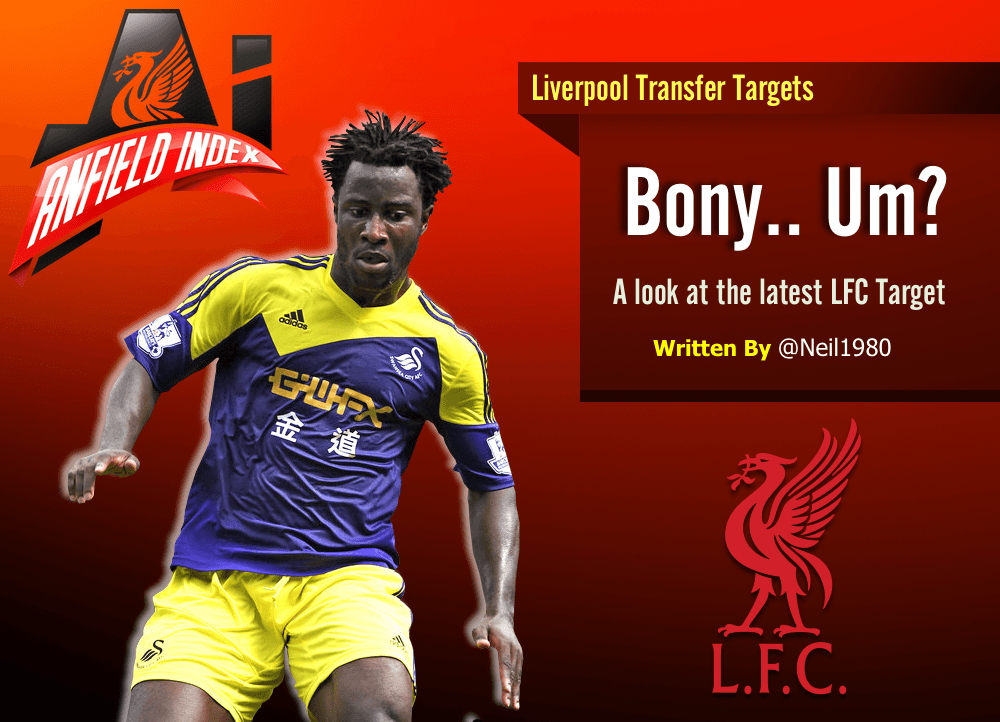 Bony.... Um? | A look at Liverpool's latest transfer target

It's official, Suarez has left Liverpool Football Club for the Catalonian sunshine, to join Messi, Neymar and become one of the "new Galacticos". Good for him, but where does that leave Brendan Rodgers and LFC? €90m richer, but seeking to replace 31 league goals, 12 assists and a whole lot of work rate.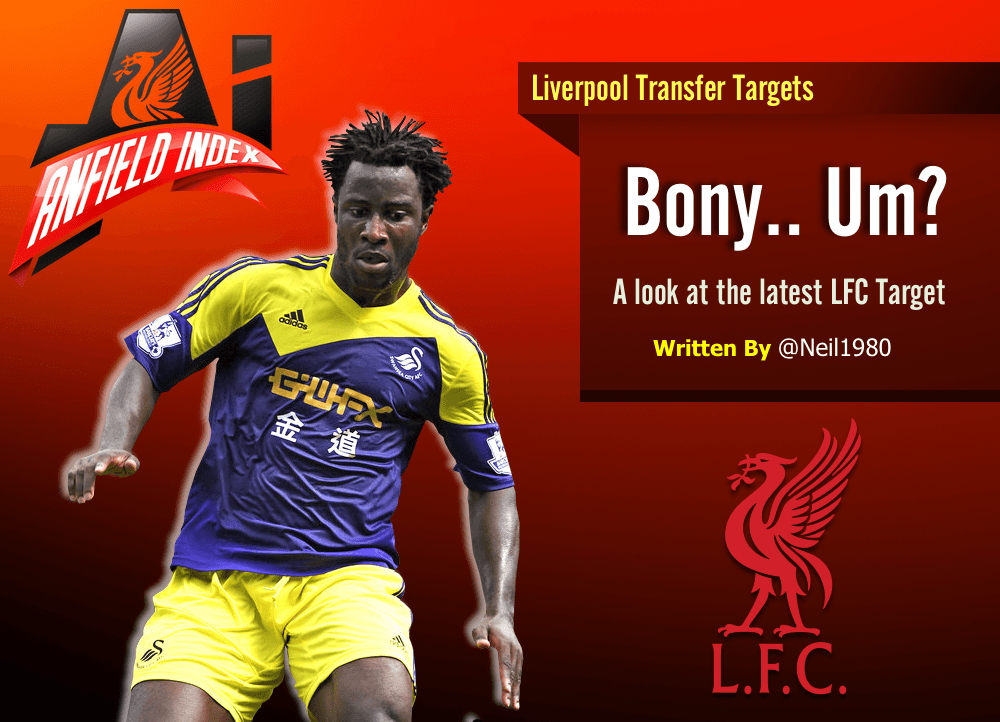 Rickie Lambert, Adam Lallana and Emre Can have all put pen to paper on Liverpool contracts so far, and Lazar Markovic may well have completed his move by the time you're reading this. Between them they bring various attributes to the team: pace, creativity, strength, energy, aerial ability, vision, set piece prowess and, undoubtedly, some goals – not enough though.
Reports have confirmed that these signings had all been planned and budgeted for prior to the sale of Luis Suarez, leaving Brendan Rodgers with the full transfer fee available to be reinvested in the squad, following the Uruguayan's departure.
One of the names most heavily linked with Liverpool in the last few days, is that of Ivory Coast striker, Wilfried Bony. Having arrived in the Premier League last summer for a fee of around €15.5m, Bony quickly set about becoming a fan favourite at Swansea – where he soon displaced the previous season's golden boy, Michu, as the focal point of the Swans' attack.
In 2007, Bony had a trial at Liverpool. Aged just 18 at the time, no contract offer was forthcoming, so the young man joined Sparta Prague – where he began life in the B-team. Following a Championship winning season in the reserves, Bony broke into the first team in 08/09, and 22 league goals in 59 games later, he joined Vitesse Arnhem in the Eeredivise for a fee of €6.5m. His final year in Holland saw Bony notch 31 goals in 30 league games, a tally which tempted Michael Laudrup into making him Swansea City's record signing.
He didn't disappoint in South Wales either. Following a slow-ish start to the season, with Laudrup unsure of how to fit both he and Michu into the same team, Bony's adaptation, coupled with an injury to Michu, saw the Ivory Coast striker cement himself as the first name on the team-sheet in Swansea's attack.
Sixteen goals in 34 league games begins to tell the story of just what an effective striker the 25 year old is. However, when you consider that he managed 26 goals from 38 starts in all competitions, the tale gets a lot more interesting. A strong performer against some of the "lesser sides", Bony was able to recreate his form against the bigger sides as well. By the end of the season he had netted against all of the clubs in the top six, including a brace at Anfield in the league, and the winner at Old Trafford in the FA Cup third round.
As part of the research for this piece I chatted to Andrew Williams, a match going Swan, in order to get the inside line on their star man. He is much loved at the Liberty Stadium by all accounts, and why not? Here's what Andrew had to say:
"He's great …very similar to Drogba..impossible to shrug off ball, great in air & deadly in the box.

26 goals in 38 starts says it all really…we struggled last year and were in a dogfight up until last month..yet he still got a hatful"
His major attribute is his strength. That is to say that he is nigh on "impossible" to shake off the ball once he's in possession. Other abilities include his aerial prowess – surprising for a man of just 5ft 9in – borne out by his five headed league goals (the best in the division), his ability to drop deep and link the play, his vision and his workrate (especially defensively), and of course, his goal return.
A progressive type, it hasn't taken Bony long to adapt to the style of play wherever he has been, and his hardworking attitude has helped him to overcome challenges and consistently reach the next level.
"You don't see him pouting, that was Michu's way."
The one thing that Bony lacks is an explosive turn of pace, however that hasn't been a problem for him so far in his career. His game intelligence, and the ability to bring others into play has seen him circumnavigate that particular shortcoming. In fact, this could be a plus point for Liverpool. Brendan Rodgers is known to like strikers who work hard, and can knit the play together – strikers who can vacate the space and allow others to capitalise on it.
"He comes short for it a lot and likes to turn and bring wingers into play with through balls….not quick enough to play on shoulder".
The big question still to be addressed is whether Bony is actually available. Reports of a €24m buyout clause remain unconfirmed, and the Swansea Chairman, Huw Jenkins, is also said to be very upset at stories that Liverpool may have begun negotiations with the player through his agent.
"I have had no talks with Liverpool until now, and I would be very surprised if a club like Liverpool are doing any kind of negotiations with a player or player's agent behind our back," Huw Jenkins quoted on Wales Online.
If availability is confirmed however, and Liverpool go after Bony, it could turn out to be a very shrewd signing. A clever player, a goal-getter, a grafter; a player who possesses good skill and great strength, and one who has proven himself more than adequate at every level he's been asked to step up to.
Bony would appear to offer a mixture of what Sturridge and Lambert bring individually, he can lead the line on his own or play in a partnership – play neat one touch football or lash one in from 25 yards. His lack of pace should not be a problem, particularly when you consider the pace that will be around him, in Sterling, Sturridge & Markovic.
A glamorous signing he isn't. A replacement for Suarez? Hardly! But that's an impossibility – the club must change its tack slightly and approach things from a different angle. There are others around Europe who may be more desirable to some: Robert Firmino, for example. The young man had a blistering season at Hoffenheim in the Bundesliga, however, he's less of a striker and more of an attacking midfielder and is likely to cost any club somewhere in the region of €38m.
If Rodgers wants to play a 4-3-3 more often than not this year, then he needs two top strikers who can play primarily down the centre, hold the ball up, knit the play together, press hard, create and score goals. We have the best already in Daniel Sturridge; perhaps in Wilfried Bony, Liverpool have found an ideal alternative.