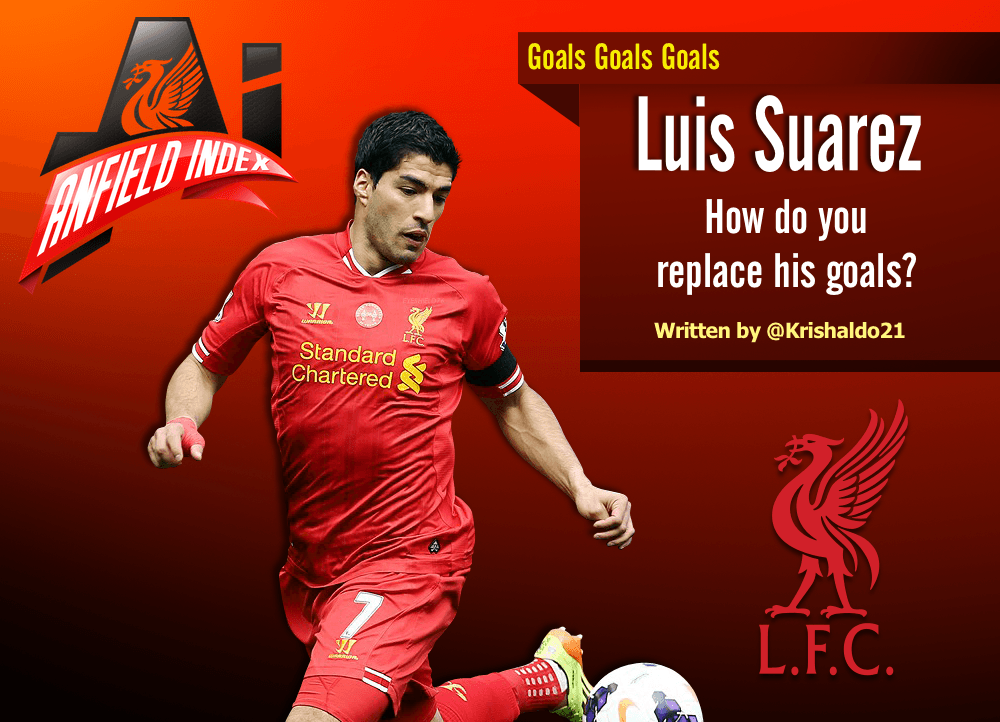 Replacing Suarez's Goals
He's finally gone. Weeks of negotiations have seen the third best player in the world move to Barcelona for £75m. Many have said this is too cheap, especially when you consider the 'less good' Gareth Bale, moved for £80m just last season. However, Bale has never bitten anyone, nor (supposedly) racially abused someone and wasn't serving a four month ban. So £75m is probably the best we could hope for, and Barcelona got a £100m player at a discount (for the reasons given).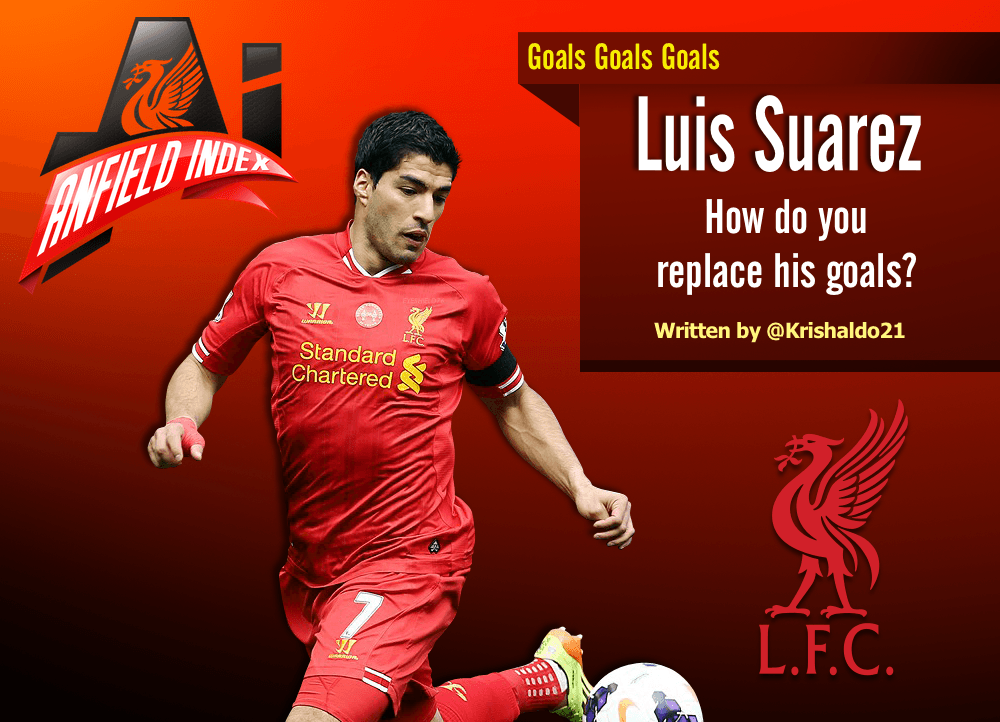 This is all water under the bridge now, and Liverpool have to move on. As Rodgers said regarding the transfer:

"If there is one thing the history of this great club teaches us, it is that Liverpool FC is bigger than any individual. I hope our supporters continue to dream and believe that we are moving forward and with continued improvement and progression, together we will bring the success we all crave and deserve."
We have to move forward now and look at how to replace Suarez. I doubt we will be able to replace him with a like for like player, as there isn't another one out there. Not one we can attract at least, so we have to look at how to replace what he brought to the team.
So what did he bring to the team?
Firstly, there are his goals. In 33 games he scored a whopping 31 goals. In the history of the league, I doubt there has been many players, if any, who have scored more than (on average) 0.94 goals a game without penalties.
Along with the goals we have his assists, 12 in total. In the Premier League last season, only Gerrard got more (13), but he took the majority of set pieces and corners. Interestingly, Lambert was third with 10 assists.
Just from these numbers, Suarez directly contributed to an astonishing 43 goals for us last season. If we now include the number of penalties won (9), this total jumps up to 52 goals.
So going by the numbers for just last season, we need to replace 52 goals. Just over half of the 101 goals we scored and without these goals we would have ended with a goal difference of -1. This isn't an exact science of course. If we took Suarez's out of the team, we wouldn't be playing with 10 men, Aspas or Moses would have come in. Or we could be better off playing with 10 men 😉
Do we need to replace all 52 goals brought by Suarez?
Personally, I don't think we do.
Depending on what our target for next season is, it's very rare to need over 100 goals (although it is bloody good fun!). With a European campaign and a number of changes to the squad, expectations for next season will most likely be a good show in Europe, a good FA Cup campaign and Champions League qualification for 2015/16. If we take a look at the average goal difference required to finish in each position:
To get 4th, we will probably only need a goal difference of 30 to 35. So that could be 20 of Suarez's 52 goals we don't need to replace.
When speaking about the team in general back in May, Rodgers mentioned the defence:
"Our goals conceded this year here at home is up there with the top teams, as it should be because this is Anfield and we expect to win. Away from home in the big games we've been fine. We just need to be better and more concentrated whenever we're winning other games. We've conceded too many goals when we've scored five or six and that has cost us. "
Away from home we conceded three goals to Everton, Hull, Stoke, Cardiff and Palace. We conceded two at Swansea, Newcastle, Arsenal, City, Chelsea, Fulham and Norwich. 29 goals in total. Rodgers has identified that we need to tighten up at the back. If we can very realistically reduce this to 15, that is a further 14 goals we don't need to replace from Suarez's tally.
Then we come to the rest of the team. Sterling had a fantastic season, but only after November time. Before that, many of us suggested that he may need a loan to improve. But look at him now – a full season of Sterling can get 15-20 goals (compared to his 9 goals and 7 assists, inc. penalties won, last season). Coutinho scored 5 and assisted 7 times. He could quite conceivably improve on this. Henderson got 4 goals and 7 assists, which he can improve on with a little more composure in front of goal. And as the main man, we could see Sturridge get more than the 21 he managed last term.
So if we improve the defence by 15 goals and increase the number of goals from Sterling, Coutinho, Henderson and Sturridge from 39 to 50, we will already be on +26 goal difference for a target of +35. Rickie Lambert got 13 goals and 10 assists. Lallana got 9 and 7. Not to mention what Markovic may get us. And we still have the £75m from the Suarez transfer to potentially sign a top recruit. Our goal difference may even be closer to the 51 we got last season than we expect.
We will still be on course for further Champions League football in 15/16. Continual Champions League qualification is vital for the progression of the club. It will help us attract players, get sponsors, extra TV revenue, afford to buy and pay the best players in the world.
I hope that reading this article will encourage people that there is life after Suarez. We moved on after our best players have left in the past. Keegan, King Kenny, Fowler, McManaman, Owen, Torres… and now Suarez. Remember:
Liverpool FC is bigger than any individual.
Stats via Squawka.com