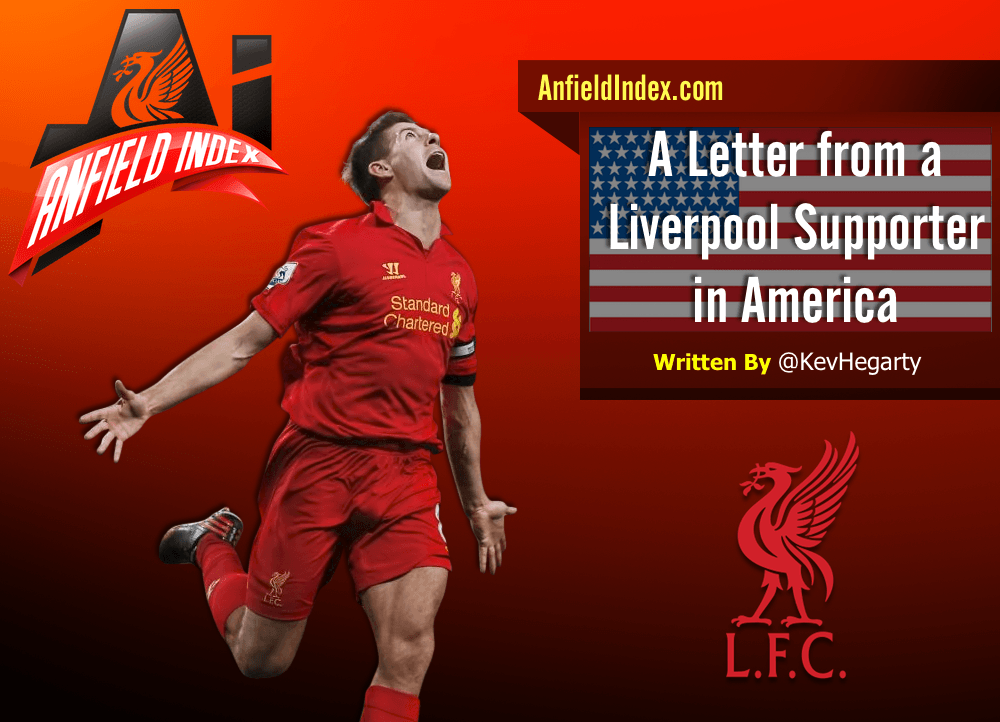 LFC | A Letter From America

A little over a month ago I expressed interest in, and was contacted about, the possibility of being on an Anfield Index "International Addition" podcast. I would be representing Liverpool Football Club supporters from the United States. Unfortunately, due to timing and technical problems on my end, I was not even able to "audition" to be involved. Upsetting, but we roll on. The content I've heard so far on the International podcasts has been fantastic, and I'd like to say well done to all involved.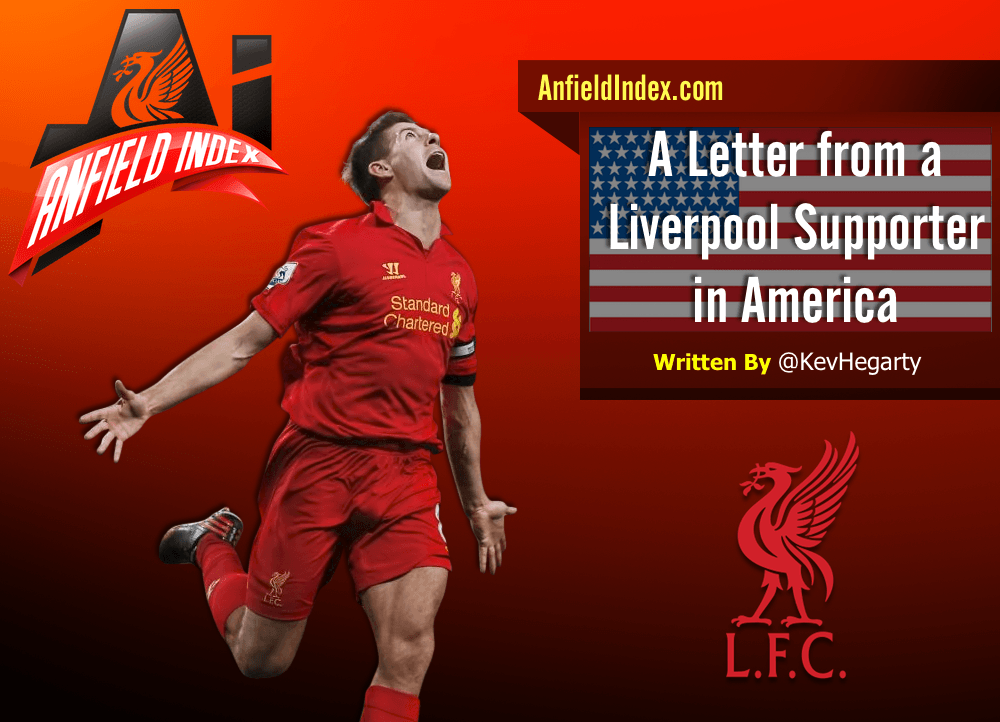 Ever since my original exchange with the man known as Gags about the podcast, I've been thinking about how it was for me growing up as a football fan in America. And not just a football fan, but a Liverpool fan. My favorite team in any sport on this planet (and beyond) has been over 3,000 miles away for most of my life. It brings a different perspective I think.
I was born in Red Bank, New Jersey in 1984. It's about an hour outside of New York City. 1984 was a big year for my dad I always say – a Liverpool quadruple – League 1 title, League Cup, European Cup, and his first was born…
My dad and mum are from Liverpool. My mum is from Anfield, down Oakfield Road, not far from the hallowed ground itself. My dad moved around a bit but lived in Kirkby and Walton for most of his life. They moved over to this side of the Atlantic in 1981, supposedly for a couple years with my dad's job, and were slated to go back. 33 years and three kids later, they still haven't made the move. So I'm a Yank born to Scouse parents. I'm a football fan where everyone says "soccer". I'm a Liverpool supporter where not many could place it on a map.
Growing up where I did, finding a place to play football is easy. There's always a local league youth team to get into for fun. It's one of, if not the biggest sport for kids under 12 in the United States. But, it was never the playing I was worried about. It was the watching. I never saw a Liverpool match on the television in America when I was a young kid. The first match I ever remember seeing of any kind was during World Cup 1994. And only then it was because the good ol' U.S. of A. was hosting! The only way I ever saw Liverpool Football Club play a match was when I was on holiday to visit family and I was taken to Anfield or could see it broadcast on British television. It's a tough way to support your team.
I remember the weekly or biweekly phone calls my parents would make to my grandparents. It was at these times that they would be updated with recent scores (mostly winning ones) and any new news from the city of Liverpool. Sometimes my dad would be able to get updates from newspapers in New York about what was going on in the league. And recently I've found letters from my granddad to my dad from those days stating things like "I assume you know that the Reds won the cup again." and "We did it again this year. That Rush is a player." I'm not sure what cups or what seasons they were talking about as there are no dates, but there were so many glory days back then it could have been any year really. And that was how we did it. That is how I learned about my team – conversations with other people and short excerpts from newspapers that didn't care. Stories of Rush, Dalglish, and Barnes. Just like fairytales. It took a lot of imagination.
In 1994, my life as a football fan changed forever. The United States had been awarded the World Cup 6 years prior. Everyone was excited (most of my parents' friends were ex-pat Europeans). But, to everyone's disappointment, England didn't qualify. I was heartbroken, my dad more so. He had waited to watch a World Cup in person for a long time. He was 13 when England won it in 1966 at home. Eventually, he got over it and bought a Republic of Ireland ticket package. His dad and mum are Irish so I don't think he was too disappointed when he found out they would be playing on the East coast, especially at Giants Stadium – right in our backyard! (well, almost..)
He saw the Irish beat Italy and draw with Norway. If I remember correctly he also saw Saudi Arabia and Morocco at the same venue. And he got tickets to Bulgaria v Mexico in the Round of 16! Not a bad World Cup for my old man. (I should mention here that he didn't take me to any!!! A fact I remind him about at every chance I get.)
I wasn't physically at the World Cup, but I didn't care. It was on TV! I watched every match I could. They didn't show every match, but they would show a few quick highlights of most. The only full matches I remember watching were the USA team's, and the semifinals and final. But even though it was from short recaps, I can still remember Stoichkov wheeling away after scoring a free kick against Germany, hands in the air. I remember Escobar's own goal against the United States. And most of all I remember watching Roberto Baggio and his hair's missed penalty, with my dad.
I was hooked. ABC, the network that had broadcast the Cup, had shown me what it was like to watch football on US TV. And it was only to get better. A couple years later Fox Sports World launched. It showed lots of sports from around the world, and that is when it happened… I saw Liverpool Football Club! I can't remember if it was live or tape delay, but either was fine by me. I don't even remember who they were playing. But I saw the red shirt. I saw the Liverbird. I saw Steve Mcmanaman and Michael Owen. I saw Redknapp and Carra. I saw Liverpool!
Since then football broadcasts have continued to grow. Fox Sports World became Fox Soccer. Although I had issues with their pundit choices, it was a massive step in the right direction. ESPN also bought rights to show matches in America. Even the doomed SetantaUSA had a spell showing league and cup matches. I could find a match somewhere if I really tried. Once I was old enough to go to bars and pubs it was easier. Ex-pat owners made sure they had all the right channels. Seats were filled with kits and scarves just like mine. I didn't care that I had to wake up before the sun to be able to see noon kick-offs. I felt like a real supporter.
NBC Sports bought the broadcast rights to the Premier League before the beginning of last season. In explaining to my family who are still in Liverpool what I can see, it seems I may now get better coverage than they. I can see any Liverpool FC match I want, no matter where they are playing or what time. If it is not on NBCSN or one of its affiliates, I can stream it for free from the NBC Sports website. And I, as someone who never saw his team on TV in the country he lived for the first 13+ years of his life, will always think of it as a gift.
The Internet and social media has grown the fan base by leaps and bounds. People from all over the world can connect over the teams they love. Websites and podcasts like the Anfield Index let supporters join up and talk about football. And to put it simply – it's bloody fantastic.
So, if you're ever looking for me on match days, I'll be the one in a Liverpool top in front of a TV watching the team I've loved all my life, in the country of my birth. You may even find me in my favorite pub, back in Red Bank, the town I was born, with other supporters from all over the world, watching the highs and lows, and enjoying every second.