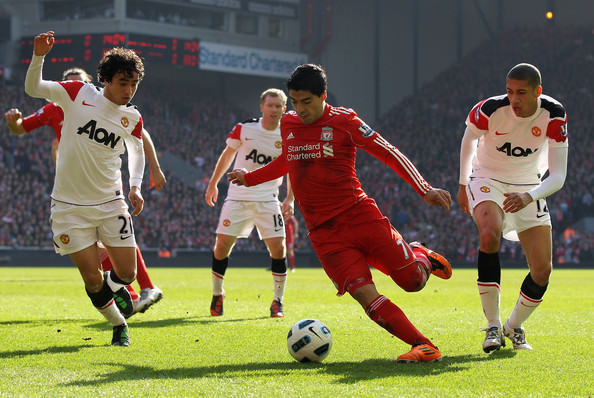 Liverpool Vs Man United (3-1) - Suarez shines
Liverpool Vs Man United: Final Score 3-1
The performance by Luis Suarez yesterday is summed up by the fact that his team-mate scored a hat-trick and he still walked off the pitch as the man-of-the-match by a comfortable margin.
As Suarez left the field in the 89th minute to a rapturous reception, it was clear that we have unearthed a very special talent. He tore the league leaders to shreds with a scintillating display of power, passion and pure class.
Suarez emerged yesterday as a man who is a potential Liverpool FC top goal scorer, a potential Liverpool FC captain, and potentially a future legend in the mould of Keegan and Dalglish. Maybe I am getting carried away, but who cares. We beat United 3-1 yesterday and there is euphoria in the air. Every Liverpool fan has been walking around smiling today and Suarez is the main reason why.

Suarez played a part in all three Liverpool goals, the first of which was the best moment of the match. The way he dribbled his way through the Manchester United defence was reminiscent of Maradona, with the ball seemingly super-glued to his feet.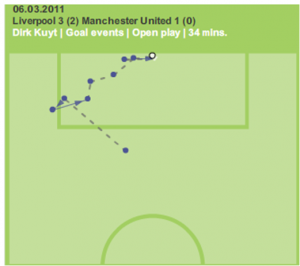 It was the first of an astonishing 7 successful dribbles made by Suarez throughout the game, 5 more than anyone else on the pitch: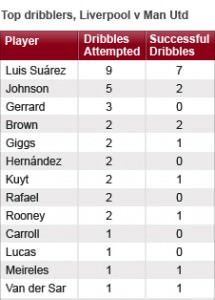 Dribbling is one of the greatest weapons Suarez has in his arsenal, and United simply could not live with him. He won 6 of Liverpool's 15 free kicks, all of them within the Manchester United half: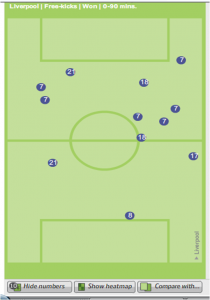 As well as his dribbling threat, Suarez passed the ball intelligently all game, completing 28 successful passes including an inch perfect 40 yard pass to Meireles which very nearly led to the opening goal: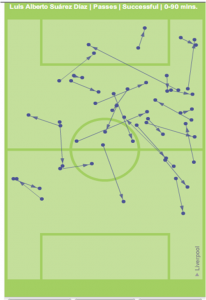 It is clear, then, that Suarez gets a big tick in the box for dribbling and passing, but what about the defensive side of his game? Of the 35 tackles won by Liverpool, Suarez was responsible for 10 of them. When you consider that Lucas only made 1 successful tackle, it demonstrates that when United had the ball Suarez was operating like a defensive midfielder, just much further up the field. This ability to win tackles, pass intelligently and dribble effortlessly past defenders made Suarez a constant menace: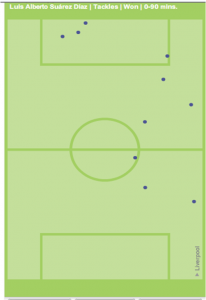 Perhaps the only side of his game that was not prolific yesterday was his shooting. He only had 3 shots, and only 1 of these was on target. It just so happens, however, that his single shot on target was parried by Van der Sar allowing Kuyt to follow up for his third. It could also be argued that Kuyt's first goal was essentially a goal bound Suarez attempt.
Suarez gave a performance yesterday that will be remembered fondly for years to come. It was a complete performance in which he excelled in every aspect of his game. Kuyt summed up the performance in his post-match interview, saying "I'm more than happy but I have to thank Luis because he played great."
To enjoy once more, here are Suarez's best bits from yesterday:
Luis Suarz – Liverpool Vs Man United