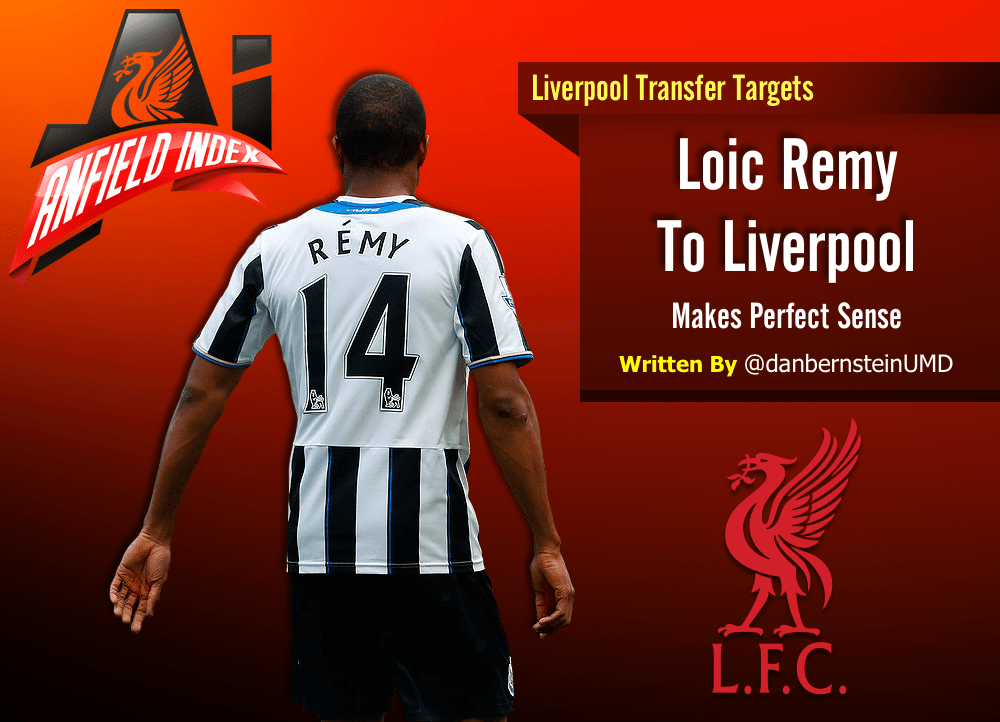 This Time It's For Real: Loic Remy to Liverpool Makes Perfect Sense
Liverpool are about to sign Loic Remy, which should ferociously ring your mental bells. They've been consistently linked with him since the 2010/11 season when he scored 15 league goals for Marseille, and the yearly reports of a possible move to Anfield have grown tiresome. We've been here before. But it looks like this time the move is for real, and for Liverpool, that makes perfect sense.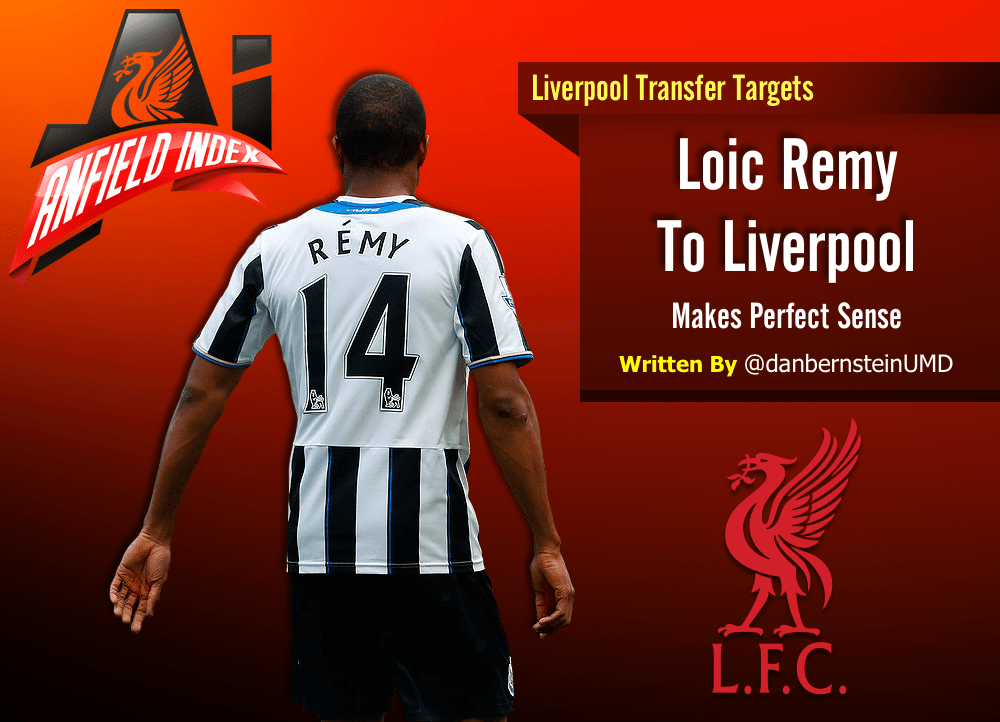 Remy is an ideal winger/second striker type, fast enough to beat a defender down the flank and good enough to net double digit goals when playing through the center. Last season, Newcastle used him as a left forward/winger in about half of the matches he played in, which I discovered via ESPNFC's average positioning charts. Even though he didn't always play in the middle, Remy managed to score 14 goals in 26 Premier League appearances, which was the best goals/appearances ratio of his career. He's not the star that many thought he'd blossom into, but at 27, he seems to be entering his peak as a solid, versatile Premier League forward.
And a solid, versatile forward who is battle tested in the league is exactly what Liverpool need to solidify their attack. As it stands, Brendan Rodgers has an abundance of multi-dimensional midfield options, but the frontline doesn't yet have the depth necessary to cope with the addition of Champions League football. Lazar Markovic and Raheem Sterling are the team's only real wingers besides the unproven Jordan Ibe, and so an injury to one of them could leave Rodgers scrambling. This becomes more apparent if the Assaidi to Stoke deal goes through as expected. Even if both Markovic and Sterling maintain good health, there's no way that they can handle playing in all of the 45-50 matches that Liverpool will be tasked with. Remy is the perfect player to come in and put in a good shift on the wing while either Markovic or Sterling rest.
In addition to the depth that he adds to the winger position, Remy provides a pacey alternative to Daniel Sturridge at central striker. We've seen Sturridge struggle with fitness throughout his career, and it's a essentially a given that he'll miss some time this season. When that happens, it'll be nice for Brendan Rodgers to have a fast striker like Remy who can stretch defenses vertically rather than being forced to choose Rickie Lambert. Remy can even play alongside Lambert to compliment his physicality. When you compare Remy with Wilfried Bony, another rumored target who would have cost significantly more money and lacks Remy's pace, it's clear that Liverpool are making a wise decision in signing the QPR man.
It's unsurprising that Remy had an advantage last season in creation figures over Bony, but the fact that he was on par in scoring and conversion rates is a testament to how underrated he is as a finisher. He isn't necessarily better than Bony – I deliberately selected statistics that favored the French forward – but it's clear that the gap in talent between the two players is not worth a difference of £20m in transfer fees. And as mentioned, Remy fits the Liverpool side better because of his quickness and ability to cover multiple positions.
Loic Remy is no longer the speedy young forward who's potential captured Liverpool's attention years ago. He's 27 and the mystique has worn off. We know who he is, we need what he brings to the table, and that's why he's an ideal signing for Liverpool.