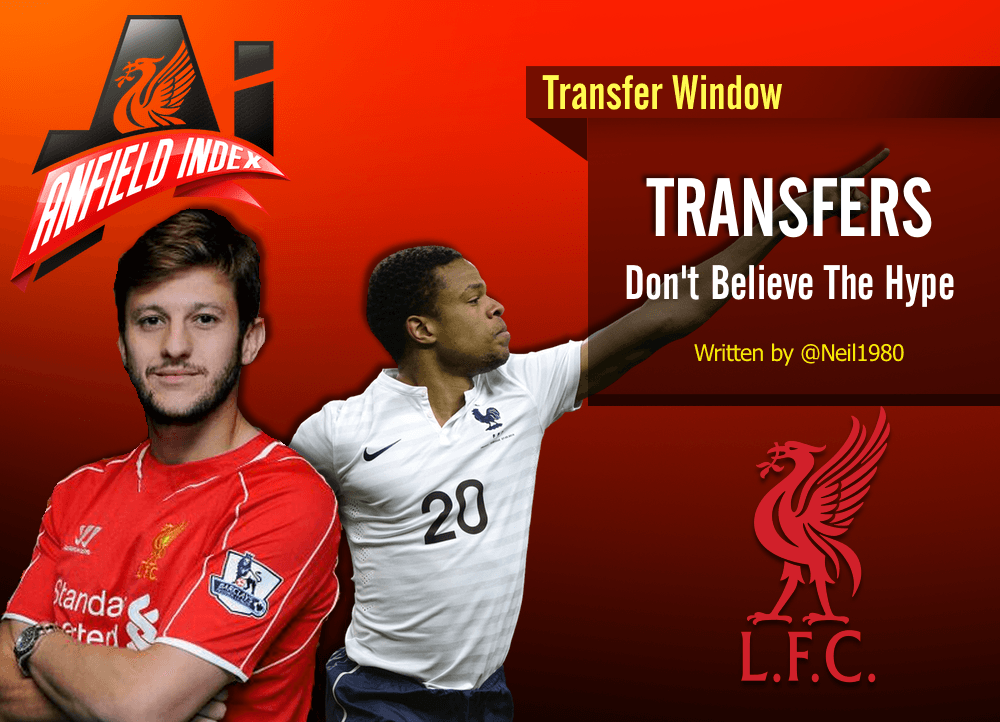 Transfers: Don't Believe the Hype | Liverpool FC
Liverpool Football Club just embarked on a pre-season tour of the United States. The Reds will play a least four games over the next fortnight, against the likes of Roma, Manchester City and AC Milan, in four different cities – Boston, Chicago, New York and Charlotte. The tour squad includes new signings Adam Lallana, Emre Can, Lazar Markovic and Rickie Lambert, with Loic Remy said to be on route to the USA for a medical, before completing his transfer and joining up with the squad.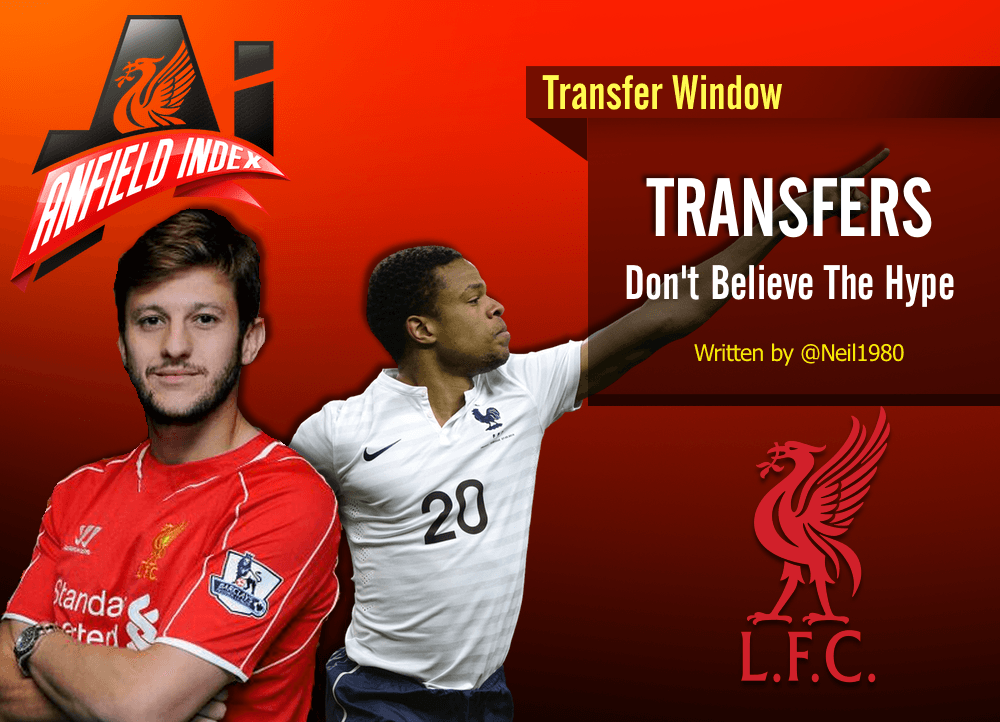 It's on new signings that I'd like to focus, including some of the above. Transfers are a hugely significant part of football. The players a club chooses to bring in, and let go, can have a heavy impact on that club's fortunes, in the short to medium term. As a result, clubs think long and hard about where to spend their money and on whom. Scouting networks scour the globe for "hidden gems" or "the next big thing", whilst constantly seeking players who can come in and make an immediate difference to the team. Fans too, of course, have strong opinions about what kind of player their club needs, who'd fit their system, who has the right profile and, more and more often, who provides the best value for money – should we be shopping elsewhere?

The reality with transfers, is that despite the amount of work that goes on behind the scenes; the hours and hours of watching a player, the conversations with youth team coaches, the profiling, the number crunching, and everything else besides – signing a player is not a wholly scientific process. That is to say, that even if a player ticks all the right boxes, he may not necessarily turn out to be a good signing, and vice versa – you only have to look at the history of the Premier League to see that quite clearly. Paul Tomkins from The Tomkins Times (TTT) has worked extensively on the subject of transfers; "Tomkins Law" states that a manager is doing well to get a success rate of roughly 50% when it comes to new signings. The thing is, despite the best efforts of clubs, no-one can really be sure which players will hit, and which will miss.
During the Premier League era, a plethora of players with formidable reputations have joined various clubs, generating great hyperbole amongst the media, and surety within fan groups, only to fall drastically short once actually on the pitch – Schevchenko (Chelsea), Poborsky (Utd), Marlet (Fulham), Soldado (Spurs)… Others however, have slipped into sides with the minimum of fuss, or have even arrived against the wishes of the fans, and gone on to establish themselves as valuable members of their club side – Mertesacker (Arsenal), James McCarthy (Everton), Chamakh (Palace)…
I've deliberately used non-LFC examples above; however, as a club, Liverpool have experienced many instances like this over the last two decades (and before). Take, for example, the signing of Gary McAllister. Not a glamourous signing at the time at all; yet the free transfer from Coventry, in his 36th year, did so much at his short time at the club that he'll always be remembered as a Liverpool hero. The Scot played a massive part in the club's treble that year; he scored a 94th minute winner against Everton at Goodison and he scored against Barcelona at Anfield to secure a UEFA Cup Final spot. His free-kicks are legendary, along with his "baldy head", and both are still remembered in song today. Not bad for a 35 year old who nobody fancied.
Fast forward to 2005, and the arrival of two strikers, both blessed with aerial ability and good feet for big men (classic cliché). The first to arrive, Fernando Morientes, a man whose CV screamed bright lights, glamour clubs (Real Madrid, Monaco), top honours (Champions League, La Liga) – a resume littered with impressive numbers at the very highest level, and an exotic name to boot. The second big striker through the door, Peter Crouch, a player who'd bounced around the lower leagues at QPR and Portsmouth, before enjoying mixed fortunes in the Premier League for Villa and Southampton. Crouch struggled at Villa under Graham Taylor, scoring just 6 times in 43 games, before netting 12 in 27 in the league for Saints in what was to be their relegation season. There's no doubting which signing the fans were more excited about, myself included. Morientes had just scored 9 goals in eleven Champions League games for Monaco, and was arriving, seemingly, at the peak of his powers; Crouch had never played in Europe, never mind the Champions League, and had just come off the back of a relegation season.
What happened next? Arriving at the club in January, Morientes was cup-tied in the Champions League. In the league, he netted in his fourth game, but by the end of the season he'd only added another two. Niggling injuries, and a self-professed dislike of the "physical" nature of the English game saw Morientes only ever play a bit part role at Anfield and, after just a season and a half, the Spaniard departed, recording just 12 goals in 61 appearances.
Crouch, who arrived in July of the same year, famously went on a goalless run of 1,229 minutes at the beginning of his Liverpool career; however, by the end of that campaign he'd notch 11 times. His overall contribution and silky feet earned him the nickname "Crouchino", and his good humour and down to earth demeanour won many fans over, after initial scepticism. It was in Europe that Crouch truly shone though; 11 goals in 30 Champions League appearances is an excellent return in Europe's elite club competition. When Crouch was finally moved on, following the arrival of Fernando Torres, it was with a record of 42 goals in 134 appearances and the best wishes of all LFC fans.
This summer so far has seen fans react with some degree of anger towards certain signings, and the money spent on them. Adam Lallana, for example, has been used as a stick with which to beat Brendan Rodgers and the club. By all means have your say, but don't write him off; because, whatever you think, the truth is you have no idea as to whether he'll ultimately turn out to be a good or bad signing. Just to illustrate that point, here are a couple of quotes from two Liverpool legends on the aforementioned signing of Fernando Morientes.
It's exactly the kind of signing we need. If you ask any of the fans about the calibre of player they want us to be bringing to the club, he would be it. I feel the same way. You know you're not taking a risk. It's good from a symbolic point of view that we've signed someone who's so renowned as a world-class player.  Steven Gerrard

"There are some players who sign for top clubs and you watch them and wonder if they're good enough to make it, but that's never been the case with Morientes at Liverpool. He's a class act and you can see what skill and quality he has" Jamie Carragher
Loic Remy is another who is attracting criticism; although, for the life of me, I can't see why. Picking up a proven French international, with a good Premier League goal-scoring record – who can play across the front – for just €10.5m seems an absolute no-brainer. Dejan Lovren, Brendan Rodgers' top defensive target (by most accounts) is another who has come in for a lot of stick from some Liverpool fans this summer. Many feel that the likely transfer fee (somewhere between €19m and €24m) is too much for a defender of his ability and standing. Perhaps it is, but the committee has been hard at work, and if Lovren is the one they want, there must be a reason for that. I'd suggest holding fire until we see him in the Reds' shirt – we may never, of course.
There are many examples of players who've come to LFC over the years, and either not lived upto their billing, or surpassed their preceding reputations with ease. Ryan Babel, Harry Kewell, Djibril Cisse – to name three who almost thoroughly disappointed, given the hype and hope which surrounded their arrivals. Those who exceeded expectations include Steve Finnan and Dietmar Hamann from the recent past; Jordan Henderson and Daniel Sturridge are currently doing so, and the potential for more future heroes to be born from this year's  crop of new signings is as high now as it's ever been. Just remember though; it isn't always the big names, with the glamorous backgrounds who go on to become LFC stalwarts. Sometimes; in fact, legends are formed by much humbler beginnings.
Quotes courtesy of www.lfchistory.net
Neil also writes for http://itsallinthegameblog.wordpress.com/