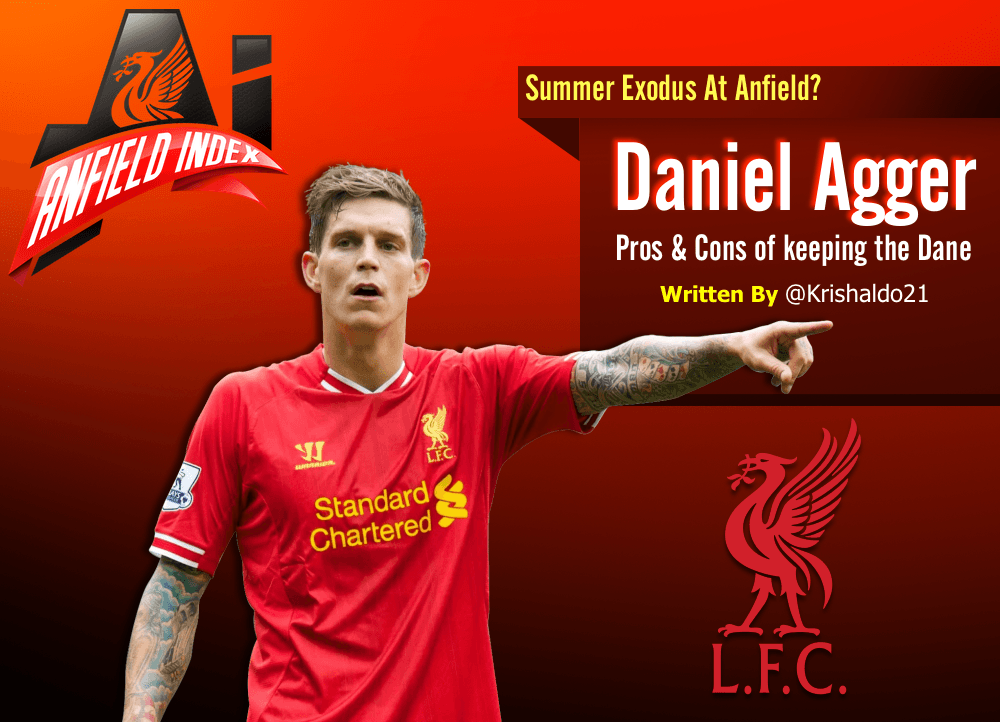 The Pros and Cons Of Keeping Daniel Agger
Ever since Liverpool signed Mamadou Sakho on deadline day of Summer 2013, Daniel Agger's position at the club has come into question. After all, why would the club spend over £18m on a left-sided centre back if they weren't going to use him as first choice?
So if Agger will be second choice when Sakho is fit and available, should he be kept at the club?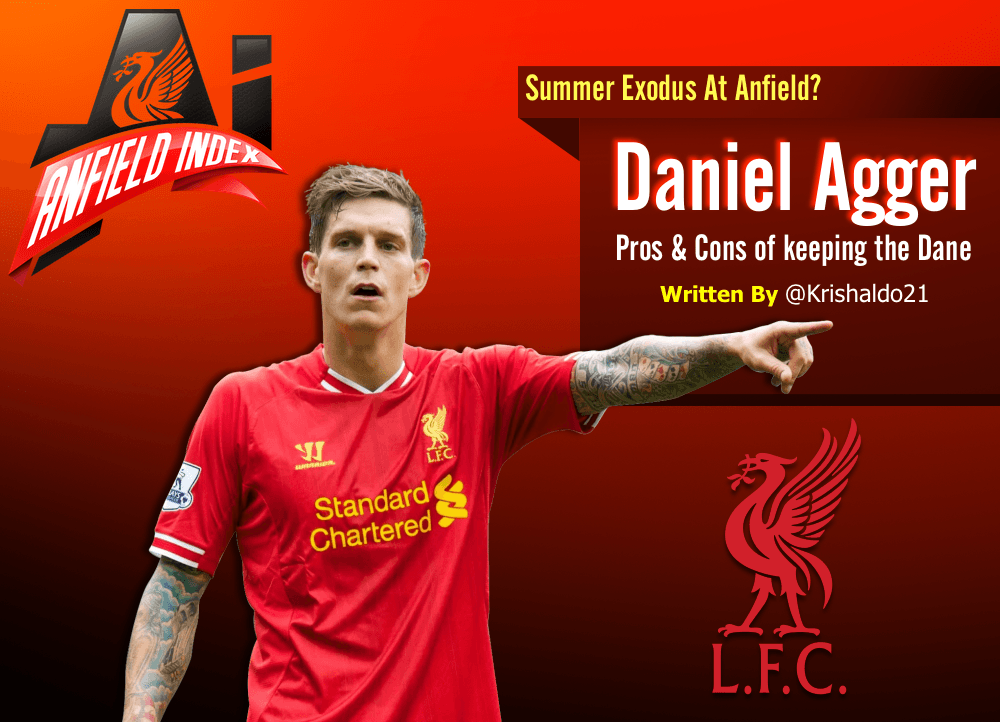 Ability
I think most of us agree that Agger is a quality player. One of the few in the world who are genuinely able to comfortably carry a ball into midfield and make a good pass or even have a decent shot on target.
Defensively he does well too. Considering he has had a reputation for sometimes not being the best in a tackle, he won 61% of his duels last season. Gary Cahill won 68%, but Agger's 61% is still better than Skrtel, Sakho, Mertesacker, Terry and Kompany. Players who are generally believed to be among the best in the league.
When we look at how he has contributed to Liverpool's season, we won 2.67 points per game when he played whilst conceding less than a goal per game. With Sakho playing we won 1.875 points and conceded nearly 1.6 every match. With Skrtel playing the numbers are 2.2 PPG and conceded 1.4.
Just from the numbers, he looks like our best defender and in terms of overall ability, I think he is worth keeping.
Age
At 29 years old (30 in December) he is no spring chicken, but for a centre back, this should mean he is in or approaching his peak. Cahill is 30 and Terry is 33. Mertesacker is older (by a couple of months). Dejan Lovren on the other hand has just turned 25.
As I said, he is still relatively young for a centre back so I doubt this would be a reason to sell him.
Injuries
Agger was signed for Liverpool by Rafa Benitez in January 2006 and according to TransferMarkt, he has spent 591 days on the treatment table during his time at Anfield, missing a total of 113 games. This equates to roughly 20% of his time with us that he has been unavailable.
Aguero is another player who has a reputation for being injured, but he has been out of action for City less than 15% of the time. Not an entirely fair comparison as they are different positions, ages and styles (with Aguero often involved in high speed sprints) but just gives an indication as to how often Agger is actually injured.
Obviously he doesn't want to be out injured, but this record is something Rodgers and the team must be considering.
Wages
According to Google, he is earning £4.16m a year, which equates to £80,000 a week. Roughly the same amount as both Skrtel and Toure are rumoured to be paid. In a time when the new TV deal has kicked in, much more sponsorship is being brought into the club and we now have Champions League revenues, this isn't a huge amount for a player of Agger's ability.
I'm not saying we should be throwing money around just because we have it, but I don't feel he is being overpaid, especially when you consider players like Thomas Vermaelen are paid a similar amount.
Contract and Value
The contract situation is slightly less straight forward, with it running out in 2016. In general, players are usually offered new contracts around this time to avoid losing them on a free or a reduced fee in two years time.
There is no urgent need to sell him as we will still be able to sell him next summer if required (so long as we are willing to take a slight knock on the price). I certainly don't envisage him being left to go on a free, especially as it was only a year or two ago there were teams like Barcelona and Man City in for him.
However, if you consider his age (fast approaching 30) and that he has 'only' two years left on his contract, this is almost certainly the most he will ever be worth. Especially if his chances are limited in the coming season. £8-10m would would be a likely figure, although it's not like we need the money!
Experience
Liverpool have finally secured Champions League football for the first time in 5 years. When you look at our squad, only a handful have much Champions League experience, and very few have more than a handful of games in Europe's elite competition.
Agger is one of the players that has. Not just experience of being in the squad, but experience of getting to the final in 2007. Having him help the younger players who have little to no games under their belt in Europe could be invaluable for their progression.
We obviously aren't completely void of players with major experience. Glen Johnson has 16 appearances and reached the semis three times. Skrtel has 15 appearances and reached the semis before. Kolo has played a whopping 62 times reaching the final. Steven Gerrard has racked up a whopping 81 Champions League appearances.
But that's only 4 players in an entire squad with any significant experience. We may need more.
Lots of Change
A bigger and deeper squad may also leave us with a transitional season to get all the new players to settle. Admittedly, not all of them have been bought for the first eleven immediately, and we could broadly play the same team as we did last season, but there is a large amount of change happening.
If we look at who we have brought in/been strongly linked with, the list reads as Lambert, Lallana, Can, Markovic, Lovren, Moreno (or similar), Manquillo plus the possibility of a 'star player' or two and maybe a 'keeper. That is between 8 and 10 additions.
If we now look at who have left the club (sale or loan) and who we can expect to move on we have Suarez, Aspas, Alberto, Moses (end of loan, but still a change to the squad) and maybe Pepe Reina, which would be 5 players leaving the side.
That's a lot of change for any club to deal with. Adding Agger to the list makes it even more difficult.
Final Thoughts
Given the information above, I don't think we should sell Daniel Agger.
He is injured quite often, but clearly has quality and can bring other qualities to the team and the squad that will be difficult to replace. This of course depends on whether the player is willing to remain as a squad player or if he will force a move through in an effort to secure first team football elsewhere.