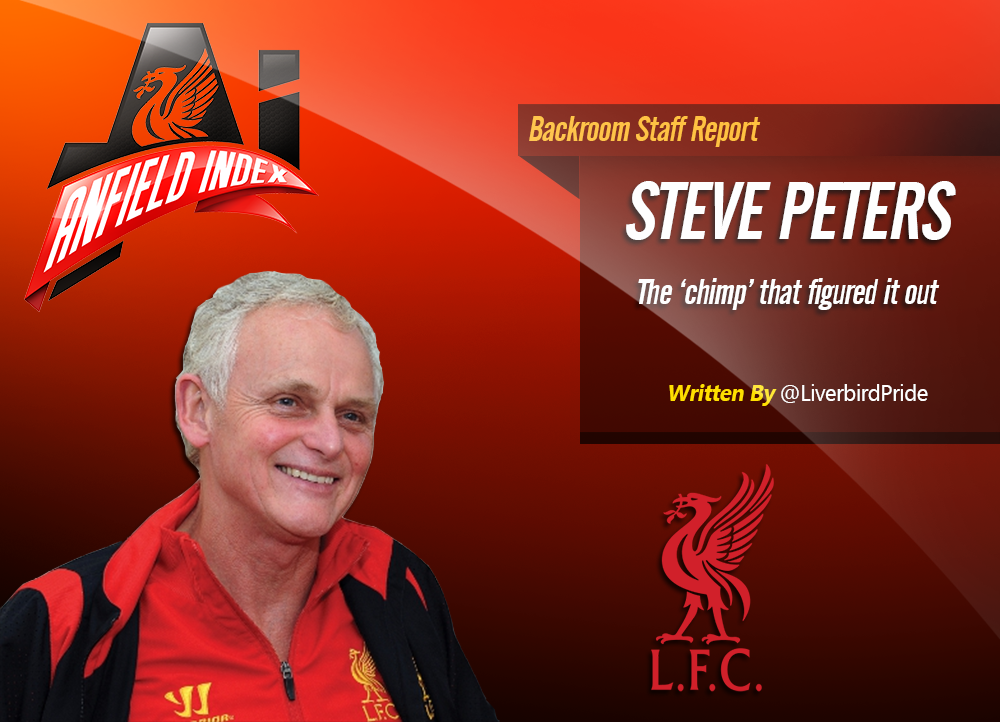 Steve Peters | The 'chimp' that figured it out
It has been well documented last season that Liverpool FC has had a helping hand from psychiatrist Dr. Steve Peters. He has helped with the genius the minds of the Liverpool players before demanding games and after mentally vigorous bouts. He was one of the main reasons Steven Gerrard had recovered so promptly from his mistake against Chelsea.
Little do many people know, Steve Peters has been involved with Sports phycology for more than ten years and he has had major impacts on high performance athletes and competitors he helped in the last number of years. But his field of study did not stop there.

His Beginning
Steve Peters was born in 1953 in Middlesbrough, and attended Stirling University to study mathematics. He taught Maths in Stirling for 8 years in the 1970's, after which, he attended St. Mary's University and studied medicine. From 1993 to 2005 he worked with various people with serious personality disorders at Rampton, a high-security hospital. Peters holds a degree in maths, medicine, has a master in Medical Education and postgraduate qualifications in Sports Medicine.
His Involvement with Britain
Peters was recommended to Team Sky cycling team in 2001 from a former student of Sheffield University. He went from working part-time with Team Sky (2001) to dedicating himself to them(2004). Successful Olympic cyclists such as Victoria Pendleton (two gold and one silver medal) and Sir Chris Hoy (three gold medals in 2008 Summer Olympics, two gold medals in 2012 Summer Olympics) have had their careers impacted in a very positive way with help from Peters.
"(Peters) is most important person in my cycling career."– Victoria Pendleton

"Without Steve I don't think I could have brought home triple gold from Beijing" – Sir Chris Hoy
Performance Director of British cycling, Sir David Brailsford had described Peters' as:
"The best appointment I've made in my life."
During the 2012 Olympics, He was appointed as the "head coach" of the Team GB cycling team. His job was to make sure that the mind-set of the athletes was in the right place before (and during the competition) and to make sure they are as successful as possible. The results were, 8 gold medals, 2 silver and 2 bronze.
After the London Olympics, Peters was appointed by UK Athletics to work with the Britain's high performance athletes, such as Mo Farah and other Olympic competitors for Rio 2016.
Steve stepped down from his role with British Cycling in April 2014 when Brailsford left his position as Performance Director.
Work with other performers
In 2012, World Snooker Champion Ronnie O'Sullivan had appointed Steve Peters as his psychiatrist for the World Snooker Championship. He aided O'Sullivan in winning this tournament and again stayed with him in 2013 where, again, O'Sullivan won the Championship. O'Sullivan reached the final of the 2014 championship but was beaten 10-5 by Mark Selby. O'Sullivan has claimed in 2012 that the greatest person he has ever worked with was Steve. He claimed that his mentality changed and everything about him changed for the better just after a short couple of sessions. Indeed, one of his most well known clients, Ronnie O'Sullivan said:
"If Liverpool can have Steve there for four or five years, then they'll win the Premier League" 
Work for Liverpool FC and England
 "If you start going into the realm of the uncontrollable with a pre-defined goal then you are going to start to stress."
These were some of the first words Peters explained to an interviewer a short couple of days after he was appointed Liverpool's psychiatrist.  Taking the Liverpool job on proved to be a tough challenge as this was Peters' first job in the field of football. Needless to say, he took this opportunity by storm and made the job his own.
Many players throughout the starting XI of Liverpool have spoken highly of Peters at one point or another (Most notably Steven Gerrard). Even the gaffer himself Brendan Rodgers issued a "hands off" warning to other competitors for the signature of Peters in April 2014. But one emerging player in this year's Liverpool and England side, Raheem Sterling, has spoken very fondly of Steve Peters from a personal level for the work he has done to transform Liverpool into a side that would be feared again like in the 70' and 80's. He has spoken of how he transformed the youngster from once a shy kid into a top performer on club and international level.
"The way he works is brilliant.We use a motto 'focus on the ball, focus on the team'. I had a meeting with him before the Manchester City game (which Liverpool won 3-2 with Sterling scoring the opening goal).I thought it was going to last 20-25 minutes. So I walked in, sat down and he just said: 'focus on the ball, focus on the team'.Is that it?' I asked him. But it was really important." – Sterling told the latest edition of LFC Magazine.
Sterling also claims a 'barrier' has been lifted from the shoulders of both him and his team-mates around him in terms of them worrying about their mistakes.
"Maybe on the outside people had the impression I've always been really confident, but after a good start (to last season) I started looking for easy options rather than taking a chance myself, beating a man, taking a shot on myself."
It is no secret that Peters was a major success at this time at Liverpool since his arrival on November of 2012 (although there is no stats to back that point up.) But, We all can see for ourselves that the team spirit has gone through the Melwood roof and has reached its highest peak since maybe Joe Fagan's treble winning side in '84-'85.
Steve Peters' work was so heavily praised, Roy Hodgson decided that it would be a good idea to bring him in and appoint him as the "head coach" of the English internationals. This role would consist of the same duties he had to fulfil as the coach of the GB cycling team. This plan worked well with the idea of Hodgson deciding to name a youthful (or perhaps) inexperienced squad. Unfortunately for England and Peters they were unable to form a special bond that he had with Pendleton, Hoyt and Sterling which resulted in England exiting the tournament early.
It's also been revealed in the last few days with Jack Robinson, exclusively revealing to Anfieldindex.com that he met with Peters, after returning from his season long, loan spell at Blackpool. Robinson, reflecting on the pressure
"I met with him (Peters) at the end of the season, when I returned to train with the club. He's helped me sort my head out."
From 'Chimp to Author'
While Peters was working for Team GB in 2012 he decided he was going to publish a paperback book. This book was titled "The Chimp Paradox". The Chimp Paradox is thankfully free of phycology babble so it makes it refreshing and accessible. Peters explained in an interview that the reason was due to his early background in education.  The Waterstones.com preview gives us an insight into what we could expect by reading.
"The Chimp Paradox is an incredibly powerful mind management model that can help you become a happy, confident, healthier and more successful person."
What you can expect from this book on a personal level, is a sense of relief of pressure or a build-up of weight being lifted off of your shoulders. Peters explains the struggle that takes place within your mind and then shows this understanding to every area of your life so you can, for example, recognize how your mind is working or understand and be able to control your emotions and become the person you would like to be.
Each chapter explains different aspects of how you function and highlights key facts for you to understand. There are also exercises for you to work with. By undertaking these exercises you will see immediate improvements in your daily living and, over time, you will develop emotional skills and practical habits that will help you to become the person that you want to be, and live the life that you want to live.
4.7 out of 5 – Waterstones.com
4.5 out of 5 – Amazon.com
4.1 out of 5 – Goodreads.com
Conclusion
In my regard, Dr. Steve Peters is a man responsible for a lot of peoples sanity. Having had a read of his book, without doubt, I can see why everybody that works with him speaks of him very highly. Not knowing much about Peters before I began this article, I for one, as many were, was skeptical. I was 90% unsure of the role he was asked to achieve at our precious club, But as of today, We can all look at his role and say we are lucky to have him, as well as our fine owners and wonderful boss Brendan Rodgers.