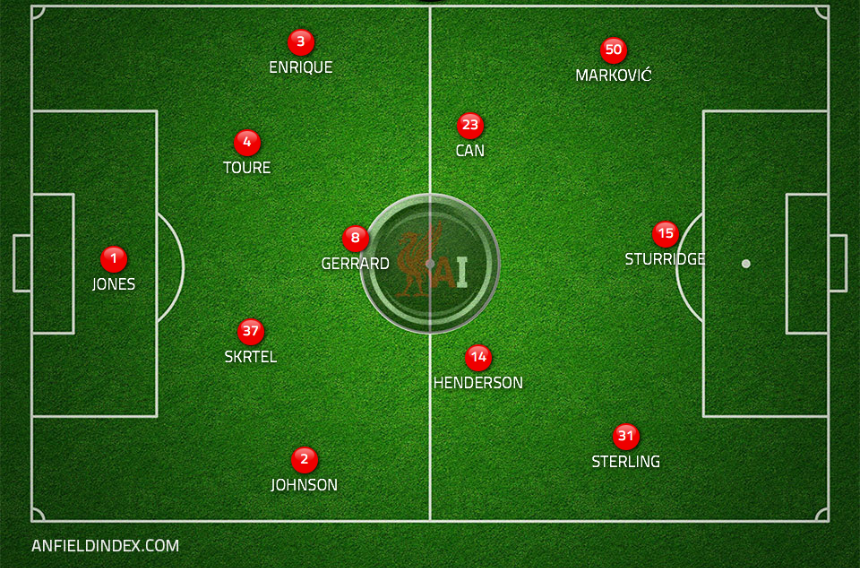 Olympiakos 0 Liverpool FC 1 | Match Report
A majority of the World Cup stars were back as the Reds kicked off their Guinness International Champions Cup with a 1-0 over Olympiakos thanks to a goal from Raheem Sterling.
The Windy City lived up to its name as Liverpool faced the Greek champions at Soldier Field stadium. You would have been forgiven for having a sense of déjà vu as Sterling put his side up within 5 minutes, guiding Daniel Sturridge's mishit shot past the oncoming Balázs Megyeri.
Before the goal, Brendan Rodgers' men dominated possession of the ball and the lead was very much deserved. Following it however, Olympiakos began to turn up the pressure.
The first hint of danger came after Glen Johnson was dispossessed by midfielder Gevorg Ghazaryan, but the Armenian failed to take advantage, curling the ball high and wide. A chipped ball into the box also caused anxiety before Javier Saviola began to be a nuisance.
The game saw new signing man Lazar Marković make his first start in a Liverpool shirt, and it didn't take long for him to give his new adoring fans a sample of what he has to offer; setting off on a diagonal run, stopping only when he was hacked down by Dimitris Siovas. His flair was then followed by him exhibiting his work rate as he initiated a counter attack, getting the ball to Sterling just outside the box, who tries to find Henderson but the wingers pass is under hit and cleared.
Another counter shortly after, this time started by Emre Can, then finds its way to the feet of the number 50, but after doing well to find some space in the box he can only curl the ball past the post.
As the game approached half time though, Olympiakos looked the more likely to score, with some good defending by José Enrique stopping Saviola having an attempt on goal, and Martin Škrtel stopping his man from having a free header on goal.
With a change of personnel at the interval, with Enrique, Can and Marković making way for Jack Robinson, Joe Allen and Philippe Coutinho, came a change in pace in the game, but the Greek side continued to put the Liverpool back four under strain. Ghazaryan once again came close to making it level, with his curling effort beating Brad Jones in goal but cannoning off the bar after being put through by Alejandro Domínguez.
Another series of changes, with Steven Gerrard,  Kolo Touré and Johnson coming off for Lucas Leiva, Sebastian Coates and Martin Kelly, before Rickie Lambert and Jordan Ibe made an appearance, coincided with yet another lull in the game, with neither side really creating many any clear cut chances until some more sloppy play resulted in Joe Allen being charged down by Andreas Bouchalakis who had a free run on to goal but a series of near miss last ditch tackles meant that he lost his composure and the ball was knocked out of harms way.
Four minutes were added to a game to a game which brought up memories of last season.
Unfortunately, it was more like August rather than the latter months, when the Reds made a habit of scoring and then setting up shop but like those games, they came away with the three points and a clean sheet.
Player Ratings
Brad Jones – 7 – Relatively untested for the most part but solid when needed.
Glen Johnson – 6 – Sloppy on the ball and still looked like he was on the beach.
Martin Škrtel – 8 – Made some good tackles, blocks and clearances.
Kolo Touré – 7 – Solid performance next to Škrtel.
José Enrique – 7 – Didn't do too much wrong and made a crucial tackle towards the end of the first half.
Steven Gerrard – 7 – Made some good tackles and his pass lead to the first goal.
Jordan Henderson – 8 – Standard Jordan Henderson performance.
Emre Can – 8 – Another good showing from Can, exhibiting his pressing and counter attacking capabilities.
Raheem Sterling – 8 – Scored the goal and always looked a nuisance for the Olympiakos left back.
Daniel Sturridge – 7 – Didn't really get into the game for the most part but was tidy enough when he was involved.
Lazar Marković – 8 – Good first cameo in a Reds shirt, showing his work rate and dribbling skills.
Martin Kelly – 7
Sebastian Coates – 7 – Made a few good challenges and looked fairly comfortable.
Jack Robinson – 7
Lucas Leiva – 6
Joe Allen – 6 – Lost possession in a dangerous area and his passing was slightly off by his standards.
Philippe Coutinho – 7 – Got involved in attacks and tried to create chances but nothing really came off.
Jordan Ibe – 6 – Didn't really have enough time on the pitch to get involved but did well towards the end.
Rickie Lambert – 6 – Didn't have enough time to get involved.