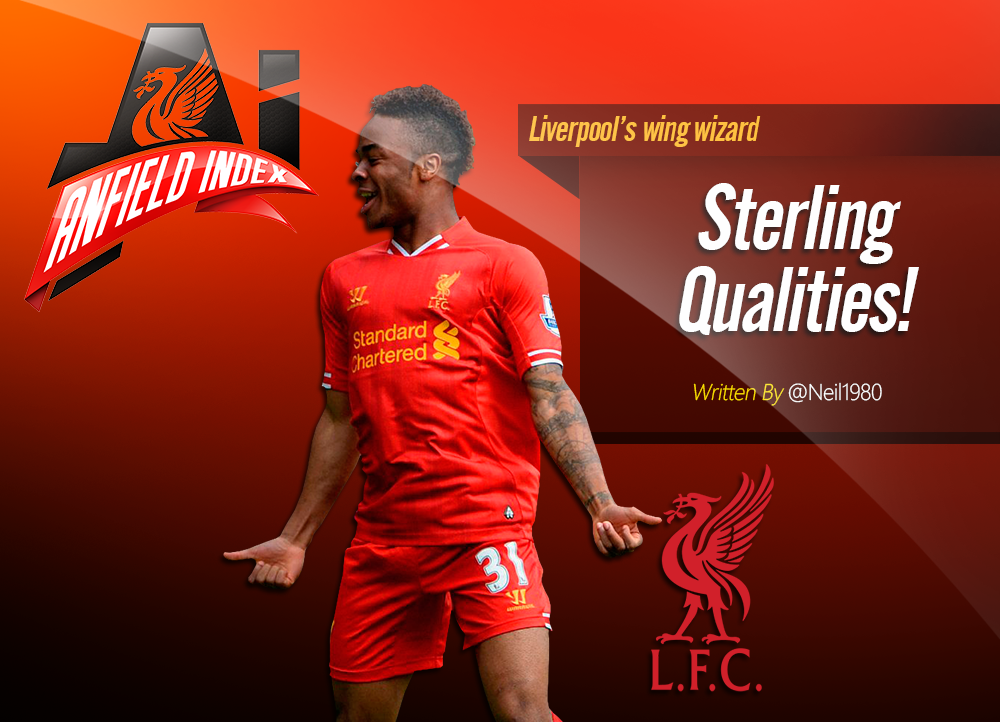 Sterling Qualities!
In just over a fortnight, the Premier League season will be upon us once again. Weekends will assume a deeper meaning, and thoughts of summer holidays and World Cups in far flung lands, will fade hazily into the memory banks, perhaps retrieved and discussed at some later date, when other matters appear less pressing.
Liverpool begin their campaign on Sunday August 17th, against what will become: Ronald Koeman's "new look" Southampton team – a situation forced on the Dutchman by the mass exodus of last year's team from St. Mary's – but will the Reds start ready? Pulling out of the Loic Remy deal, albeit for the right reasons, has pushed many fans into a fretful mood. Worried about a lack of options up front, some point to the loss of Luis Suarez and the signing of Rickie Lambert as massive cause for concern, particularly in the goals department.

Today, it can appear that the club only have three strikers on the books; in the shape of Daniel Sturridge, Fabio Borini and Rickie Lambert. If you were to look at those names in a vacuum, you may well have a mild cause for concern, however, there's more to it than that.
Consider another name to add to that trio, a fouth member of the quartet, who can add 15-20 league goals this season, and ten assists to go with them. Reus? Benzema? No, not a "marquee signing", a player who has performed already at the club; someone who knows the systems, and the styles the manager wants to play; someone with pace, tactical cleverness, and a killer instinct. Consider, Raheem Sterling.
Raheem Sterling has all the attributes to become a world star, and to do so playing for Liverpool. The development shown by the young man during his twentieth year, can be described as nothing less than stratospheric – from a troubled youngster with potential, to a core component of the most potent attacking trio in the league. That Sterling transformed himself from a lad who most fans wanted to send out on loan, to being the best player on the pitch in many games in the second half of Liverpool's season, could be regarded as inconceivable; it may be unfathomable, given the company he was in (not just on his own team); nevertheless, it occurred.
The stats confirm just quite what a remarkable trajectory Sterling's season took last year. Having not started a game in the league until Palace at home on 15th October, Sterling played just 174 minutes of Premier League football before making his second start of the campaign away at Hull on December 1st – a game in which he played poorly. Subbed off on 65, he started and scored in the next match – a 5-1 demolition of Norwich at Anfield (Luis Suarez bagging the other four)- and never looked back, starting 21 of the final 24 games and scoring eight more goals.
Given that he only played half a season last year, we can expect nothing but more improvement from the 19 year old in terms of numbers. Sterling's stats last season show a goals per 90 min ratio of 0.37 – better than Eriksen, David Silva, Oscar, Barkley, Lallana and Wilshere – all players who primarily play in the number 10 or from wide, like Sterling. His shooting accuracy also compares well, better than all of the above, bar Eriksen, with whom he ties on 67%. Whilst his key passes, and chances created stats lag a little behind Silva and Eriksen, his successful take ons, interceptions, and percentage of total duels won, have him either first or second in the same company of six.
As mentioned above, Sterling was mainly deployed as either a wide forward or at the tip of the diamond in a number ten role. It seems likely that he'll be used in these positions again; however, given his pace, shooting accuracy, tactical awareness and eye for goal, I'd have no reservations playing him as a support striker with Sturridge or Lambert, should Rodgers go for two up top, especially given the strength in depth, and the options available in the positions behind. We've already seen, with his goal against Olympiacos (scored inside 10 minutes of his first pre-season game), just how potent he can be. I've said on record before that I can see Sterling having as big an influence as Michael Owen did; for his pace, age and the impact he can have on the league, and my opinion has strengthened in that regard, as he has more to his all round game than Owen ever had.
My gut feeling tells me that Liverpool, Brendan Rodgers, and even FSG, want another striker, and are likely to bring one in. Whether they do or not remains to be seen. Whatever happens, wherever Sterling plays, I'll tell you right now – I see him scoring twenty goals this season, starring for Liverpool, and winning Young Player of the Year. Why? Simply put: because he can!
Stats from www.squawka.com