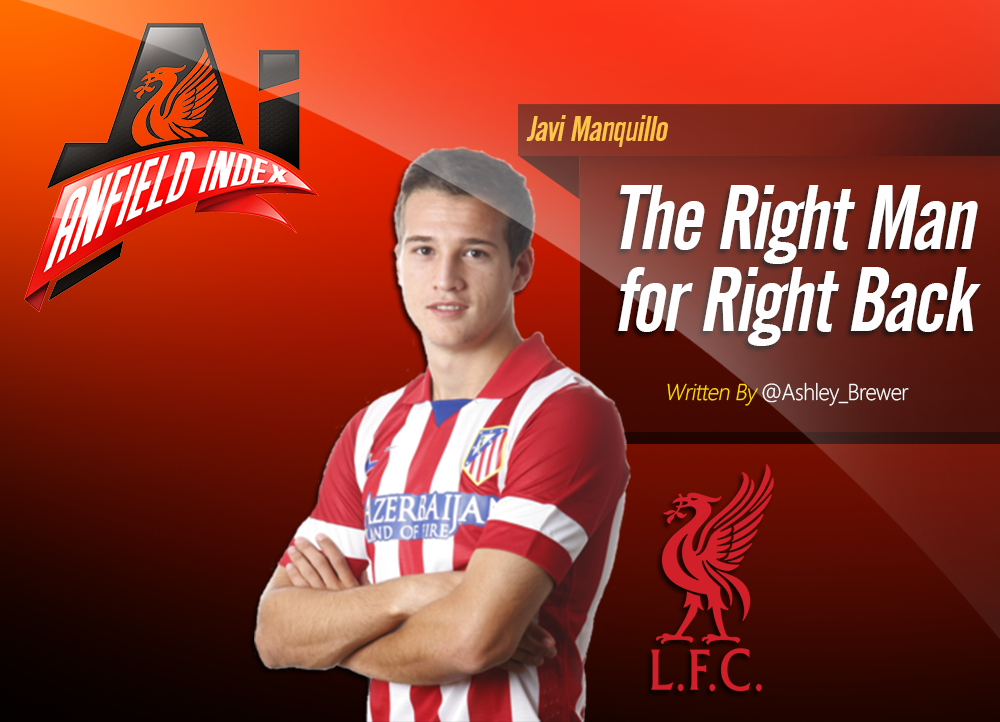 Javi Manquillo | The Right Man For Right Back?
Moves to help curb the frailties of the Liverpool defence seem to be gathering speed now, as Liverpool seem set to sign Atlético Madrid full back Javi Manquillo on a two year loan, only a matter of days after signing Dejan Lovren.
For some, the name Manquillo will only bring back memories of the horrific neck injury he suffered in a recent Copa del Rey semi final against Real Madrid. For others, it will make them ask "who?", with the 20 year old only having made six appearances for Los Rojiblancos first team.

Perhaps thanks to his stats, people who have not seen his play for the first or B team generally tend to have a wrong impression on the type of player he is.
Looking at his main strengths and weaknesses, it would be safe to make the assumption that he is more of a defensive right back, more of an Álvaro Arbeloa than say, a Glen Johnson for example, however this is slightly wide of the mark. According to Billy Edwards, a fan of Atletico Madrid, who has watched him develop from his youth days, he is actually someone who plays more like the latter, a player who bombs up the wing, exchanging little one twos with the winger. A fine example of this would be his impressive performance at the U-20 World Cup when playing behind Barça's Gerard Deulofeu.
What this could tell us about him is he is an attacking full back, who possesses great strength, pace and power, who can actually get back and defend – Imagine.
Looking at weaknesses though, the fact that one of them is concentration is a bit worrying, and pairing that up with a slight rashness when it comes to tackling at times, which is probably why Diego Simeone hasn't played him much in fear of creating a weak link within his La Liga winning outfit which boasted the best defensive record last season.
It also says that he is a very weak crosser, but according to Billy Edwards again: "He's a good crosser in terms of technique but doesn't always make the right choice, although will put in some fantastic balls from time to time."
So how does he stand next to our current right backs?
Due to the difference in game time it is difficult to get an accurate comparison, but from these alone there is some room to be a bit excited, especially with him having time to grow with game time.
It is also a win-win situation for Brendan Rodgers because it is only a loan spell so should he not develop much then not a lot has been lost, but should he grow to the level which is being talked about, which is quite high, then the £6 million buy out clause which is rumoured to be included in the deal would prove to be a something of a coupe.
Here is a video of Javi Manquillo for Spain U20s for those who like that kind of thing: