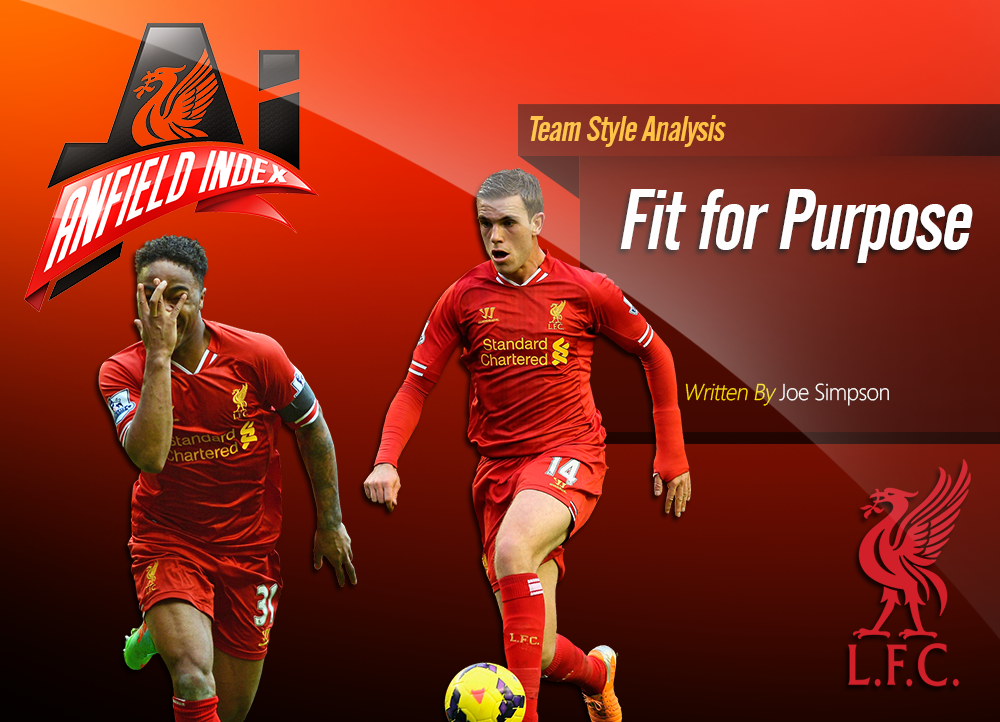 Liverpool FC - Fit for Purpose

Brendan Rodgers' Liverpool, having finished 2nd playing a breathtaking style of football, have been praised for various qualities – skill, pace, creativity etc but one quality – which they have that has received relatively little comment – is the fitness levels of the players.
With much of Liverpool's success last season based on blitzing teams early with high intensity pressing – as evidenced by a certain podcast we know and love. (Gags made me add that bit in!)
Rodgers perhaps best summed up their pressing and how effective it can be after the Tottenham away performance describing it as:
"the most complete performance I've had…our game today was outstanding. We were like animals without the ball, the way we pressed, and our hunger for the ball was great. Then once we got it, our use of the ball was excellent."
Understandably high levels of fitness are essential to be able to relentlessly press "like animals".
Whilst Liverpool have a number of players with very good fitness levels – Coutinho, Joe Allen etc – I would argue that a major factor that elevated our pressing game to great heights was the presence in the team of phenomenal athletes – certainly in football terms – like Sterling, Henderson (and some Uruguayan bloke who is unfortunately no longer with us) who have that very rare combination of extremely high fitness levels, intelligence (knowing when and where to press), pace and good technique (to hurt teams when they have won the ball back). These players were invaluable as their attributes meant they were able to press effectively again and again in the final third of the pitch. The speed (and fitness to repeat this high intensity pressing) of this first line of pressing was vital in continually unsettling the opposition defence and provided an outstanding basis for the rest of the team to be able to help them really strangle the life out of teams.
Henderson and Sterling have both been singled out by their coaches and fitness staff as having extremely high fitness levels.
Whilst at Sunderland Steve Bruce said that Henderson had "terrific energy" and that he "regularly covers 13km a game". Whilst Rodgers praised Henderson's fitness and importance to our pressing game saying "he's a very integral part of how we work, he presses the game so well. His physical condition is at a really high level. He's just one of those very fortunate boys that are naturally so fit." Liverpool's head of performance, Glen Driscoll, supported their assessments describing Henderson as "an exceptional physical specimen."
Glen Driscoll also praised Sterling's extremely high fitness levels arguing that perhaps Sterling's greatest gift "is his aerobic fitness."
Driscoll continued saying that Sterling's "speed endurance is unrivalled in his position. I said to him last pre-season, I've never seen a winger with quite this gift. He can work and work with very little metabolic cost.
"This is why he is so relentless both defensively tracking the likes of [Bacary] Sagna and [Leighton] Baines, and offensively taking them the other way consistently for the duration of the 90 minutes.
Whilst their very high fitness levels have been extremely helpful in assisting the team as a collective they can also be extremely effective for these players as individuals in terms of winning their own individual battles. The potential benefits of extremely high fitness levels for the individual were probably best described by Gianluca Vialli in his and Gabriele Marcotti's outstanding book, The Italian Job. Vialli talked of how as games went on he became more and more confident that he could get the better of his direct opponent. He said the reason for this was that his extremely high fitness levels meant that whilst he wasn't the fastest of players, as games went on and his top speed remained relatively stable his opposite number's top speed would begin to significantly decline. Suddenly in the second half of games from being outpaced to balls he would be winning these sprints. Gordon Strachan echoed the value of having the fitness levels to outwork your direct opponent arguing that it has the benefit of wearing defenders down "mentally and physically".
Unlike Vialli, Henderson and Sterling have that high level of athletic endurance combined with genuine pace. To have one player with this combination is a real asset, to have two is a major weapon. For me it is no coincidence that Adam Lallana, arguably Rodgers' top target this summer, has also shown high levels of fitness – whilst obviously lacking genuine pace – combining a top 10 level of distance covered in the Premier League with the most high intensity runs of the players in this top 10 (numbers that helped him have the most final third recoveries in the Premier League last season, Who Scored).
Clearly Liverpool regularly blitzing teams so early last time wasn't just down to skill and organization it also relied on very high levels of fitness throughout the team with an invaluable extra level of extreme fitness combined with pace coming from the likes of Henderson and Sterling to give our pressing game almost an extra gear. Brendan Rodgers always said that he wanted his teams to cause "death by football", whilst Rafa Benitez famously created a "crushing machine" at Valencia, Rodgers may well be combining the two to create a killing machine that crushes the life out of the opposition and kills it dead before it has a chance to draw breath.