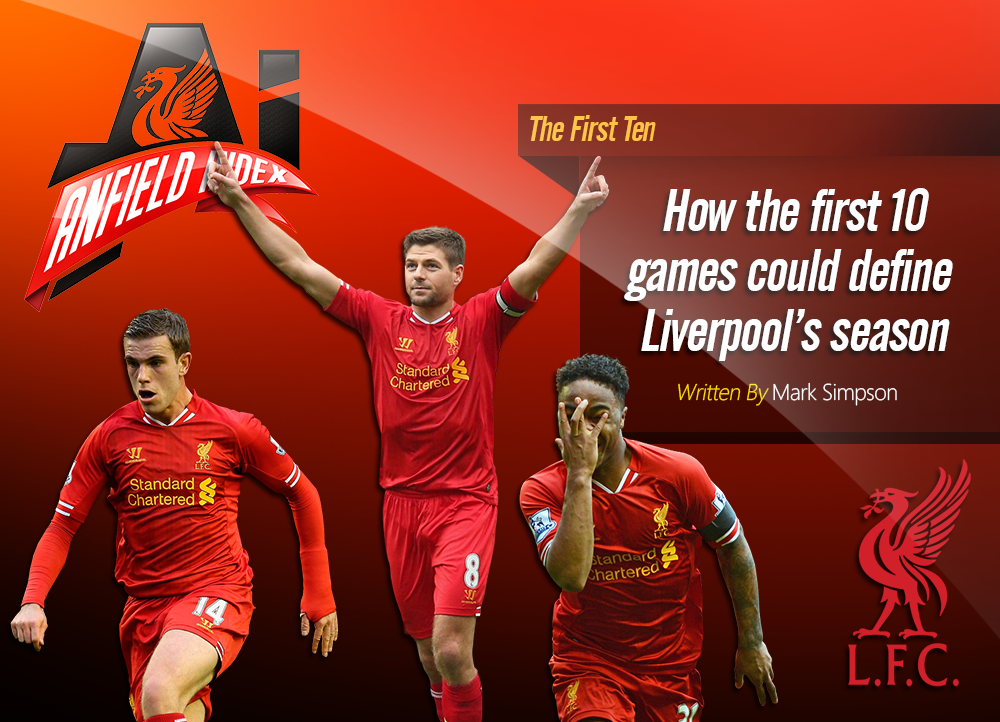 How the First 10 Games Could Define Liverpool's Season
Anyone who follows me on Twitter will have noticed that I like to break a season down into groups of five games. Why? Well it's an easy way to monitor how Liverpool are doing in relation to their goals for the season.
2013/14 was all about getting back into the Champions league. I worked out that if Liverpool were achieving 10 out of the 15 points available in every group of five games, they would have a very good chance of getting back into the top four of the English Premier League (74 points). It turned out that Brendan Rodgers' tricky Reds smashed that tally, and thankfully so, because Arsenal finished in fourth place on 79 points.
This goes to show how the gulf between the top six Premier League teams and the remaining fourteen is growing. In 2012/13 Chelsea finished fourth on 75, in 2011/12 Arsenal finished on 70 points to get into the Champions League positions, and in 2010/11 Arsenal only got 68 points and still got into the elusive top four.
I'm all for football clichés, and to quote our captain, this season Liverpool Football Club simply have to "go again". Not only do they have to go again, they have to try to better the tally of 84 points from last season if they want to try and win the Premiership, and maybe even to qualify for the Champions League!
Judging by the rise in points required to get into the top four, this season I'm going to increase the points target for each group of games by one point. By adding only one more point, it means that if Liverpool only achieve their minimum target of 11 points from the 15 available, the end points tally will be 82 points.
82 points should be enough to qualify, you feel. To win the league they need to get 12 points out of every 15 available, which would mean 90 points.
That is no mean feat, Manchester City have assembled a squad which could easily handle a major injury crisis. Chelsea have added more goals to their strike force, and Arsenal have bought very shrewdly.
Liverpool have to "go again" this season without Luis Suarez. There has been so much written about Luis, that there is no point going over old ground. However, if we are to go one step further it means that: A) the incoming players are going to have to come into the team firing on all cylinders, and B) Sterling, Henderson & Coutinho are going to have to contribute more league goals this time around.
Personally, I cannot wait to see how Daniel Sturridge adapts to being the main man in the Liverpool team. I think he is ready. All the medical staff need to do is keep him off the treatment table for as long as possible. If he can beat his tally of 21 goals in 29 games from last season then there is every chance that he will be walking away with the Golden Boot this season.
I have had the chance to study the upcoming fixtures, and as the title of the blog suggests, I think the first 10 games could quite easily define how our season will pan out.
Let's take a look at how the games look (NOTE: These fixtures could change)
What stands out to me instantly, is that Liverpool are going to be spending a lot of their time in London, with three of the first five games away from Anfield being played in the capital. Speaking of Anfield, the home games on paper (apart from the Merseyside derby) all look straightforward.  It's the games away from home that could prove to be tricky. Let's compare this to last season:
Man City 2 – 1 Liverpool
Tottenham 0 – 5 Liverpool
West Ham 1- 2 Liverpool
QPR N.A. – N.A. Liverpool (Assume 3 points)
Newcastle 2-2 Liverpool
 10 out of 15 points available.
This shows that Liverpool are going to have to go one or two points better in this sequence of away games if they are to improve on last seasons' tally.
Let's look at how the home games worked out last season:
Liverpool 0 – 1 Southampton
Liverpool 2-2 Aston Villa
Liverpool 4 – 0 Everton
Liverpool 4 -1 West Brom
Liverpool 2-0 Hull City
10 out of 15 points available.
Interestingly again Liverpool achieved 10 of the 15 points available in these games last season. This shows again that they're going to have to find an extra point or two from these games if they are to be on course for the new points target this season.
Let's look at it in groups of 5 games now, compared to last year:
Liverpool 0 – 1 Southampton
Man City 2 – 1 Liverpool
Tottenham 0 – 5 Liverpool
Liverpool 2 -2 Aston Villa
West Ham 1 – 2 Liverpool
7 out of 15 points available
The good news is that if Liverpool only picked up 5 points in their opening 3 games of this season, it will be more last year's already! If Liverpool can achieve 11 or 12 points out of 15 then it nearly doubles compared to what they were able to achieve last campaign.
Let's break the games down individually.
Liverpool vs. Southampton –  17
th

 August 2014

Southampton's squad has been decimated this summer (largely thanks to Liverpool). When they rock up to Anfield they will have a central midfielder who doesn't want to be there, a new manager who will be trying to implement his style of football, and a back four and forward line which barely know each other. This game really is Liverpool's for the taking.

Getting three points on the board will be a great start to the new campaign.

Prediction – 3 points
Man City vs. Liverpool – Monday, 25th August 2014
A full 8 days later, Liverpool travel to the Eithiad which has been a tough place to go over the years.
If you were to ask me: "Mark, when is the best time to play Man City?" My answer would be – right at the start of a season. It's also a season following a World Cup where most of their best players had to stick around right until the final weeks, one where a lot of their team won't have had a full pre season, and one where they're not fully up to scratch with where they need to be.
Obviously Liverpool only played them a few weeks ago, and the likes of Jovetic and Dzeko looked sharp. However, the majority of their "first 11" might not be ready to play this one. Compare this to Liverpool where the majority of the squad has had a very good pre-season getting fit and sharp. All Liverpool need to do on this one is come away with a point or more to better last seasons result.
Prediction – 1 point
Tottenham vs. Liverpool – Sunday, 31st August
The game before the needless international friendlies sees Liverpool travel to North London to meet another side who have a new manager in charge. There haven't been many significant signings this summer at Tottenham, and it looks like Pochettino will have to try and work with what he has got for the most part.
The Schneiderlin deal looks like it could go on until the final hours of the transfer window, so it will be interesting to see if he makes it for this game. Again, there is no better time to face a team who are still getting to grips with their manager's style of play, and although we won't be seeing a score line like last year, this is one that I think Brendan and his team will be looking to take maximum points from.
We could see Adam Lallana for the first time this season as he looks to come back from his knee injury, and hopefully, if Liverpool can adapt to the new season, this is a game I would expect at least a point from.
Prediction – 1 point
Liverpool vs. Aston Villa –  September, 13th 2014
We will have to wait two weeks to see Liverpool play again, and hopefully all of the travelling international Red Men will return fit, sharp and ready to play. Aston Villa comes to town, with Roy Keane as the new assistant manager. Who knows how that one will pan out, but from the looks of their summer, Aston Villa are looking to do a Fulham and fill their squad with overweight, over-aged and over-paid Premiership proven footballers.
This game could be telling because less then 5 days after this fixture will be game day one of the new Champions League season. You would like to think all of the starting eleven will have their mind set on the Aston Villa game, but you know that in the back of their mind they will be wanting to get it out of the way, so they can focus on being back in the most prestigious cup competition in Europe. I think if you ask a few of the fans, they will tell you the same.
Could this be the first game where we see Brendan rotate his squad? Who knows? This game will also be the first time where the fans get to see any last minute deadline day signings, if any… (*cough* REUS).
Last year, Liverpool stumbled to a draw against Aston Villa. This season, I see no problem in this result.
Prediction – 3 points
West Ham vs. Liverpool – Saturday, 20th September
Could there be a Champions League hangover? Liverpool has always made hard work of going to Upton Park. Thankfully this will be the last time they will have to travel to this stadium, as from 2015 West Ham will be moving over to the Olympic Stadium. I fully anticipate this to be a game where rotation is used. The question I want to know is, will Big Sam be in a job by the time these two sides meet? It is no secret that the board and the manager are at ends over certain issues. If West Ham start the season poorly, who knows if Sam Allardyce will make it out of the first 5 games with his job intact.
In my opinion, it's a perfect time to be going to Upton Park, and these are the types of fixtures that Liverpool need to be taking maximum points from if they're to qualify for the Champions league at the end of the season.
Prediction – 3 points
Prediction:  11 out of the 15  points available.
3 wins and two draws from the opening five games is not an impossible ask. Liverpool could even afford to lose against Man City and win the remaining four games, and still come out with 12 points from the opening five games which, as we know from my calculations, is title winning form. Of course, we don't want to give Manchester City any advantage early on, so getting something out of that game will be crucial
Second group of five games
The next group of five games includes the Merseyside derby, another trip to London, straightforward games at home against West Brom and Hull, and finally a trip to Newcastle to play an Alan Pardew side that have bought very well this summer. (I never thought I would be typing that sentence!)
Couple that with two more Champions League game days and a League Cup game, and it's easy to see why Liverpool have bought like they have this summer. Brendan Rodgers will have to rotate his team for the first time.
It's very hard to break these fixtures down in a more detailed way like the first group of five games because a lot could happen between now and the 27th September. What we can do is look at how many points Liverpool gathered in the same fixtures last season.
Last season the scores were:
 Liverpool 4 – 0 Everton
Liverpool 4 – 1 West Brom
QPR N.A. – Liverpool N.A (assume 3 points)
Liverpool 2 – 0 Hull City
Newcastle  2 -2 Liverpool
13 out of 15 points available.
Just as the fixtures are coming thick and fast, the necessary points tally needs to step up. Liverpool need to achieve a minimum of 11 points from these games to be able to keep on track for the 82 point target I have set for the end of the season.
Looking at the games as they are right now, apart from the Merseyside derby, the other four games are very winnable and it could be that Liverpool go into November on the back of a four game winning streak.
Prediction: 12 out of 15 available
One bit of good news is that out of the 10 games that we're comparing to last season, Liverpool scored 22 goals. Luis Suarez only scored 6 in that sequence but Raheem Sterling, on the other hand, only scored 1 goal in those 10 games. If he could add another 5 to that tally, (which I fully anticipate that he can) then we're already replacing the goals which Suarez scored last season.
Last season Liverpool achieved a record-breaking amount of goals scored in the league, with their tally of 101. This season Brendan Rodgers must surely want to break the league record of 116 goals. To achieve this Liverpool need to be scoring on average 3.06 goals per game. For the purposes of this blog, let's keep it simple and say we'll aim for 3 goals per game. If that is the case, we're going to be in for another entertaining season as Liverpool fans.
By the 2nd of November, Liverpool could have 30 goals in the Premier League, and possibly have 22 points out of a potential 30.
The opening 10 games show that the fixtures, whilst being tricky, can be easily managed to achieve the 22 points required to be on course for a good start to the 2014/15 season.
If Liverpool fail to hit 20 points, although being disappointing, reaching the target still won't be out of the question. It will just put more pressure on the points tally over the next group of 10 games, and that will include the very busy Christmas period.
One important thing to remember is this: Liverpool will lose games this season, there will be games which we dazzle opponents, and there will be games where we look to just get over the line.
Our squad now is looking better than ever, and hopefully with a couple of extra additions before September 1st, it will be able to compete in a season which will see Champions League football back at Anfield.
Would I take 82 points right now if it was offered to me? Absolutely, because it would more or less mean that Liverpool FC will have secured Champions League football in a season where it is paramount to do so, especially with the money coming into play for the 2015/16 season being at a record high.
Can Liverpool go one better and win the league? Who knows? Ask me again after the first two rounds of five group games…..