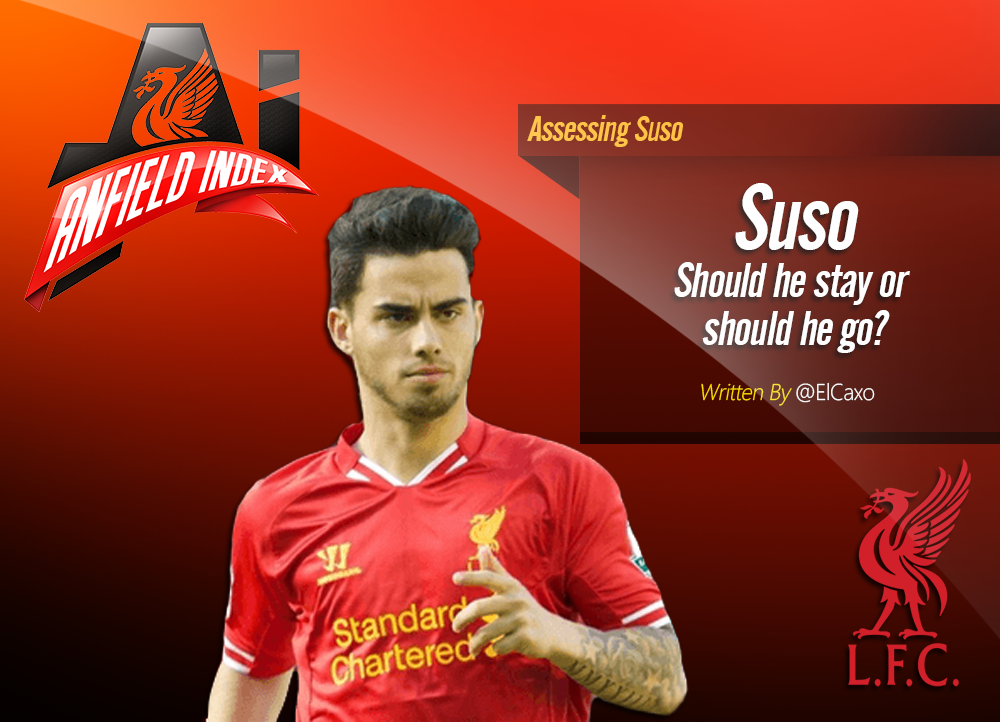 Suso - Should He Stay or Should He Go?

Jesús Joaquín Fernández Sáez de la Torre. You might know him as Suso. A prime example of another young talent in an all too familiar situation. Is there room for him in the squad for the up-coming season or should he be loaned out again? Where would he go?
After showing plenty of promise in 2012/13 he was slowly phased out by Rodgers due to the transitional situation of the club not particularly allowing for youth development. Suso has continued to progress while on loan in Spain and his attitude seems second to none – there won't be any issues in the same vein as Sterling or Jack Robinson.
"I wanted to go on loan because at my age I felt I needed to play every week and feel important to a club,"

I played nearly every game and helped Almeria stay up. I was lucky enough to play against Lionel Messi and Cristiano Ronaldo, but the most important thing is that I learned a lot and became a better player."
Last year Brendan Rodgers came into his own much more, John Henry gained a deeper understand of the club, football in general and we improved vastly as a team. Liverpool FC is now in a much improved position as far as testing youngsters is concerned. New arrivals Markovic and Emre Can are both only 20 and you would expect them both to be getting regular game time this season.
I'm sure if you asked Suso he'd tell you he wants to be deployed in the fabled 'number 10 role' but the concern with this is is that Liverpool have a mild over-abundance of candidates in this position. This is an issue that a number of big teams are facing at the moment. United and Arsenal both have plenty of central playmakers but their apparent reluctance to move many of them on is perhaps something we should be looking at a little more closely. They both have had more Champions League experience the past couple of years and the indication is that squad depth isn't to be underestimated.
For the purposes of this article the young Spaniard is up against the pretty much proven Coutinho, big-ish money signing Lallana and Wunderkind Sterling.
As you can you can see from the graphic, Suso leads Coutinho in assists but only barely. This is still impressive, however, considering the Almeria vs Liverpool factor. He does still lag behind in the other areas and it's difficult to make an argument for picking him ahead of any of the other three. This does bring up the wider question of why we have so many players whose favourite role is just behind the striker. £25 million has been splashed on Lallana but last season he provided almost half as many assists as Philippe Coutinho and created less chances than both the Brazilian and even Raheem Sterling. Remember these statistics are taken from a season in which Lallana played in all 38 Premier League games as the focal point of Southampton's attack.
Brendan Rodgers has dabbled with both a 4-3-3 and a 4-1-2-1-2 in pre-season, with Suso playing out wide in his appearance against Preston; capping a good performance with an accomplished finish. He again came on at half-time against AC Milan and scored an even better goal. Suso would be up against the same players for the wide berth; as a midfield three would very likely be a combination of Gerrard, Allen, Can and Henderson. Out of the 4 players in that graphic Adam Lallana is the most likely to be played deeper. His two goals showed his propensity as an inside forward and this skill is invaluable if we were to press on with the same kind of counter-attacking instinct we showed last season. On top of this he also has the guile required to break down more stubborn opponents.
With all areas considered the best course of action would be to keep Suso for the foreseeable future. He can't expect to be starting in the big League or European fixtures every week but there will be plenty of opportunity in domestic cups.
Hopefully I will sign a new contract soon. I want to stay here."
Suso definitely has the potential and arguably more importantly the right attitude towards his own progress. With the environment at Liverpool he will be rewarded for hard-work and given plenty of opportunity to prove his worth.
Stats Via Squawka