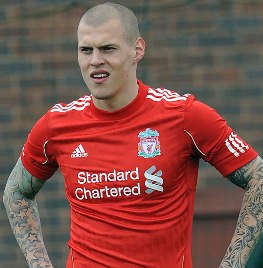 Martin Skrtel: Feast or Famine?
A brief introduction: I'm Conor Dowley, and while I'm a Yank through and through, I'm also a huge Liverpool supporter. My best friend grew up just blocks from Anfield, so when I started getting more and more in to the sport and it came time to choose a team to support (five years or so ago), Liverpool was the natural choice. It helped that I loved watching them play; Steven Gerrard was then and is still now one of my favorite individual players to watch.
As far as writing goes, I'm actually primarily a baseball writer. I write a lot about the Seattle Mariners at Pro Ball NW, part of ESPN's SweetSpot baseball blog network. I do a lot of prospect and player analysis, using a combination of sabrmetric statistics and scouting analysis. Essentially, what I do is take player observations, be it of my own or from others, and see how they line up with the statistics, then give you, the reader, the result of that analysis. I try to take that same approach when I do my own football analysis, and today I've been asked to share some of that with you. Enjoy.

Martin Skrtel is a player that generates a lot of mixed opinions from fans and analysts alike. When he was purchased from Zenit in 2008, he was described as a "good player for the future and also for the present", and also as "aggressive, quick … [and] good in the air". The second statement is certainly true; at 6'3", with good strength and jumping skills, Martin Skrtel is all of those things. The first statement has been up for debate for practically all of Martin Skrtel's three-year tenure at Anfield, however, and that is something I will aim to help resolve here.
First off, let's look at Martin Skrtel's physical play. He's not the fastest player on the pitch, but his strong legs enable him to make quick short-range bursts to help him reposition himself to help defend against an attack. He is a willing challenger in the air, with a good vertical leap and the physical strength and technique to get to the ball in mid-air and strike and direct it accurately. That skill has also made Martin Skrtel a weapon on set-pieces, scoring 18 goals over his ten-year career, including two for Liverpool and five playing in international competition for the Slovakian national team.
However, Martin Skrtel's aggression is something that, while valuable, also gets him in trouble at times. When he reigns in that aggression and plays in control, he's as valuable a defender as any in the Premier League. When he lets that control slip, things can get ugly. He starts barreling around the pitch like a loose bowling ball, committing rash fouls, over-pursuing plays, and getting caught out of position far too frequently.  Martin Skrtel's physical balance can also be an issue at times, which can make it difficult for him to make quick adjustments, especially when trying to make a recovery from over-pursuit. This loss of control seems to happen less with Daniel Agger playing beside him for some reason, and it seems to get worse when playing with Sotirios Kyrgiakos. Why this is seems to be up for some debate; the easy answer is that he's comfortable playing second fiddle to Agger, who when healthy is an excellent defender, and feels as though he has to make up for Kyrgiakos' inferior skills.
One issue that Martin Skrtel faces at all times is his passing game. Too often he "hoofs" the ball deep down the field, ostensibly trying to link up to a forward and midfielder and start a counter attack. The problem is, though, that Martin Skrtel has awful touch with the ball at his feet, often resulting in passes well off-target that go to opposing players. That problem was exacerbated under Roy Hodgson, but it seems to have been lessened somewhat under Kenny Dalglish. Dalglish has apparently encouraged Martin Skrtel to play a simpler passing game, having him choose to pass to a nearby fullback, his partner in the centre, or to whichever central midfielder is closest, usually Lucas.
With the exception of the Wolverhampton match in January, that plan has seemed to work, as the mentality of playing simpler has forced Martin Skrtel to keep himself more in control. He still tries the odd long pass now and then when a break is forming (he actually connected on a beauty to Dirk Kuyt early in the Wigan match in February), but by and large his passes are now very short and very simple. His most frequent targets for passes the last few matches have been Jamie Carragher and Steven Gerrard, and few of his passes have gone much past fifteen yards. The benefit of this for him has been that in containing his passing game, he's re-focused and contained his defensive game as well, keeping play in front of him instead of trying to be everywhere at once.
This newfound control was most on display against Manchester United this past weekend. With the back line thrown in to early disarray by Fabio Aurelio's injury that forced him out of the match, it would have been easy to expect Martin Skrtel to have another one of "those" matches, especially on the heels of the West Ham match where he got caught out of position repeatedly. Instead, he played a very sharp match, mostly staying home in his zone, and frequently used his station-to-station burst I mentioned earlier to cut off passing lanes and frustrate Manchester possession in and around the box.  Martin Skrtel's full stat sheet wasn't impressive to look at (one interception, ½ tackles, 10/14 passing), but he was concentrating more on playing a prevention-style game than he was trying to do anything directly with the ball. He played a similar style against Chelsea, and there he was a huge part of shutting down their attacks through the middle.
Is Martin Skrtel now becoming the perfect centreback? Not yet. He still fouls too much, still loses his temper on occasion, and still gets caught out of position at times. He has, however, made significant strides under Kenny Dalglish. Early in the season, Martin Skrtel was almost a liability on the pitch. Now, more often than not, he's worked his way in to being a keystone of the defense. He still has moments where we all scratch our heads and wonder what on earth he's doing, but by and large Martin Skrtel has been developing nicely. Let us all hope that trend continues, because he has the talents necessary to become a high-quality centre back in the future.