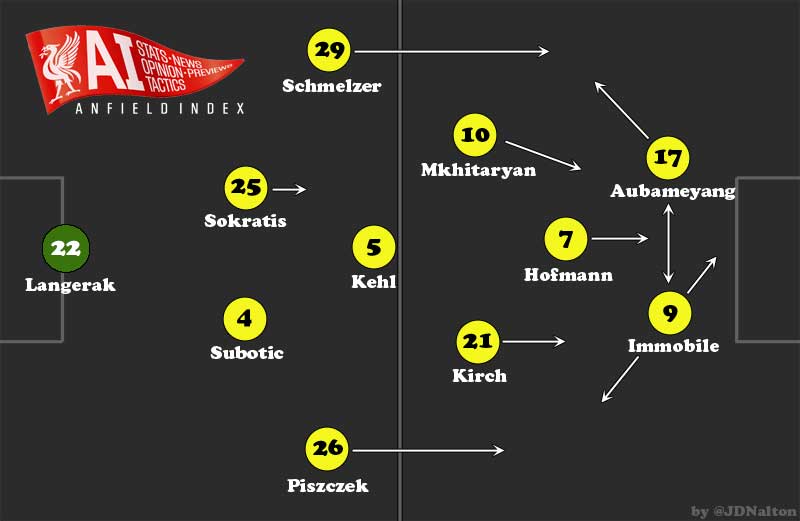 Liverpool FC v Borussia Dortmund - Opposition Scouting

Liverpool play their last pre-season game of the summer this weekend, when they face Borussia Dortmund at Anfield. The two sides have much in common, with both making great strides after encountering various problems off the pitch during the past decade. Here's a look at what fans can expect from this friendly spectacle, and in particular what Liverpool might be up against on the pitch.
Common Ground
You'll see on Sunday how similar these two clubs are, but here are several points of note:
"You'll Never Walk Alone" – both sets of fans will belt out this Liverpool anthem.

Progressive managers who aren't afraid to give youth a chance

The loss of talismanic goalscorers in the shape of Luis Suarez and Robert Lewandowski

Playing style & tactical fluidity (see below)
Liverpool fans will hope that Brendan Rodgers can emulate his opposite number Jürgen Klopp, who dragged Dortmund out of their financial troubles to win consecutive Bundesliga titles and make it to a Champions League final.
Overall Philosophy
Dortmund's overall style is very similar to the one we see at Liverpool. Players will close down the opposition high up the pitch, but the Germans seem to have a little more confidence in their high defensive line than Liverpool.
They'll play out from the back, or at least attempt to, and the six players in front of the back four are very flexible when it comes to swapping positions and covering for each other.
This fluid movement can make it difficult to pin down their formation at any one time, and you get the impression that this ductility is something Liverpool are working towards under Brendan Rodgers.
Tactics
In the last game against Śląsk Wrocław, Dortmund used Pierre-Emerick Aubameyang and new £15m man Ciro Immobile up top. The pair left a fair amount of distance between each other at times, often relying on link up play with the midfielders to penetrate a defence. However, the pace of Aubameyang means that it doesn't take him too long to get close to his strike partner, and the two can link up well in attack given the chance.
Dortmund's line-up in the first half of their last pre-season game, versus Śląsk Wrocław
Speaking of Aubameyang, he'll drift to either wing throughout the game, which makes it difficult for a defence to pick him up. His movement and pace makes Dortmund very dangerous on the counter-attack.
The gap between the two forwards in both phases of play allows the attacking midfielder, in this case Jonas Hofmann, to join the front line and help them close down high up the pitch. He almost became a third striker in attack, but the threat of him and Mkhitaryan was at its most potent when they were running from attacking midfield areas.
As mentioned earlier, their flexibility in midfield and attack makes it difficult to pin down a formation at any one time, but Klopp does have a few favoured starting points.
Last season they often used a 4-2-3-1, with Lewandowski as the lone forward. This time out we may see some varied shapes on show as they use tactics to make up for the loss of their star striker, who joined Bayern Munich this summer. Yet another parallel with what's happening at Liverpool, who head into the new campaign without Luis Suarez.
Pre-season offers time to experiment, and so far we've seen variations on a 4-4-2 diamond, 4-3-3, and the 4-2-3-1 used last season. At times, in their very loose midfield diamond, a 4-2-2-2 can emerge, as Mkhitaryan and another attacking midfielder push forward to support the strikers. As our own Brendan Rodgers often says, team shape is as much about the philosophy as it is the formation, and Dortmund are very much of this ilk.
Players to Watch
Pierre-Emerick Aubameyang – Quick, and will close down with pace. Played a lot from the right but can easily switch to the left or to centre forward. Poses a great threat on the counter attack.
Henrikh Mkhitaryan – Goal-scoring attacking midfielder. Will link up with the forwards and burst into the box looking for a return ball, or to pick up scraps. Liverpool fans might already be aware of the Armenian's strengths, as we were heavily linked with him last summer.
Ciro Immobile – The Italian likes to play in the channels, and off the back of the last defender. He can drop deep to pick up the ball if required, and despite this not being his main strength he will win a free kick given the chance. He scored 22 league goals last season for Torino, is already on the mark for his new club in pre-season, and will kiss his team-mates if he scores. Scored with a very cool finish in his side's last game against Polish side Śląsk Wrocław
Matthias Ginter – The centre-back was the youngest member of the German World Cup squad, and was signed from Freiburg this summer for a paltry £8m. The 20-year-old was an unused member of the World Champions' squad, but big things are expected of him. He's primarily a centre back who plays on the left side of defence, but can also do a job on the right or as defensive midfield anchor, thanks to his passing ability.
Jonas Hofmann – An attacking midfielder/winger who'll run all day with and without the ball. The 22-year-old made most of his appearances off the bench last season, but will be hoping for a more important role in the side this time around. He boasts impressive pace and likes to surge forward from midfield where he can use his eye for a pass to set up team-mates. He's right footed so plays naturally as a right winger, but he can operate on either side. Klopp tested him in a more central area in the last game.
Sadly the team could be without the likes of Roman Weidenfeller, Mats Hummels, Ikay Gündogan, Marco Reus and former Liverpool loanee Nuri Sahin. Sven Bender is a doubt with an ankle knock, and Jakub Blaszczykovski came on late in the last friendly but is unlikely to travel to Liverpool.
@MrTurnstyle Except for Hummels, Kuba, Reus, Gündogan and Sahin everyone should play.

— Sandra Goldschmidt (@SanBorussia) August 8, 2014
Weaknesses
If Dortmund lose possession with full-backs high up the pitch, they can be susceptible to counter attacks. Liverpool's ever increasing pace on the wings could cause Dortmund problems here, and with Sturridge out this could be a game for Rickie Lambert to act the play maker, holding the ball up and releasing runners around him.
Any side playing a high line can be broken down with pace, but Dortmund will be aware of Liverpool's threat and could come out playing deeper than usual. Even so, playing the ball out from the back can place a lot of responsibility on the central defenders, and mistakes can come.
Dangerously high line. Potential for defensive errors. Susceptible to counter attacks. Sound familiar?
---
The similarities between the two sides are what make this encounter so intriguing, even at this stage of the season. If both managers pick strong elevens for the first half, we could see a tactical battle which will be more snakes and ladders than chess. A game of ups and downs; defending a corner one minute, and bearing down on the opposition goalkeeper the next.