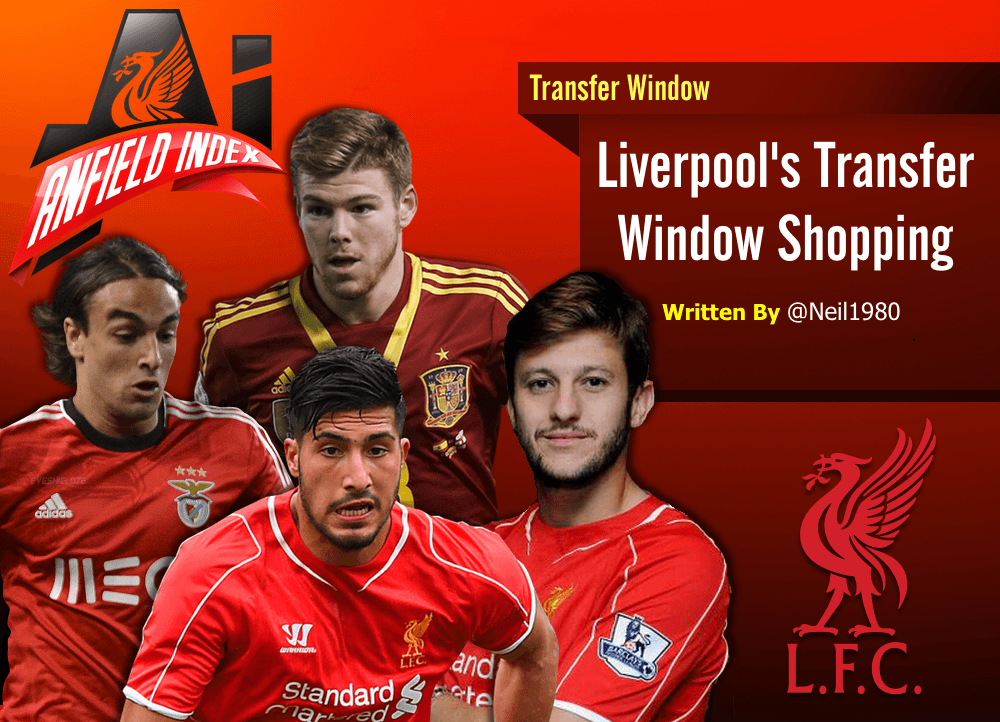 Liverpool's Transfer Window Shopping

Less than a working week to go before the new season gets underway, and Liverpool have played their last two pre-season friendlies, in preparation for the big push. Games against Jürgen Klopp's Borussia Dortmund and Sean Dyche's Burnley, provided Brendan Rodgers's team with their final two tests, in a summer which has taken the Reds to Ireland and the USA, via Preston, before returning to Anfield.
Two victories (4-0 against Dortmund at Anfield last Sunday, and 2-1 against Burnley behind closed doors on Monday), will help the Reds go into the season with the confidence that they can achieve great things this year, even without Luis Suarez. The Uruguayan will no longer take to the Anfield soil in Red, however, there are others who will do so for the first time in a competitive match on Sunday, or as the season progresses.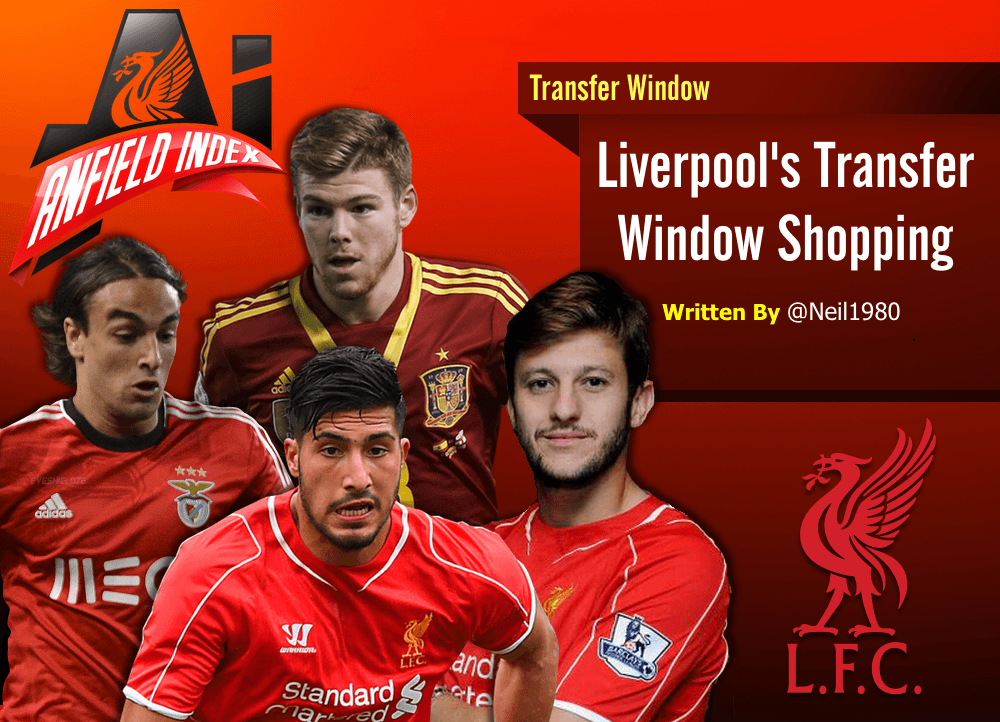 The summer transfer window has seen the arrival of seven new signings so far, and it seems likely that at least two more will follow. As per usual, there are mixed feelings about the new boys, and whether the window (to date) can be descibed as a successful one for the club, or not. Let's have a look, shall we?
Liverpool's main problems last year, came in defence. A team challenging for the title must have a strong defensive unit as well as a potent attacking group. Last season, Rodgers's side conceded too many goals; whether they came in victories, or in defeat – the goals against column kept climbing.
Two of the main reasons put forward for why clean sheets became something of a rarity were thus: 1) a lack of leadership in the back five, 2) weakness in the full-back area (especially stopping crosses).
Tackling the second point first: the club have signed Javier Manquillo from Atletico Madrid, and remain on the verge of completing the signing of Alberto Moreno from Sevilla (Liverpool announced they'd agreed a fee on Tuesday evening). Manquillo played 84 minutes against Dortmund and, aside from a couple of moments, looked every bit the attacking right-back we've been crying out for. Neat, tidy, quick, alert, able to get up and down, positionally aware, hard-working, and with excellent link up play – not to mention stopping more crosses in one friendly than Glen Johnson managed in the whole of last season. Obviously, it was only a friendly and only one game; however, he seemed to slot in to the system and the style of play perfectly, and considering his arrival only came last week, the ease with which he combined with his new team-mates (especially Jordan Henderson), leaves me hopeful that one side of the full-back problem has been sorted.
Should the club succeed in its effort to secure the young Spaniard, it could be regarded as quite the coup. Moreno has been the club's number one choice for left-back all season, and is touted as one of the hottest prospects in Europe in his position.
Back to the question of leadership in the defence then. Step forward Dejan Lovren. The Croatian's signing has got fan opinion properly divided, particularly given his recognised preference for playing on the left-side of the centre-back pairing. We have Sakho who specialises there, and many think (perhaps correctly) that Lovren is a step down from the immense Frenchman. What Lovren does add, as was made patently clear on Sunday, is vocal leadership. Confident, loud, clear, Lovren's marshalling of the LFC backline rang out for all to see and hear against Dortmund, and all looked happier for it. Lovren's presence at Liverpool bolsters the squad, there can be few arguments about that. We now have two top class left-sided centre-backs, we have the option to use a back three – with the proper personnel to do so – we have cover for any injuries, and we've brought in what Rodgers claimed he needed most of all: a leader.
The defence has been improved; certain elements have been added, some departments have been upgraded, and we wait for other alterations to be confirmed. If the Moreno deal can be concluded, and a second-choice goalkeeper smuggled in, then it can be regarded as very successful window in the defensive area.
Energy in the midfield became a hot topic at various points of last season. In the opening few months, Lucas showed that he hadn't returned to his former-self, following injuries, and Gerrard was asked to do far too much running to make up for that fact. These factors combined to leave the central area massively exposed, and allowed teams with stong midfield runners to exploit the huge gaps. Gerrard's re-positioning as the deepest midfielder, with Henderson and Allen/Coutinho ahead helped immeasurably, and now the acquisition of Emre Can only serves to further strengthen Liverpool's hand in this area of the pitch.
We've seen a fair bit of Can in pre-season, and practically everybody has been impressed by the 20 year old. The word confident immediately springs to mind when describing him. Totally at home in a red shirt already, Can is quite comfortable barking orders at his new team-mates, including the captain. Strong, quick, robust, loves a tackle, first team ready – Can adds versatility to the midfield, with all the tools to play box to box, as well as the tactical awareness and positional sense to play as the anchor. For €12m he could well prove to be the signing of the summer, by any club.
Rickie Lambert completed his "dream move" to Anfield this summer too. The 32 year old signed for €5.5m from Southampton, along with the afore mentioned Lovren, and Adam Lallana. When signed, it appeared Lambert would be third choice; however, the departure of Suarez has bumped him up the pecking order for the time being, much to the concern of some. His attributes, and there are many, offer Liverpool an option which they didn't quite have last year. Very skilful, good in possession, with great vision and an eye for a pass, it's just possible that Rickie could help us edge past those most stubborn of parked bus entusiasts this year. He got off the mark with a brace against Burnley, and that will come as a relief for him (and some fans) as, ridiculously, pressure was already beginning to mount. The skill-set that Lambert possesses, along with his all round game intelligence, make his signing appealing, even if we do need another forward to come in.
The other signings so far, Lazar Markovic, Adam Lallana and Divock Origi have barely been seen in a red shirt, for a variety of reasons. Lallana injured himself in training, following his return from World Cup duty. His price-tag of €27m raised more than a few eyebrows and, doubtless, wet more than a few eyes, when his signature was confirmed. He adds goals and creativity, he brings depth to the squad; however, just how he'll adapt to life at Liverpool is in the wind at the moment. What is certain, is that he's another leader, another with a strong mentality, another who is hungry for success. Let's hope he recovers in good time, and goes on to have a successful spell at the club.
Markovic played 45 minutes of pre-season. He showed some flashes of what he can do, and could be one of the most exciting signings of the summer. Blistering pace, silky skills, directness, a winning mentality; all things that this lad has in spades. Touted by some to potentially become one of the best in the world  in the near future, his signing has been seen by many as a wonderful piece of business by LFC, both for now and for the future. Like many other fans, I can't wait to see him in the Premier League.
With Divock Origi – the young man who kept Everton's record signing on the bench for most of the World Cup – sent back to Lille on loan for the year to continue his development, Liverpool have nailed down a potentially "world class" young striker, before the other big clubs have had the chance. He's one whose reputation doesn't precede; however, he comes highly rated. He had a fantastic World Cup of course, and Rodgers has spoken in glowing terms about him, so hopefully he can return to Merseyside next year, ready to take his place.
20 days of the transfer window still to unfold (at the time of writing), and Liverppol's window shopping has not yet reached its conclusion. As alluded to above, Alberto Moreno has not yet completed his move – it would deliver a blow to Rodgers and LFC should this not happen; however, it seems that it will – and, with Suarez's departure, the Reds still need to acquire a striker. So many names have been thrown up by the papers over the last week, from Falcao to Bony, Cavani to Eto'o, but a young player like Icardi – who fits our system and could be moulded by Rodgers – seems much more likely to me.
Potentially this window could go down as a bona fide success story. The loss of Suarez, and all that he brought, will not go unnoticed; nevertheless, the side has shown that it can win without him, and the system will now be tweaked to create a style which best suits the current personnel. The players signed so far have all been signed for good reason ie. to fill a specific need, and they all bring with them a level of quality in keeping with the squad they're joining. Not too much more is needed; the addition of Moreno and good young forward (like Icardi), along with a back-up goalkeeper, could turn a decent looking window into a stained-glass masterpiece.