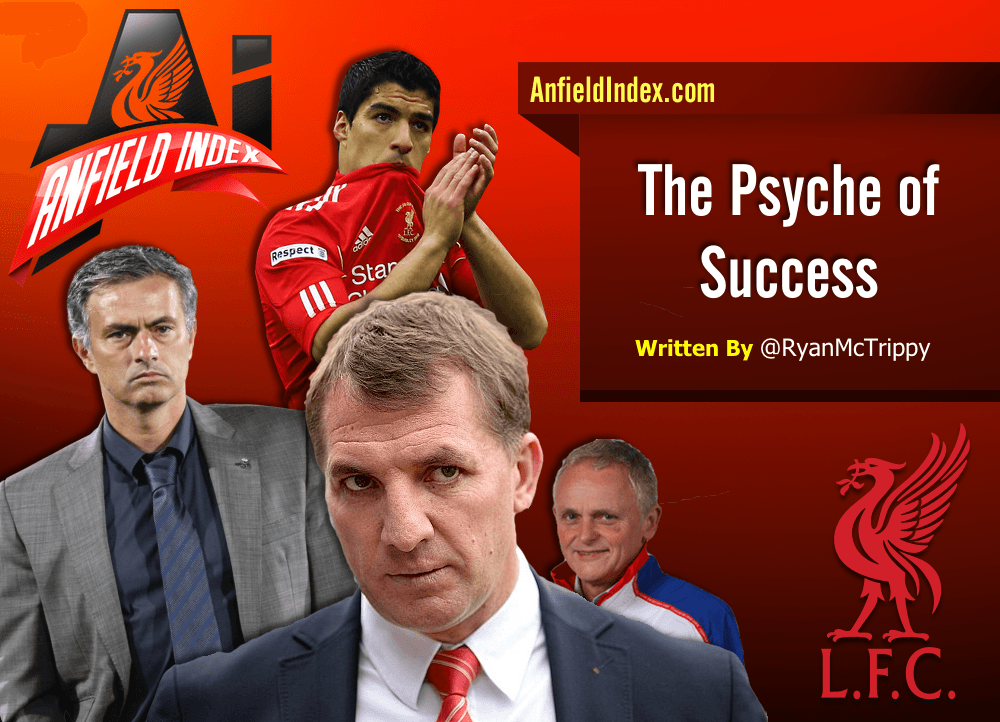 The Psyche of Success | Liverpool FC
Following a season of unprecedented drama, excitement, and entertainment, Liverpool enters its third season under the guidance of forty-one year old manager, Brendan Rodgers. The former Swansea boss has grown and matured in correlation with the squad he has assembled over these two years, creating an attacking, dominant, and extravagant source of entertaining football: a joy for both Kopites and neutrals to behold.
But having sold arduous talisman Luis Suarez to Catalan giants Barcelona following a consecutive biting incident within a year, the talent of not only this current squad, but of Brendan Rodgers himself has been questioned and speculated by many in the media as well as fan bases across England. But within this forthcoming season, the subdue and humble Carnlough native will reveal his talents and experience gathered over twenty years, and even before then, to truly muzzle the interrogatory nature of those who doubt him.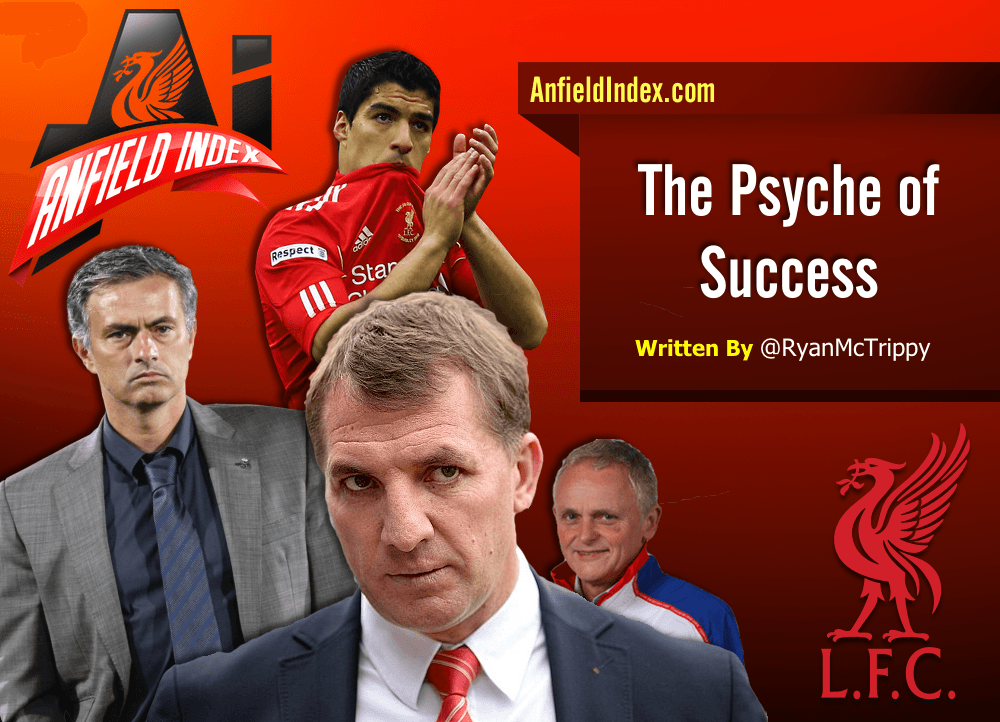 Life after Luis
It would be reckless of the highest regard to dismiss the impact Luis Suarez had in his time at Anfield, elevating the team to new heights through his constant hard work and running. To add to this dedication, his incredible ability with the football at his feet created a cocktail of terror for opposition defenders, and will soon be on display on a regular basis at Barcelona's iconic CampNou stadium. However, many Liverpool fans will recall the frustration of watching Luis Suarez while under Kenny Dalglish, as the Uruguayan consistently squandered chances in front of goal. It was not until Rodgers' arrival that fans began to see the efficiency in front of goal emerge in the Salto man's game. The work and ability of Rodgers harnessed this potential in Suarez, and has played as big a hand in his monstrous £75 million move to the former La Liga champions as the player himself.
So, while it may be a mistake to dismiss the former number seven's influence on this side, it is twice as foolish to believe he is the sole reason that Liverpool have progressed so far in such a short period of time.
Liverpool's tactical set up without Suarez partnering Daniel Sturridge is also to be revealed over the following months, but having shown tactical tensility throughout the 2013/14 campaign, Rodgers will leave fans and opposition managers guessing until team sheets are released before the game itself. But with only Rickie Lambert currently deputising Liverpool's number fifteen, the Reds will expect another striker to arrive before the window closes. The often hectic and blistering approach of Liverpool's attack may well continue to exist without their talented menace leading the forward line, but with a more controlled and patient build up, coupled with edge and cunning intelligence.
Drawing on the Past
It is well noted that Rodgers was forced out of playing football at an early age, in which he subsequently spent the following years dedicating himself to the game through coaching. Travelling across Europe and learning methods of foreign tastes, it was in 2004 that one Jose Mourinho approached the young man to be a part of his Chelsea backroom staff, along with Premier League castaway Andre Villas-Boas. Brendan has been incredibly open about his relationship with one of the most successful coaches the game has seen, and has been quick to express praise for the chance he gave him:
"I was able to observe one of the world's best operators going about his business. Jose gave me the self-esteem and confidence I needed to make my own way in management.
"I probably wouldn't be where I am now but for him. I regard him as a friend now, but he is actually a great organiser, the best controller of day-to-day detail I have ever met."
The Mourinho Effect
If one were to compare the behaviour of both coaches, they would appear to be polar opposites: from their style of football to their behaviour in front of the illustrious red light. But there is one overlapping virtue of both coaches: their man management.
"A coach must be everything: a tactician, motivator, leader, methodologist, psychologist.
"A teacher at university told me 'a coach that knows only about football is not a top one. Every coach knows about football, the difference is made in the other areas'. He was a teacher of philosophy. I got the message." – José Mourinho
It is well noted that the Portuguese mastermind has incredible ingenuity when it comes to drawing out the best from his squad and creating a siege mentality: an enclosure of successful determination, driven through proving those against them erroneous. The former Real Madrid manager has studied and matured in the field of psychology, elevating players to situations in which they are willing to die for him. Wesley Sneijder, who reached such tremendous heights under Mourinho while at Inter Milan, spoke of the effect the two time Champions League winning coach had on his career, and personal life.
"He is a very special person for me. As a Coach he is incredible, number one. It was he who gave me confidence and I enjoyed playing football like never before.
"And as a person he reaches you much more than in his role as Coach. Mourinho is a friend.
"The key to him is how he convinces you, how he helps you if things aren't going well for you…
"He is on top of everything and always knows how to help a player, sometimes doing one thing, sometimes another, but whatever he does it is for the good of the club, the player and the person."
Hearing the Dutch trequartista speak with such adoration and affection of a man so often scorned by opposition fans (and eventually players while in the Spanish capital) exhibits the qualities he possesses to take control of his players and bring them forward to achieve such glory. It is this ability to extract untapped qualities, hoisting hidden levels of players into reaching pinnacles of competitions that Brendan Rodgers must utilise this season to once again take his Liverpool side to the glorifying heights of last year.
A quantity of 'expert pundits' have already predicted that an ageing, thin, and in truth average squad will somehow not only vault over Everton and Tottenham Hotspur, but knock Liverpool out of the top four while also leapfrogging Arsenal. While Manchester United will certainly improve under Louis van Gaal after their calamitous campaign under now exiled Scot David Moyes, their surefire expectancy of the Red half of Merseyside to drop out of the paramount quinary of the Premier League is premature. While it may frustrate fans of Liverpool, Rodgers must use this to his advantage. To ingrain this negative conjecture into his players' minds while reiterating his belief in them, a propulsive message that they can overcome their doubters once again, this time on their own two feet without their star player of season's past.
A quotation from one of Rodgers' old PE teachers, Paul McKee, may hold a key indication as to how Liverpool will stun teams within their own possession based philosophy.
"We've chatted about how he focusses on different zones. Brendan loves the cheeky way players dispossess opponents in basketball, how they almost pick their pockets. He likes that sort of thing in his players." – Paul McKee (courtesy of LFC Magazine: August 2014, Issue 24.)
A squad full of pace and quick-thinking, technical players, with the ability to cunningly overturn possession from anywhere on the pitch, motoring through their transitional play as opponents struggle to organise their defensive shape will be a routine sight this coming season. The idiosyncratic belief of Liverpool to be a counterattacking team is amiss, as they are simply of the ability to kill teams in a various amount of ways. This unpredictability to control the game with or without the ball will be tested by the Reds this year, but with a growing unit with terrific belief in one another, they will continue to show the doubters they have misjudged them once again.
Psyche of Success
Rodgers has clearly taken an interest in psychology, having learned from his mentor when he was with Chelsea. Within his first six months at the club, he was quick to approach leading sports psychologist, Dr. Steve Peters, bringing him into the setup at Melwood to aid the ontogeny of his players.
"I see it as a part of the development of the player. The modern game in particular is very much about the psychological aspect of it. I will do lots of technical, tactical and physical training but sometimes what gets bypassed is the mental tuning for players at the top level. 
"I want to get to help and support the players here and the people of the club. I have always worked with neurologists. (Steve) is top at what he does and he has been fantastic since he was involved. It is about elite performance."
Players such as Steven Gerrard and Daniel Sturridge have spoken of the significance Peters has had on them while working with the Englishman, and coupled with the squad's first-hand experiences in the ultimate failure of winning the Premier League title last year, valuable lessons for the future have been established to ensure such incidents do not reoccur.
While Liverpool may well have lost an irreplaceable force on the pitch, they still have a man who is nurturing and developing his own talents. Bringing character and humility to a squad with such attacking allure; an approach with which one can only envision a breeding of success for such talented players, growing in an environment which will magnify their abilities with the football, as well as bettering their personal lives.