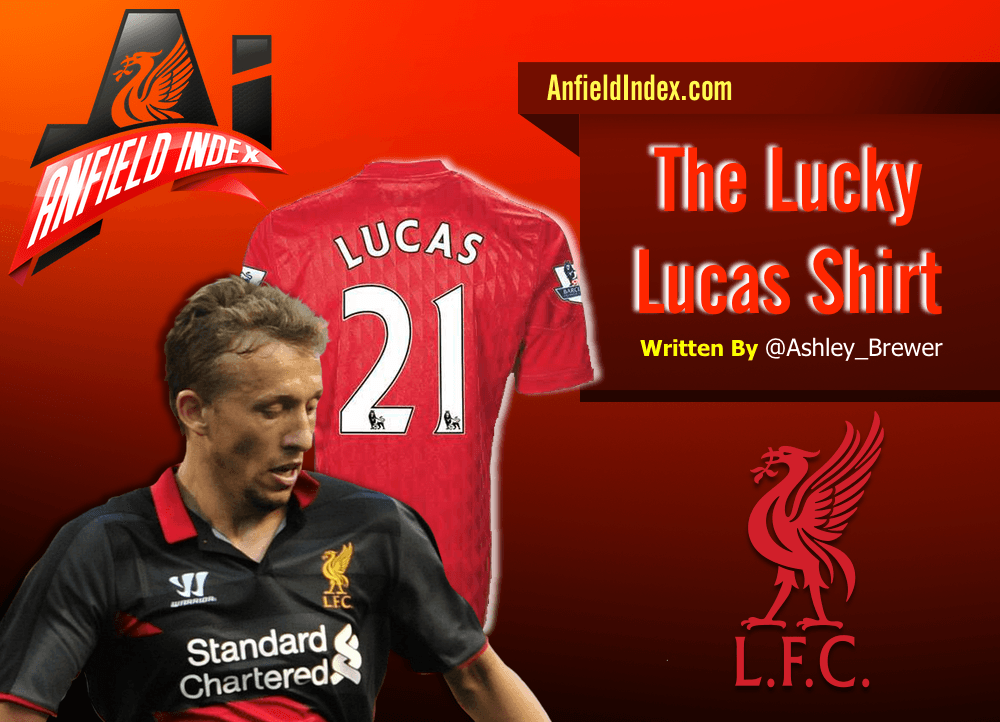 The Lucky Lucas Shirt
Rumours suggesting that Lucas Leiva could leave this summer may be music in the ears to some, in large part thanks to the massive regression in form shown by the Brazilian since the two long term injuries he suffered, and in some way has never truly recovered from.
Sorry to be the party pooper but I'm not one of them, the news makes me slightly unhappy.
It's not because I look at him and think he still has a lot to prove in Brendan Rodgers' Liverpool side. Other than being back up, I don't see him really getting into the first team. It's not even because I don't want him to go. I do, but in the nicest possible way. I want to see him playing regularly and think Serie A football would be the perfect fit for him.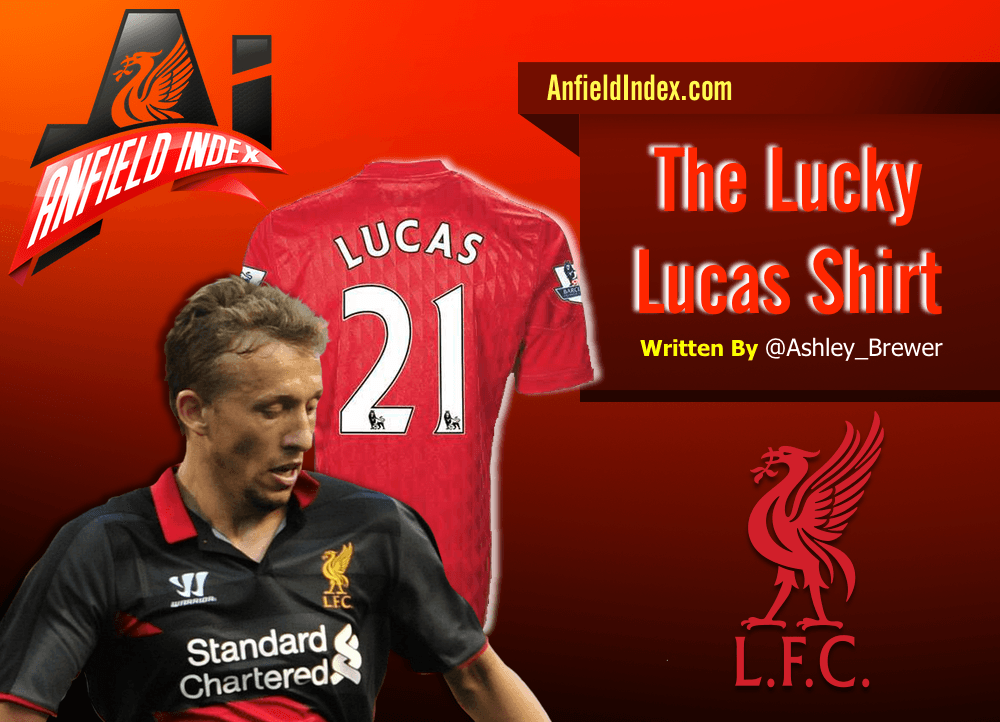 The discontent comes from elsewhere. A disappointment in how the story ended. The fairy tale if you will.
28th July 2010 started like your standard 17th birthday – I got up, birthday cards with messages in word form which would be easier said verbally stacked on the side (I don't like cards but that's a conversation for another day), with a present alongside. I already knew what it was but there was still a tinge of excitement when I held the Liverpool shirt aloft. It was the during the days when I thought getting on the name on the back was cool, so my first objective of the day was to head to JJB – yes, that was still a thing then. On the relatively short stroll my head was buzzing with debate regarding which name I would go for:
Torres? Nope, I got him last year. Mascherano? Nope, seems like he's on his way out. Kyrgiakos? You'll never know how tempted I was by that admittedly tongue in cheek suggestion.
My final decision would come in the form of a less likely figure.
Lucas had come to Liverpool back in 2007, making his debut against Everton, replacing Steven Gerrard, which surprised everyone watching, but he would have scored if it wasn't for the hand of Phil Neville. However, from then up until this point when I was stood at the till of the now defunct sporting outlet, the former Brazilian Player of the Year's time at Anfield had not been a happy one. Constant criticism and scapegoating followed most performances, culminating in being booed when he was brought on against Fulham.
I'm not a hundred percent sure why I picked Lucas. Maybe it was that I saw glimpses of the player that Rafa thought he could be, my affinity with defensive midfielders or I believed that it would, like some sort of reverse 'Like Mike' magic, make him good. The last player I got who had a few questions marks hanging over his head regarding whether he had a future at the club was Xabi Alonso on my 2006-08 home shirt and look how he turned out.
The reaction of the shop assistant who served me to my out of the ordinary request was one which summed up the attitude at the time to our number 21; "really?!".
"You might as well have got Dirk Shite!" was another response, but this time from a friend who witnessed it's debut at football on the astroturf pitches at Vauxhall Motors.
It was on the hallowed turf in front of the Kop where the choice was quickly rectified. To me at least, Lucas was a bright spark during the dark days of Hodgeball, his performance against Chelsea at Anfield coming to mind instantly. Didier Drogba has endured quieter days.
The reverse fixture at Stamford Bridge saw another fantastic performance from him but now he was under the guidance of a king, rather than a jester, as Kenny Dalglish returned to the hot seat, lifting the entire club. The visit of Manchester City later in the season was as memorable for Lucas' domination of Yaya Touré (helped out by Jay Spearing), as it was for its 3-0 scoreline, and Andy Carroll's first goal, a strike which wouldn't be replicated by the big Geordie in a red shirt.
It was during this period of joy, a time consisting of goal after goal, in the opposition's net rather than ours, as was the case in the first half of the campaign, the midfielder played his best football which won him the inaugural Golden Samba award, a gesture which illustrated his meteoric rise in the eyes of the fans. He wasn't just a sitting ball winner, he acted as an initiator of attacks, the one who would get an assist for the assist if that was a thing – the 5-2 win at Craven Cottage being a great example.
His role was one which would be heavily under rated until he wasn't there anymore. His injury wasn't the be all and end all of why the following season was a complete disaster in the league, but it was one of the major factors.
Rodgers' arrival coincided with me having to retire my 'Lucky Lucas shirt', and with the mad, and what they would refer to as modern, designs of Warrior, the Northern Irishmen brought his brand of stylish football which evolved from possession to high pressure over time. Where this football would take us opened our eyes and allowed us to believe anything could happen; that predictability is dead. What can be predicted though, is Lucas doesn't quite fit the bill anymore and it's one of the very few things which I find is sad when it comes to supporting this club at the moment.
The frustration in his performances is justified, even I lost it from time to time watching him recently, but I don't think any exit should be celebrated, and he most definitely shouldn't be directly pestered to leave on Twitter, which applies to all of the players too.
If anything, he should be remembered fondly as a player who tried his hardest, fought adversity and, although very temporarily, came out on top. We have seen this again in Jordan Henderson, only this time I hope that injury doesn't rob us of yet another fairy tale.