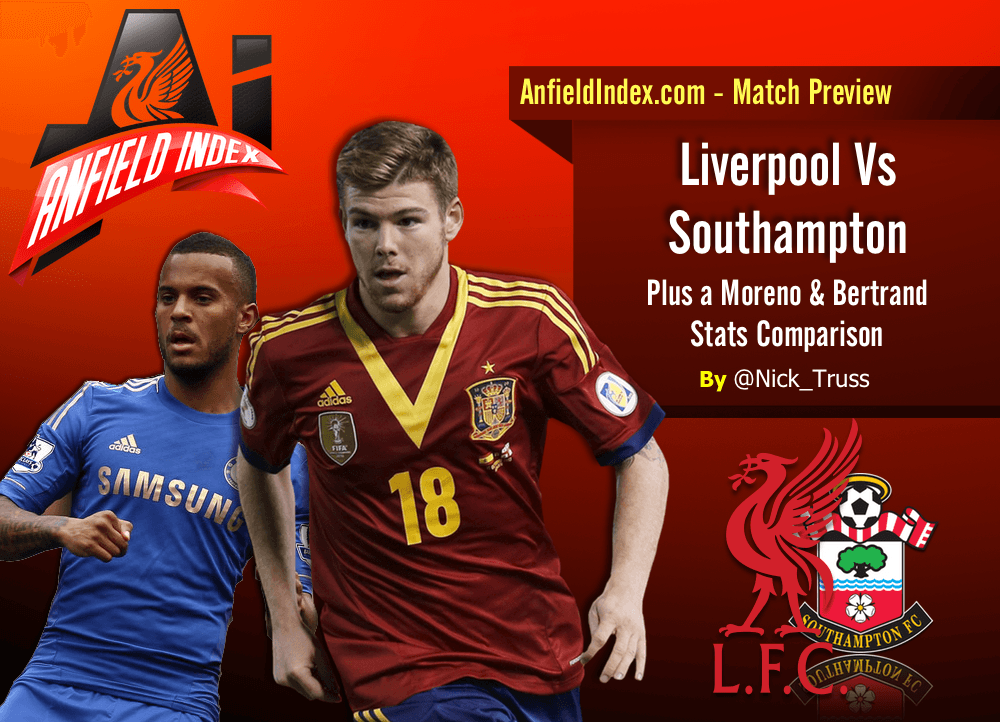 Liverpool vs Southampton Preview plus Moreno v Bertrand Stats Comparison
The wait is almost over, come 1:20pm on Sunday Steven Gerrard will line up in the tunnel to lead Liverpool out on to the pitch for another season of Premier League Football. Southampton, the visitors on the opening day, have endured a tough pre-season with their manager and several key players leaving the club, with three of them heading to Anfield.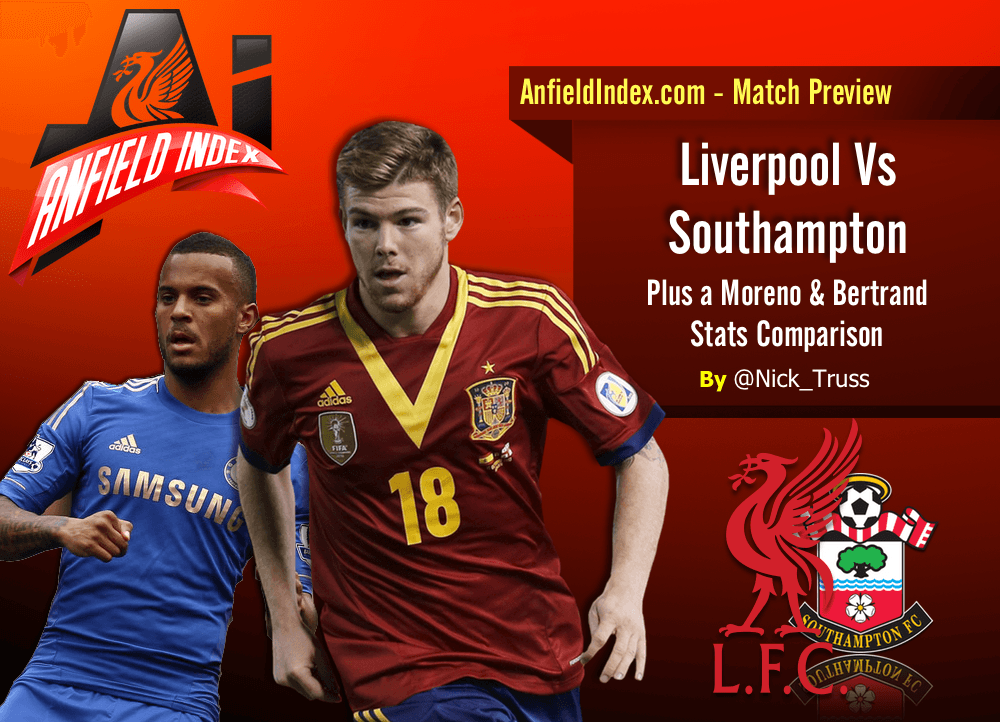 Pre-Season
Liverpool had a largely successful pre-season on the tour of America, reaching the final of the ICC tournament unfortunately losing to rival Manchester United at the last hurdle. A 4-0 home win over Borussia Dortmund last Sunday provided a brilliant end to pre-season and hopefully a confidence boost before Southampton arrive on Sunday.

Southampton also endured a good pre-season winning two games in Holland 4-0 and 6-0 before returning for a tour of England facing Swindon Town, AFC Bournemouth and Brighton winning those 1-0, 1-0 and 3-1 respectively. However, last weekend also saw Southampton face a German side in Bayer Leverkusen, however, unlike Liverpool, this result went against Southampton – losing 1-0.  It's difficult to predict a score in this one but for you can get additional info from our friends at William Hill.
Transfers
Southampton have lost as many as 6 first team players so far this summer, with rumours surrounding a potential move to Spurs for Morgan Schneiderlin could take that figure to 7 before the window slams shut.  Southampton have brought in 7 players to counter the departures with Ryan Bertrand, Fraser Forster, Shane Long, Graziano Pelle, Dusan Tadic, Saphir Taider and Florin Gardos.
Liverpool have also been active in the transfer market spending in excess of £100 million following the departure of Luis Suarez.
Head to Head
Throughout the season I plan to bring something slightly different to the match previews, Jim Fishlock will be providing audio match previews via a new Anfield Index Podcast; you can find the first episode directly here or on iTunes.
My written match previews will focus on a statistical head to head comparison between a Liverpool player and an equivalent opposition player. As both sides have done a lot of business in the transfer market this week's comparison will look at two new signings, one of which was heavily linked with Liverpool before signing for Southampton on loan, know who it is yet? Yes, Ryan Bertrand, a name met with despair by almost every Liverpool fan since the rumours started last January. However, it was confirmed on Tuesday that Liverpool had agreed a deal to sign Alberto Moreno from Sevilla ending one of the longest transfer sagas of the summer however Moreno won't be starting as his clearance hasn't gone through in time. Still it's an interesting comparison to make for Liverpool fans.
Defensive stats aren't the most in-depth of football statistics so I have compared the two on 3 defensive parameters: Interceptions, Blocks and Fouls Committed. Alberto Moreno makes far more interceptions per 90, making 2.72 interceptions compared to Ryan Bertrand's 0.97. Ryan Bertrand made more blocks per 90 but the gap between the two is much shorter with Bertrand making 0.37 blocks and Moreno 0.30. Moreno also committed fewer fouls with 1.12 per 90, compared with Bertrand committing 1.23.
Attacking-wise is where Moreno really outshines Bertrand. Moreno has a successful take on rate of 51.56%, whereas Bertrand only has a 41.48% take on rate. Brendan Rodgers places a lot of emphasis on his full-backs getting forward and helping with the attacks, especially if Liverpool are going to play 3 at the back with Sakho, Lovren and Skrtel at some stage of the season. Moreno again beats Bertrand in terms of chances created, creating 0.71 chances per 90 with Bertrand only making 0.26 per game.
Conclusion
Although most Liverpool fans would have taken Moreno over Bertrand simply for the fact Moreno is Spanish, the stats do back up the opinion that he is the better choice for Liverpool, however, as with all stats, variables such as playing style, team mates and level of opposition are not taken into consideration. It will certainly be interesting to see how these two players perform for their respective new clubs over the course of the 2014/15 Premier League season.