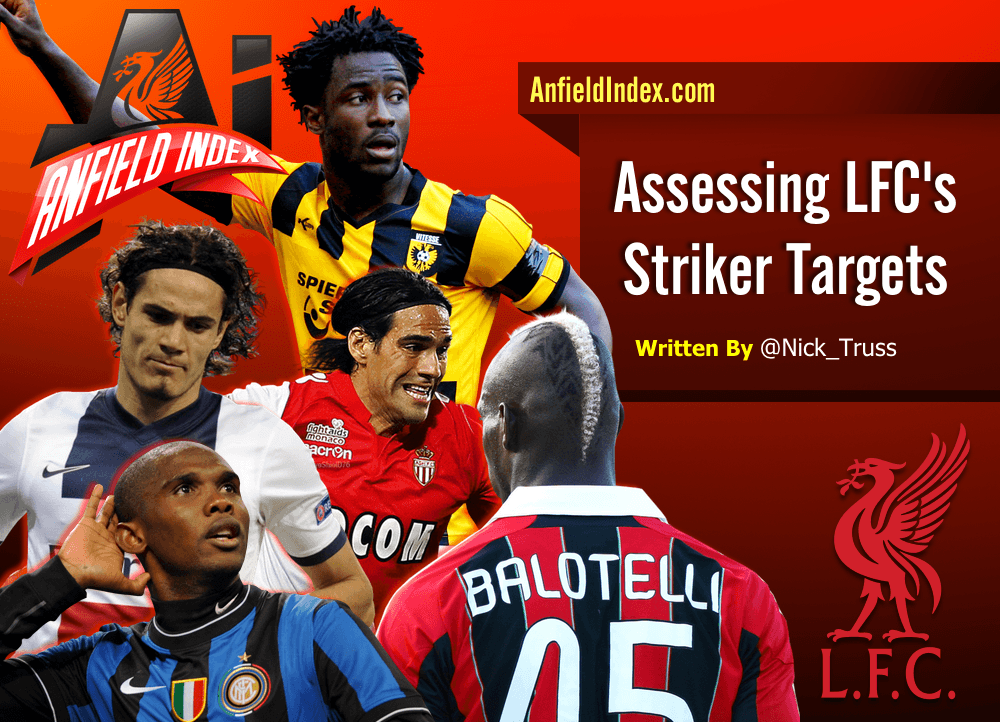 Assessing Liverpool's Striker Targets: Eto'o, Bony, Cavani, Falcao and Balotelli
It's been almost a month since Luis Suarez signed for Barcelona and it seems every week that passed a new striker target is revealed. Liverpool will start the season with 3 recognised front men in Sturridge, Lambert and Borini with the latter potentially making a move to Sunderland before the end of the window – leaving Liverpool rather short up top. With Sturridge's injury record and an ageing Rickie Lambert it seems pivotal for Liverpool to act and sign a new goal scorer. There are 5 names that have cropped up several times since Suarez's departure, 5 established names who many believe are what Liverpool need as a short term fix until loanee Divock Origi is ready to make the step into the Premier League. These 5 names are Samuel Eto'o, Wilfired Bony, Edison Cavani, Radamel Falcao and Mario Balotelli.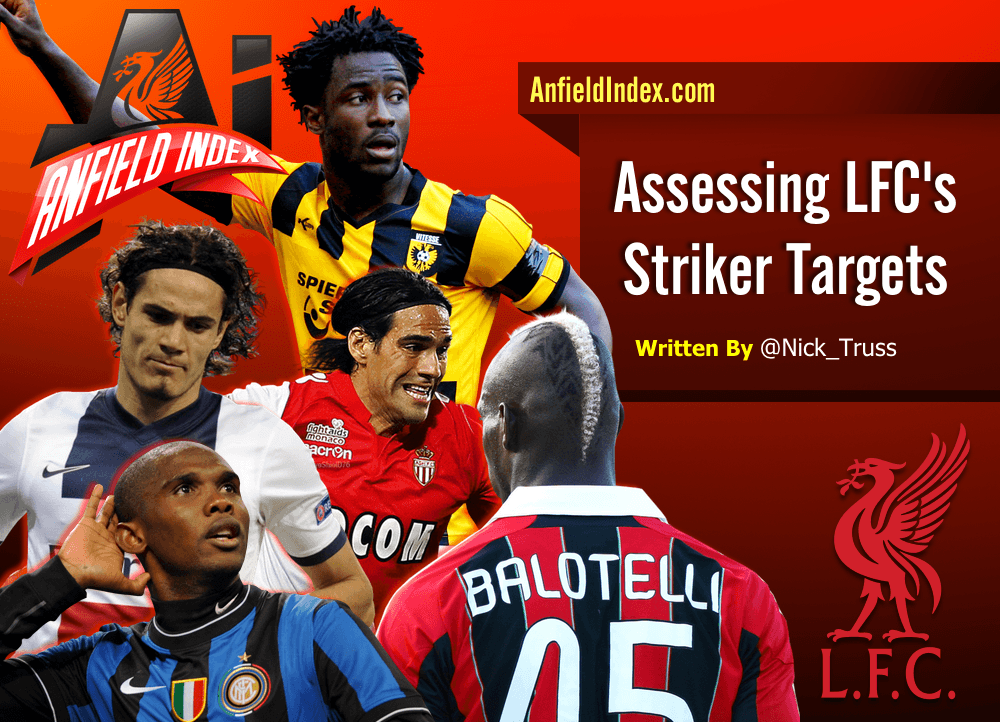 Samuel Eto'o
The cheapest option in terms of transfer fee after being realised by Chelsea, Samuel Eto'o is also the oldest of the 5 players at 33. He has a year of Premier League experience behind him but failed to impress many people during his time at Chelsea, with Jose Mourinho saying he was too old. FSG are known to prefer younger players on lower wages with a resale value, something that makes you wonder where this rumour has come from, as this is a man who moved to Russia to play for Anzhi, there's only one reason why footballers move to Russia and it's not for the quality of the league.

Samuel Eto'o played 1298 minutes in 21 games for Chelsea last season, scoring 0.62 goals per 90 with a shot accuracy of 59% – the 2 best rates of the 5 targets. Eto'o scored 0.55 goals per 90 minutes from inside the box, an important figure to look at if we want a poacher, this figure however is bettered by 2 of the 5. Eto'o created 1.53 chances per 90 – the best of the 5, but only has a take on rate of 38.30% – the lowest of the 5. Liverpool rely on mobility which is one reason why Andy Carroll didn't fit it so this could be a problem.
Samuel Eto'o's experience could be vital for Liverpool especially in the short term and he'd almost guarantee a couple of goals which would help to fill the void left by Suarez.
Wilfried Bony
Bony has a rumoured £19 million release clause in his contract, however talks apparently broke down due to the player's excessive wage demands. At 25 (26 in December) he wouldn't be expected to be a short term fix and does have a year's Premier League experience plus a pedigree from the Dutch league scoring 31 goals in 30 games in 2012/13. A big but quick player would provide something different to the team without necessarily disrupting the flow.
Playing 2470 minutes in 34 matches last year Bony scored 0.58 goals per 90 minutes (joint with Falcao but worse than the rates achieved by Eto'o and Cavani). Bony has the worst shot accuracy out of the 5 targets with 44% and created far fewer chances than Eto'o with 0.91 per 90. He has a good take on success rate of 52.17% and scored 0.51 goals per 90 from inside the box.
Edison Cavani
One of the marquee signings on the list, Edison Cavani could provide the perfect replacement for fellow Uruguayan Luis Suarez. A player who can play many positions, something which Rodgers likes and at 27 years old he should be reaching the peak of his powers in the near future if he's not already there now. He has Champions League experience with PSG and Napoli as well as being part of the Uruguay squad which won the Copa America in 2011. It emerged that Cavani had an altercation with Motta after PSG's 2-0 win over Bastia on Saturday, whether that has any impact on his availability no one can be sure but it is an interesting development.
Cavani came out on top in 3 of the 5 stats looked at: these are 0.63 goals per 90 minutes, 0.59 goals from inside the box per 90 minutes and an successful take on rate of 56.25%; stats which suggest he is the most dangerous of the 5 targets going forward. Cavani has a fairly low shot accuracy of 45% and only created 0.90 chances per 90.
Radamel Falcao
Rumoured to be a Real Madrid target after failing to settle in Monaco, the interest seemed to cool after Madrid announced the signing of fellow Colombian and World Cup star James Rodriguez. I'd be very surprised to see Falcao in the red of Liverpool but Brendan Rodgers has said that will are not giving up on the potential signing of the 28 year old. Falcao missed the majority of last season and the World Cup after damaging his ACL in January. Liverpool fans know all too well that these injuries can result in a player never being quite the same with Lucas Leiva being a prime example, however I believe most would be willing to take a risk on a player who two years ago was rated as one of the best strikers in the world.
Due to that injury Falcao only played 1389 minutes in 17 games for Monaco (more minutes than Eto'o) netting 0.58 goals per 90, all of them being inside the area with a superb shot accuracy of 60%. Creativity wise he does not compare to Cavani but with Lallana and Coutinho is it necessary for a new striker to be exceptionally creative.
Mario Balotelli
The wildcard of the group, 24 year old Mario Balotelli has a reputation for being a bit of a firework (when he's not lighting them in his bathroom), however it is clear that the boy has talent. He will demand a high wage and it will be down to the board and management team to decide whether they want to replace one unstable player with another so soon. Again Balotelli has both Premier League and Champions League experience, something which is lacking in the squad.
Mario Balotelli has the lowest goals per 90 minutes (0.03 lower than Bony and Falcao with 0.55) a shot accuracy of 49%, with 0.31 coming from inside the area, a figure much lower than the rest of the targets but that does mean that 0.24 of his goals per 90 came from outside the box something which could help to break down teams who park the bus. Balotelli created a respectable 1.26 chances per 90 minutes with a successful take on rate of 50.44%.
The Verdict
The cries for a marquee signing are getting louder and louder as we head towards the end of the transfer window, 3 of the 5 targets outlined above would fit into that bracket and out of those my choice would be between Cavani and Falcao.
The main problem with a marquee striker is how it will affect Daniel Sturridge. Sturridge has been brilliant since signing from Chelsea and deserves his chance to be the focal point of Liverpool's attack. Cavani is the only player of the 5 who can play multiple positions therefore he could be the perfect marquee signing to relieve the stress faced by a large proportion of the fan base.