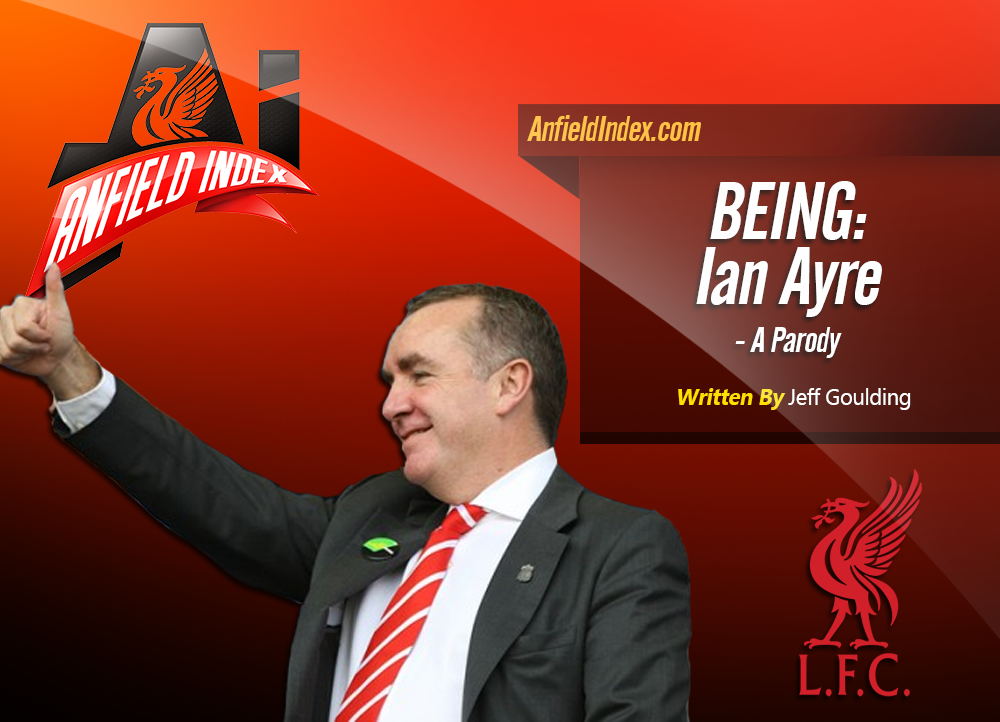 Being: Ian Ayre - A Parody
Ian Ayre sat across from me. A vast expanse of desk separated us. Outside, the Liver Birds eavesdropped on our conversation and inside, a portrait of Shankly lecturing his troops, in a Spartan Anfield dressing room, hung on the wall. Ayre began by outlining details of his, often tortuous, negotiations with Seville for Alberto Moreno, while he nonchalantly carved another notch in the solid oak finish. It was the eighth mark he had gouged this window, but, judging by the look of grim determination in his eyes, it surely wouldn't be the last.
This was a man on the brink of a remarkable redemption, yet you sensed that fear of failure still haunts him. This is hardly surprising, given the fall out from the summer 2012 transfer window. I hesitated to reminded Ian of our first meeting in the September that year. When I did, I found he was surprisingly philosophical, pointing out that he had used the whole experience to drive him on to bigger and better things. "You learn far more from your failures, than you ever do from your victories," he said, as he chugged on a 'Gurkha Black Dragon.' The aroma filled the room and I stifled the urge to cough.

We chatted for a while about that day, two years ago, when our paths first crossed. I suspect it will live long in both our memories. I'd received a call from my editor the day before. He told me there was an opportunity to interview the then Managing Director of Liverpool Football Club. Ayre had wanted to set the record straight after a disastrous transfer window and my boss wanted his best man on the job. Of course I was flattered, but also a little apprehensive. The last thing I wanted to be was another media mouthpiece for the club. I'd seen what happened to others. We all know who they are.
I have to say the address I was given, a converted maisonette in Deysbrook, West Derby, perplexed me a little at the time. Maybe, I reasoned, he wanted to meet me at some community outreach project. The club had many of them on the go back then. I had no idea it was his home.
Summer was giving way to autumn, but the air was still filled with the buzz of flies. As I got out of my car a group of kids stopped what they were doing and watched me, as I struggled to climb over the urine-soaked couch on the front lawn. They laughed hysterically as I tripped over the rusty Lambretta, strewn across the path. It was a far cry from the Harley Davidson Ayre had once cherished. Eventually, dignity barely intact, I made it to the front door.
I composed myself and rang the bell. I'm not sure what disturbed me most: the Mazerati chime; the egg stains on the Kimono; the look of utter demoralization on his face. He beckoned me in. The Ayre's may have lost their luxury lifestyle, but they had lost none of their graces. Ian's wife offered me a slice of arctic roll and a cup of Mellow Birds. I politely accepted. His was truly a tale of woe and, as he relayed his troubles to me, I was aware that something wasn't quite right. It took me a few moments to realize what it was.
Gone was his thick nasal Scouse brogue, so reminiscent of 60's Liverpool and specifically the Beatles. It had been replaced by  the sound of plums and public schools. I struggled on, trying to ignore it, as he told me of the kicking he had received from Rodgers, following the collapse of the Dempsey deal, but I just couldn't. I had to ask, but before I got a word out he interrupted me. "I know what you are going to say old boy," he said. "It's the accent isn't it?"
I had to confess it was somewhat distracting. He explained that when he joined the club in 2007, George Gillett had felt he needed to sound more 'Liverpoodlian.' We both laughed as Ayre continued to explain. "George felt, and to be fair Tom agreed, that a Beatlesesque accent would appeal more to the US and Far East markets. I thought it sounded ridiculous, but I figured that if Michael Angelis ever go fed up doing 'Thomas the Tank Engine,' it wouldn't be a bad gig to fall back on, especially if the Liverpool job went tits up. Now I am stuck with it, at least in public."
This was all in the past though. The man sat before me in Chapel Street was a  far different prospect than the dejected figure I met that day in Deysbrook. This was a man flushed with success and confidence. He had dropped each of Brendan's first choice targets (except Sanchez) into his lap, carving out multi-million pound deals with the same finesse he used to slice that jammy desert all those months ago. I asked him if all this meant that the wolves had left his door and that's when his face darkened once again. The ghost of interviews past reared its head and fear returned to his eyes.
"You never think that," he said. "Never allow complacency to suckle at the teat of hubris." I wasn't quite sure where this was going, and to be honest I felt a little bit queasy, but I sipped nervously from the Macallan '46 he had poured me and pushed aside the mental images. He went on.  "You're only as good as your last deal. Yes I'm riding high now, but one bad deal and I'm right back in that rat infested hole." There was fear in his voice now. He gestures to the corner behind me. "Why do you think I keep that monstrosity over there?"
I turned my head and instantly recognised the smell. It had plagued me since I entered the office and it had only been partially masked by the cigar smoke. Now I realised, it was coming from the couch. Ayre's voice went up an octave, "do you really believe I would keep that piss soaked sofa, if I really believed I was home and dry." He explained that he kept the piece of furniture to remind him that, at any moment, all his reclaimed riches could be taken from him just as they were before.
Once more I was filled with an overriding sense of pity. This was no way to live. Yet here he was permanently perched on that transfer tightrope. On one side there was fame and acclaim, on the other an abyss, and all the while in the middle there was fear and loathing. I asked if he ever felt like throwing in the towel. 'Never," he said. "I am a fan and this club means just as much to me as it does to any supporter."
I nodded. "Yes, I see where you are coming from," I said, before adding "and there's the seven figure salary too. That must help." Reluctantly he agreed. My time with Ian was coming to an end and I needed something to finish off the article. Ideally, I was after a transfer scoop, but a pearl of wisdom, or a message to the readers would suffice. Would there be a ninth signing? As expected he trotted out cliché's about deals being right for the club. I was just about to switch off the recorder and bid him goodbye, when, with tears glossing his eyes, he gave me my final tag-line.
"I will deliver that ninth signing and it will be a marquee. Why? I'll tell you why. It's because I'm never going back to that pissy couch, or that rusty Lambretta. That's why!"
(Disclaimer: This is not actually real. Your sanity is at risk if you believe a single word. The part about his accent is true.)