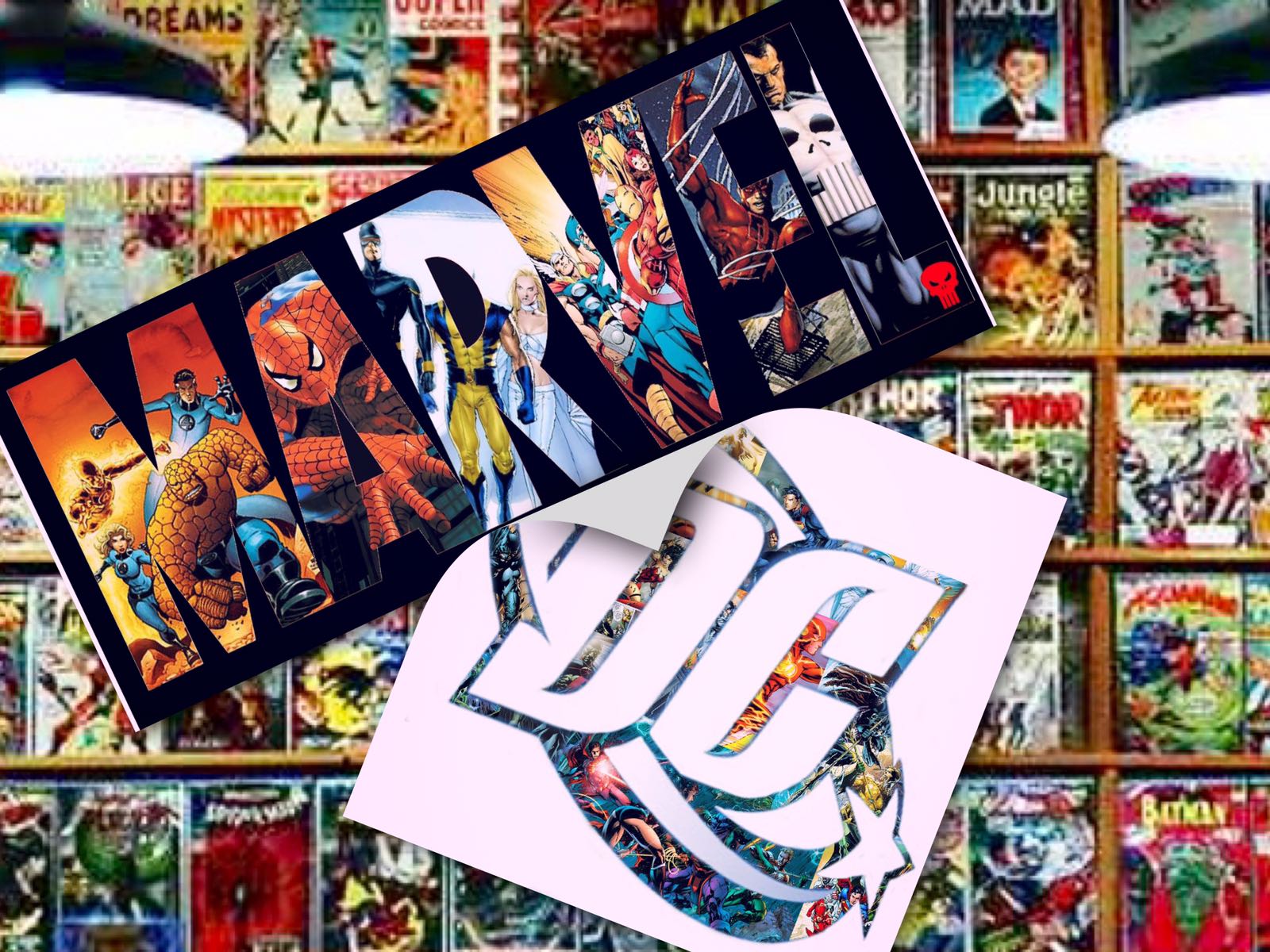 Marvel vs DC in cinema | A story of the Tortoise Vs the Hare
A war rages, two powerhouses of cinema are vying for your attention, both striving to outdo one another. Their aim, to win the hearts, minds and wallets of comic lovers the world over. Can the young pretender (DC Warner Brothers), wrestle the mantle from the experienced veteran (Disney Marvel)? Early signs point to no, but you can bet your life they'll throw everything at it. The key however is, will they do it wisely? Will they find financial and critical rewards for each offering, whilst maintaining, building and growing the DCEU? All the while the MCU juggernaut motors on, moving into critical Phase 3, the very peak of its journey.
2016, the year DC Warner Brothers finally stepped out of the shadows, to release it's hopeful game changer, that would launch its expectant revival into the comic genre. Whilst 2013's Man Of Steel had laid the foundations and performed well at the box office, it was Batman Vs Superman that studio hopes laid upon. It arrived as expected, with the biggest most expensive fanfare, money can buy. You'd have to live on Earth 2, to have missed one of $150 million marketing methods used to persuade you to watch the film. Critically the reception was mixed, as was that of the audience. That's not to say there weren't positives for now and the future. Ben Affleck's Batman and Gal Gadot's Wonder Woman, the standout performers, which bode well for standalone films, plus the highly anticipated Justice League next year. But serious failings too, particularly in Zack Synder's confused direction and Jesse Eisenberg's failed theatrical portrayal of Lex, oh and let's not mention the 'M' word.
Grossing over $850 million worldwide, you can't call BVS a failure, it's far from it. That said, given the reported budget of $400 million (including the marketing fund), they clearly wanted to breach the billion dollar figure, that benchmark all major releases strive for. One reason it failed to reach the hopeful heights the studio set, was the lack of repeat viewers. No doubt hoards flocked to watch it a first time, as it banked a huge opening weekend, but most didn't revisit for a second. Crucially, are those viewers still interested in future projects? Do the brief appearances of Cyborg, Flash and Aquaman build excitement to the Justice League and further still solo releases?
Suicide Squad arrived with a similar fanfare and expectation as BVS, introducing Margot Robbie's Harley Quinn for the first time to the big screen. David Ayer, known for his hard hitting intense style, was tasked with bringing these somewhat lesser known characters to life. The critics, as with BVS had their knife's out, however it still attracted strong viewing audiences. Grossing over $700 million worldwide, you can't deny these films are successful, but the key is the longevity of the franchise. Will those who went to see either of both films released by Warner this year, still want to see what comes next? It's the start of an exciting journey for Warner, but one that's not without risks.
Rewind to 2008, Marvel were just starting their long, patient journey to success. At that point, I can't imagine anyone outside of a handful of hopeful Disney executives, would have predicted Marvel becoming the force they have in modern cinema, where films such as Ant-Man can even gross over $500 million. It started as it meant to go on, by drafting in bold, exciting directors and making excellent casting choices. Robert Downey Jr encapsulates it all. The perfect Tony Stark, charismatic, charming with the driest of wit. The decision to cast Downey was a Masterstroke, but not without risk given the actor career was in decline, after years of substance abuse. It saved his career and helped the MCU become the behemoth of modern cinema, it is today.
It's not solely Downey whose responsible however, the directors and actors chosen throughout each Phase of Marvel's success, have been crucial to the vision being brought to the mass audience. Jon Favreau, actor and director famously known for his work on Friends, Swingers and Elf, brought Iron Man to life. James Gunn, whose previous foray into the Superhero genre in 2010 was the bizarre but charming Super, shocked us all with the awesome Guardians Of the Galaxy. The Russo Brothers (I feel the need to kneel in awe, when I say their name), plucked from relative obscurity to produce the impeccable Captain America The Winter Soldier and universally adored Captain America Civil War; whilst being tasked with bringing Phase 3 to a dramatic finale.
The directors bring the Comics to life, blending the action with great story telling, whilst getting every ounce of an actors ability onto the screen. I've mentioned Downey Jr, but Scarlet Johansen (Black Widow), Mark Ruffalo (The Hulk), Chris Evans (Captain America), Tom Hiddleston (Loki) and Chris Hemsworth (Thor) have encapsulated the characters wonderfully well. The surprises however arrived in the comedic form of Paul Rudd (Ant-Man) and Chris Pratt (Star Lord). Both known for their humour, but neither typically cast as lead actors, in such big budget features. Both excel and truly shine, bringing lightness and fun to their respective features, a trait of all Marvel films.
On paper I didn't see these directors or actors making the films I've grown to love and will force my son to watch, until he does also. Thankfully and unsurprisingly I was very wrong. Marvel aren't afraid to make brave decisions, but they do so with unparalleled success. The key to their cinematic reign, is consistency and continuity. Every action behind the scenes is intentional, it's all planned to perfection, which creates the platform for the filmmakers to build individual film success, whilst building and developing the wider story of the MCU. The reason it's able to make these decisions, for now and the future, is direction. This comes directly from Kevin Feige, the man behind Marvel's success.
Appointed in 2007 as president of Marvel Studios, Feige is heralded for meticulously planning and developing a long term plan both in film and television, which has led to significant accolades, commercial and critical success. A product of the industry, Feige starting producing films in this genre in the year 2000, with X-Men, before work on Spiderman, Blade and many more. This experience of both success and failure within this genre, can only have helped Feige understand what an audience truly craves. Marvel films have balance, all embrace humour, the interpersonal relationships of the characters and the comic book origins. The films feel like they're made by a fan, for a fan and that's the difference.
Marvel has always been ahead of the curve, using cutting edge technology to create a unique cinematic experience for the viewer. Each film contains memorable action scenes, but the narrative and storytelling is what keeps audiences coming. Even in it's post credit scenes, it's already began to build excitement around the next project, everything is intentional and nothing is ever left to chance. Money is craved, from ticket sales to merchandise, but it's not so aggressively pursued in it's marketing and approach, as it is with its nearest rival.
Warner Brothers approach it's far to say has been haphazard, particularly after they missed a clear opportunity following Christopher Nolan's iconic and hugely successful Batman trilogy. Christopher Nolan and Christian Bale decided to move onto other areas of cinema, but the potential in Anne Hathaway's Catwoman and Joseph Gordon Levitt's Blake (Robin) are long lost and forgotten. It left many wondering what could have been and just what direction the DCEU could have developed into, if plans had been in place. The approach by Warner Bros feels the complete opposites of Marvel, it feels rushed, forced and dare I say greedy.
Tasked with the challenge of adding a clear direction for the DCEU is Geoff Johns. Similar to Feige, Johns has a strong history in comics, television and film. First and foremost he's an excellent writer, but his recent production work with CW on Arrow and Flash, are encouraging signs as his influence into Warner grows. The questions is can he be the man to bridge the gap? Can he build, maintain and grow a promising, but disjointed franchise. Can he make them as successful as Marvel, because that's the clear aim. It's not a job I envy, just given the challenge John's has. It's not insurmountable, but you have to feel 2017's Wonder Woman and Justice League need to be pitch perfect, for them to gain momentum.
The key asset Warner need to embrace is the scale and calibre of the characters at its disposal. In my view, it has the greatest heroes and the best villains. If anyone chooses to argue this, Batman and Joker, that's it, argument over! The story arcs and narratives are there, but utilising them successfully isn't an easy feat. It needs to take calculated risks with directors, as Marvel did, but give those responsible for bringing characters to life the empowerment and trust to do so. Notably both Batman Vs Superman and Suicide Squad have directors cuts, rated higher than the original cinema release. That to me is a worrying trend, that the story of the director isn't being trusted to be initially told, a trend I hope doesn't continue.
Let's be honest, for lovers of the comic genre, this era of film and the competition between both sides, is a win win situation. A decade ago you may have had one offering, maybe two a year, often typically popcorn films, heavy on action, light on dialogue. Now, you have a minimum of 4 major releases each and every year, of genuine substance and quality. Marvel have not only grown into the pioneering leaders of modern cinema, but also challenged DC to raise their game to compete on the same scale. This healthy competition is raising the expectations required to meet an ever more demanding cinema goer. If successful the spoils are there for all to share, but they must tread carefully, because you're just a Green Lantern away, from destroying a future franchise.
Marvel have taken the best part of a decade to reap the rewards of their patient, pragmatic approach, but it's paid dividends and then some. If DC show the same patience, resolve and respect of their audience, then they could share the same success. But lessons must be learnt and quickly, to avoid becoming the studio that failed to deliver, that missed the golden opportunity to not only rival Marvel, but even surpass them. Forget Batman Vs Superman, 2016's real war is between Marvel and DC and it's only just begun.