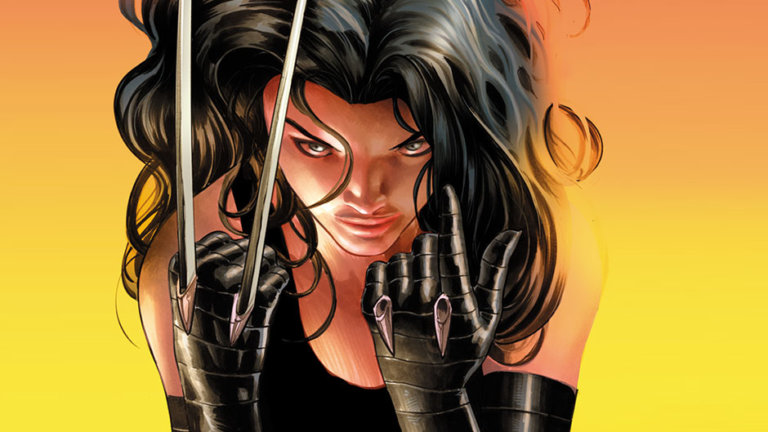 I haven't been this excited for a film in a long time. Wolverine is a huge favorite of mine and with the plot line seemingly having his "daughter" X-23 in it I thought I would provide background info on her origins, how she became the new Wolverine etc. With Hugh Jackman hanging up the claws after this movie he very well may die, as he does in the comic books. Having Dafne Keen, who plays Laura Kinney aka X-23 in the movie, step into the role as the new Wolverine just as she does in comic book lore would be outstanding. With that said this movie will almost certainly take plot lines from "Old Man Logan" and maybe even "Death of Wolverine" comic book arcs. Read these if you can get your hands on them, they are fantastic arcs. X-23's first appearance came in NYX #3 (NYX stands for District X, New York City) created by Craig Kyle and Chris Yost. With that being said have a read of my extensive background of her.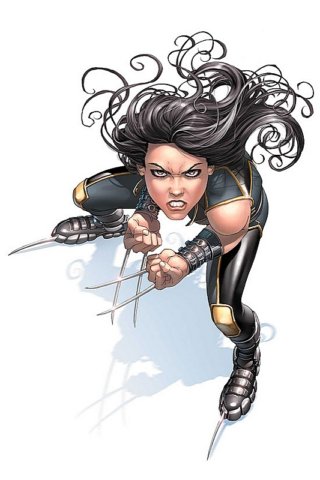 When a top-secret program attempted to recreate the original Weapon X experiment that involved the feral mutant Wolverine, they failed to secure a test subject who could survive the bonding process of the virtually unbreakable metal Adamantium to their skeleton. Seeking to take the project in a new direction, the project's director, Doctor Martin Sutter, recruited renowned mutant geneticist Doctor Sarah Kinney and tasked her with creating a clone.

Using the only available genetic sample from Weapon X, which was damaged, they were unable to salvage the Y chromosome after twenty-two attempts. Kinney proposed they create a female clone, and though her request was initially denied, she still went ahead and produced a viable female subject, prompting Sutter to reconsider. Despite resistance from his protégé Doctor Zander Rice, whom Sutter had raised after Rice's father had been killed by a bestial Wolverine at the original Weapon X Project, Sutter allowed Kinney to proceed. As revenge for her insubordination, Rice forced Kinney to act as the surrogate mother for the clone, and she gave birth to "X-23".
Seven years later, raised in captivity X-23 was trained to be a weapon. Kinney did her best to ensure the child retained some semblance of humanity, but her efforts appeared to be in vain. After seven years, Rice had X-23 subjected to radiation poisoning in order to accelerate the activation of her mutant gene, and forcibly extracted her claws and coated them with Adamantium. After Rice realized the child was growing soft, he blamed her sensei, one of the few people who treated her with kindness, and tested a chemical compound called "trigger scent" on him. The "trigger scent" causes Laura to kill mercilessly anything in her path, and thus she murdered her best friend. Rice already had a replacement in the wings, a woman named Kimura. Kimura was harsh and strictly punished X-23 for the death of her sensei.
Three years later, X-23 was sent on her first field mission to kill Presidential candidate Greg Johnson. She was assigned the mission as somewhat of an "advertising" ploy. Numerous other missions followed, as X-23's services were sold to the highest bidder. She was left emotionally stunted as a result. Her missions took her to locations all over the world, including Saudi Arabia, Las Vegas, Japan, Colombia, the Congo, and many others. For one mission she was assigned to pose as the Kingpin's daughter and kill the ones who had captured her, bringing the head of their leader back. Rice, in an attempt to avenge his father's murder, abandoned X-23 on a particularly dangerous mission with A.I.M. but she survived against overwhelming odds and managed to return to the Facility. After her return to the facility Kimura punished her for not coming back with Rice.
Sarah Kinney let her out once, not as an attempt to escape but instead to use X-23 to help her find Kinney's niece, Megan, who had been kidnapped. X-23 found and rescued her with ease. Ultimately, Rice persuaded Sutter to hand control of the program over to him, then secretly ordered X-23 to kill Sutter and his family. X-23 was able to kill Sutter and his wife but was unable to kill their son. Instead, she let him live. Later, Rice revealed to Kinney a chamber with dozens of incubation pods containing female clones before he fired her. Before fleeing the Facility with X-23, Kinney gave her one last mission – destroy the pods and kill Rice. However, Rice was able to exact revenge on Kinney from beyond the grave, as he had earlier exposed her to the trigger scent, sending X-23 into a rage that caused her to kill her mother.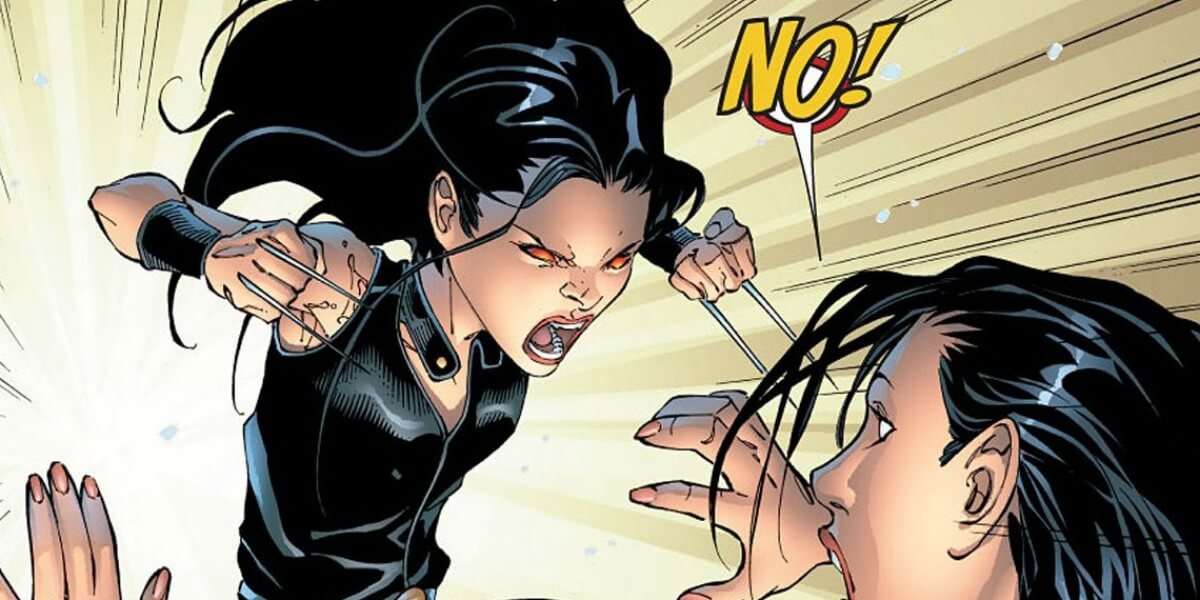 As she lay dying, Kinney named X-23 "Laura".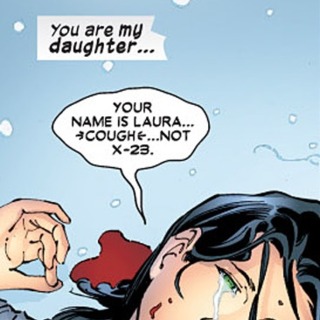 X-23 traveled to San Francisco and tracked down Megan and Debbie (her mother's sister). Introducing herself as Sarah's daughter, she moved in with them. Although Megan experienced vivid nightmares of her abduction, her family believed these to be utter fantasies. X-23 informed Megan that the man in her nightmares was indeed real and that she had killed him. Debbie's boyfriend turned out to be an agent for the Facility who had been instructed to manipulate X-23 into killing Megan and Debbie using the trigger scent. However, the agent fumbled the assignment and was killed by X-23. Facility agents stormed the house, led by Kimura. X-23 managed to get Megan and Debbie to safety by handcuffing Kimura to a radiator and then triggering an explosion in the house, buying some time. After X-23 and Megan parted, X-23 decided to confront the man who made her creation possible – Wolverine himself!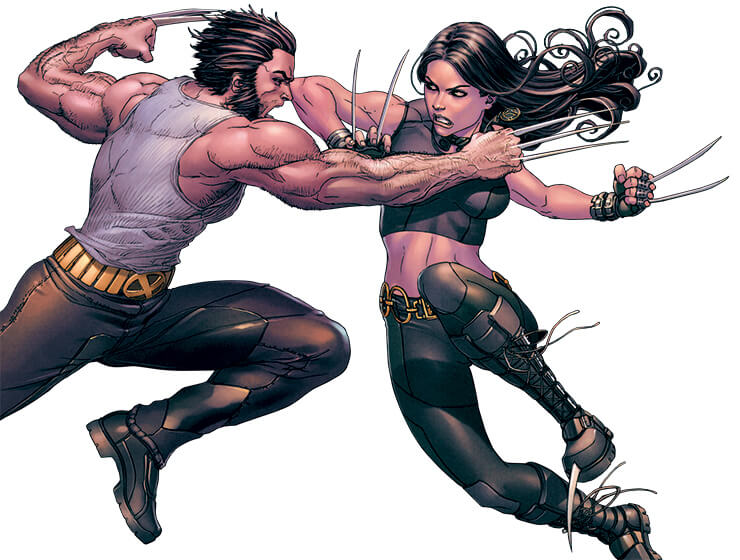 X-23 tracked Wolverine to Xavier's mansion and engaged him in a battle, defeating him via tactics and manoeuvrability. However, she did not kill him. Instead, she told him why she had come. Wolverine revealed that he was aware of X-23's ordeal, having received a detailed letter from her mother. The talk was interrupted when Captain America came to arrest Laura. As a captive of S.H.I.E.L.D., Laura was interrogated by Captain America and Matt Murdock. Despite the mayhem in her past, Matt Murdock accepted X-23's innocence. Captain America wanted X-23 to atone for the murders she had committed. However, he ultimately freed X-23 in order to avoid S.H.I.E.L.D.'s exploitation of her as their own weapon. X-23 surfaced in New York two years later and was found living on the streets by a pimp named Zebra Daddy, who took her in and employed her as a prostitute. X-23 met Kiden Nixon, a young mutant with the ability to freeze time when in danger. Together with Kiden's teacher, they rescued another young mutant, the feral Catiana, from an angry mob. Zebra Daddy tracked X-23 down, but with the aid of her new-found friends and the mutant named Felon, Zebra Daddy's thugs were defeated. X-23 killed him to save the lives of her friends. X-23 later took a job at the mutant-themed Wannabee's nightclub in the Mutant Town district of New York. It was there that she saved the life of the daughter of mob boss Don Parisi from a gang of thugs, whom she killed. The deaths inadvertently implicated Wolverine, prompting his teammates in the X-Men to investigate. X-23 instinctively attacked Wolverine on sight, but he was eventually able to calm her down. She led the X-Men to Parisi's daughter. After aiding the X-Men against Parisi's super-strong mutant enforcer Geech, X-23 fled the scene. She later returned to help the X-Men save victims of a car accident, after which she was enrolled at the X-Men's Xavier Institute.