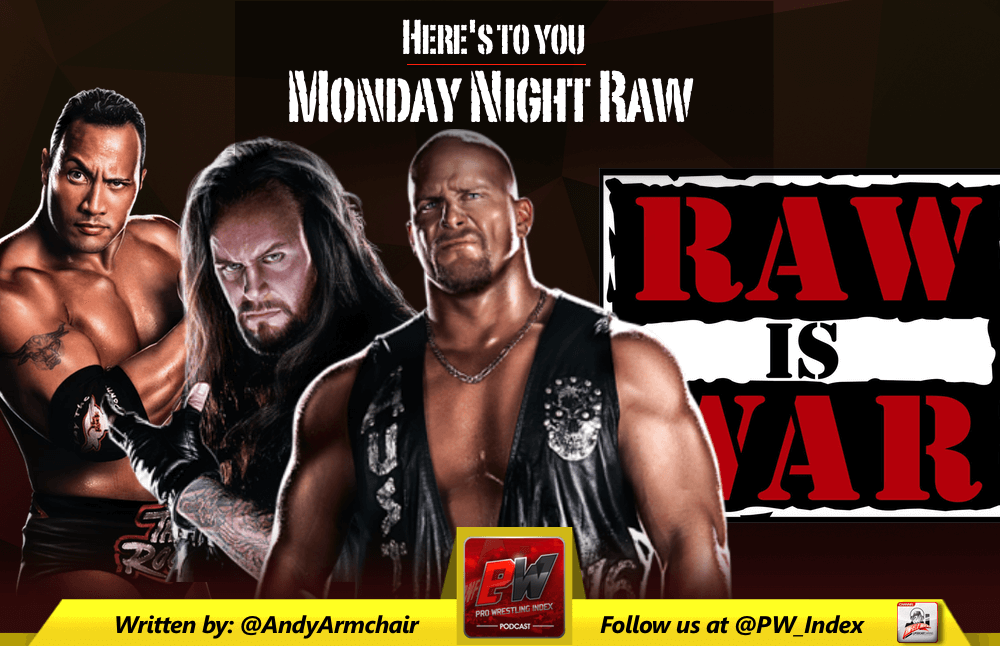 Here's to you - Monday Night Raw
It was just after WrestleMania V when I was first exposed to the weird and wonderful world of professional wrestling, or "American Wrestling" as it was known at the time to me. I had, of course, seen the likes of Big Daddy and Giant Haystacks on ITV World of Sport, but that never really grabbed me.
The then World Wrestling Federation was different though – Hulk Hogan, Ultimate Warrior, Macho Man Randy Savage, Ravishing Rick Rude, Demolition, Hart Foundation and The Rockers were like nothing I'd seen before. Initially, I thought it was a bit silly because it was so over the top, but I just couldn't stop watching. It was fun and I could suspend belief whilst I watched the action and enjoyed the likes of Bobby Heenan and Jesse Ventura insulting their on-air colleagues and twisting what was in front of my eyes to justify the actions of a heel. I was also taken by the energy of the crowds, the music, the atmosphere; it was simply fun.
This was the beginning of my love affair with wrestling, that despite the ups and downs, still exists to this day.

I've said ups and downs because there have been times when I've either stopped watching, stopped caring or contemplated walking away for good. The early 1990's was one such time and despite two of my all-time favourite in-ring performers, in Bret Hart and Shawn Michaels, being involved at the top of the card, the overall product had gone stale and there was a multitude of gimmick characters that I had no interest in. In fact, my interest waned to the point where I'd stopped watching for some time. This was the mid-1990's, Raw was already a thing, but it was just another WWE show and I was no longer a fan or a regular viewer.
Stone Cold Era
Then, somewhere around the turn of 1996 I just happened to watch an episode of Raw and the whole product seemed to have moved on a bit, it was grittier than I'd remembered. Essentially, as I'd grown up and was no longer struck by the cartoon-like characters, it seemed as though WWE had grown up a bit too. It still hadn't done enough to really draw me back in though until a guy called Steve Austin made an impression as this aggressive heel. His King of the Ring win and subsequent historic promo had me hooked and suddenly, I was interested again. Fast forward to the aftermath of SummerSlam that year, where Austin had to forfeit the Intercontinental title due to injury and I couldn't miss this great weekly show Raw. My love for the business was well and truly rekindled.
Essentially, when I think of Monday Night Raw, I think of the Austin era.
That's not an old-school fan unable to move on and constantly harping on about "the good old days", it's just how influential that era and Stone Cold Steve Austin was and still is. It was an incredible time for the business and I'm glad I was a fan and able to enjoy it and soak up that incredible atmosphere that resonated through the tv screen on a weekly basis. Fans were rabid for the product and their energy shone through with seas of handmade signs and pops that were deafening.
Supporting Cast
Of course, it wasn't just Stone Cold that was hot, the Undertaker was an evolving presence, The Rock was on the road to becoming a worldwide megastar, Mick Foley was defying all those who doubted his ability in WCW and Triple H was leading a massively over D-X and approaching his prime. Vince McMahon was at the height of his creative powers and his peak as a heel that fans loved to hate and was utilised so brilliantly for storylines to get wrestlers over, whether they be heel or babyface.
The likes of Hogan, Savage, Piper, Hall and Nash were forgotten about because Raw was fresh and exciting, the perfect weekly tv vehicle for an evolving product. The debut of Chris Jericho was evidence of a guy underappreciated at WCW, but capitalised on perfectly by WWE and immediately thrust into the upper echelons of the card. His debut build up and reveal was brilliant – a star was born.
Over the years of watching Raw, there have been so many memorable moments that it's difficult to list them all and thankfully, they weren't all during the attitude era either. Yes, WWE went through a lean period from the mid 00's until around 2011, but even those years provided moments that will be forever etched in the conscious, with Edge playing a prominent role.
2011 was the year CM Punk delivered his 'shoot' style promo, the pipe bomb, and since then there's been the Shield break up, the explosion of Daniel Bryan, the return of Brock Lesnar, the Money in the Bank cash-in of Dolph Ziggler, the debut of Paige, the festival of friendship and even Braun Strowman destroying Roman Reigns to the delight of a ravenous crowd.
Raw has changed and evolved over the years, providing many highs and lows, both in terms of the level of entertainment on offer and the emotion, covering the tragic losses of Eddie Guerrero, Owen Hart and countless legends, as well as the premature retirements of Daniel Bryan and Edge. Raw remains the flagship show for WWE and even after 25 years, that is unlikely to change anytime.
Long live the War Zone.