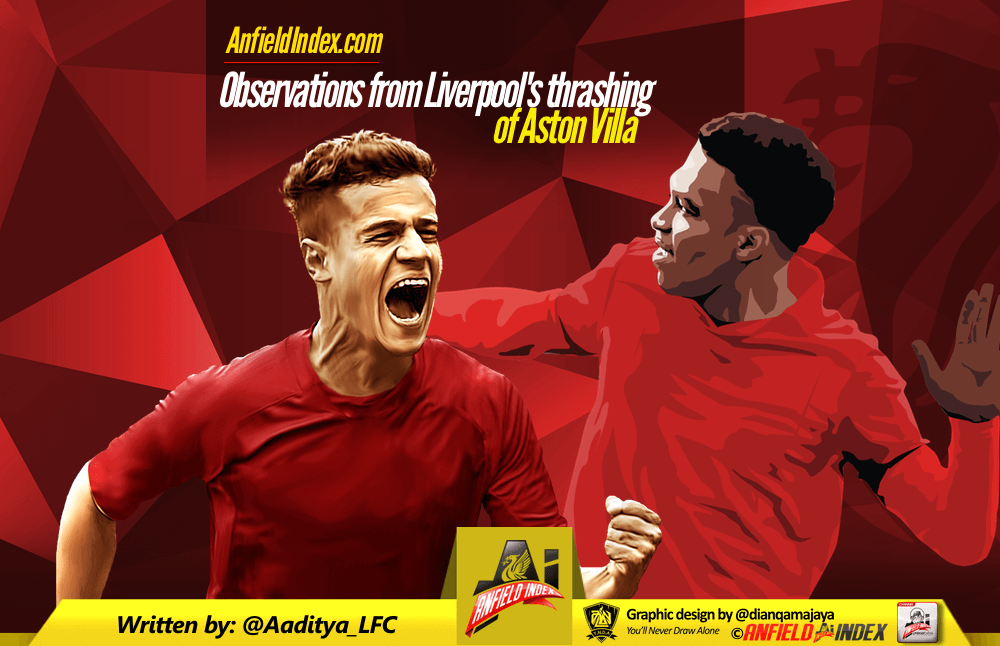 Observations from Liverpool's thrashing of Aston Villa

A sunny afternoon in Birmingham saw the sun shine back on Liverpool, as Aston Villa slid further towards the Championship. In a game where Liverpool didn't need to be at even half their best, Villa barely put up even a semblance of a fight. Here are my thoughts from the game.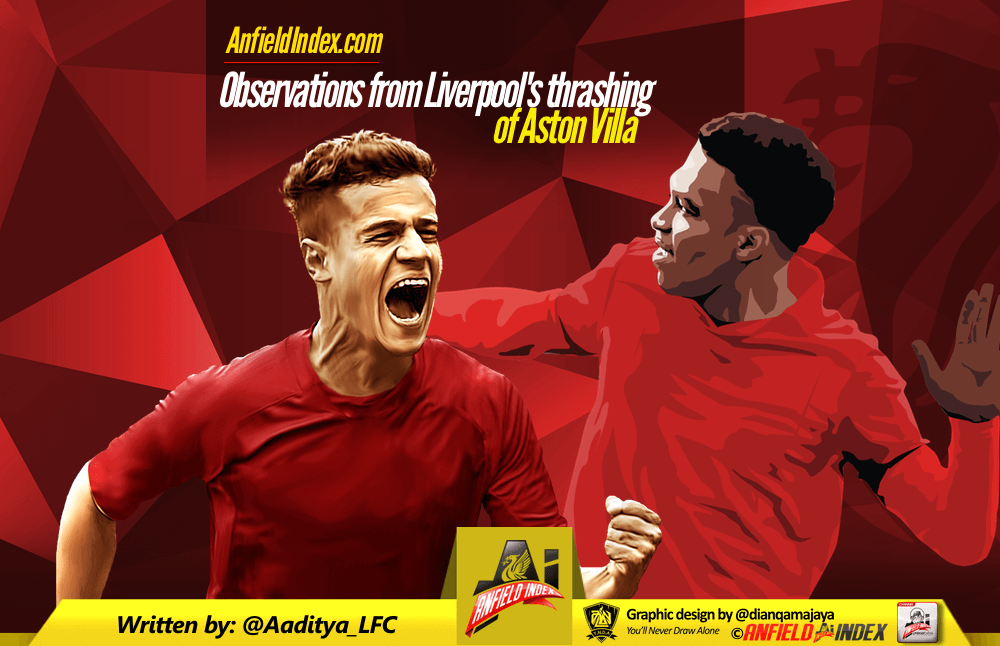 We should not get carried away. Yes, 6-0 is a huge margin of victory and you can only play the opposition given to you, but it is important that we don't get ahead of ourselves. Villa were woeful and barely tested us in any area of the pitch. Obviously, this will be a huge confidence booster, but it definitely papered over some obvious cracks.
Daniel Sturridge doing what Daniel Sturridge does. After a long time, we scored with what was our first shot of the game. That is what Daniel Sturridge brings to any side that he plays for. It was a well-taken goal from a perfect cross by Coutinho – the clinical finishing that everyone has been crying out for. He was unlucky not to have had another goal, as a strong left-footed strike was well saved by Mark Bunn. He did all this, while at walking pace throughout. There is a lot left in the locker for Sturridge, and if he can keep himself off the doctor's table, Jurgen Klopp will surely be a happy man.
We scored from a set-piece. Actually, two set-pieces. That is a welcome relief after all our struggles this season, in that aspect. After his deliveries being poor all season, James Milner put in a perfect cross that evaded Mamadou Sakho, but neither Joleon Lescott nor Bunn could keep it out. Jordan Henderson also played in a nice, flat ball for Kolo Toure to get an easy header on goal, but in truth, a better side would have defended that corner much better.
Jordan Henderson. I have not liked what I've see from Henderson in the past three or four games. He has continually been bypassed in midfield and been poor in possession. One cannot help but feel that he could be a weak link and get exposed by top class central midfielders. As was the case with Milner for a long time from the start of the season, all Henderson seems to be doing these days is covering ground, but being useless at everything else. The captain needs to pull up his socks.
Sturridge, Firmino and Coutinho. Although there wasn't the fervent attacking flair that a lot of people expected, there were a lot of encouraging signs from Liverpool's attacking triumvirate. This was the first time the three of them played together, and there were some neat touches and fabulous interplay between the three of them. But, with Sturridge and Coutinho just returning from injuries, they were never going to hit it off straight away as a combination. Although they did get the goals, tougher tests await. Nevertheless, the signs are encouraging.
Kolo! He is probably the most loved member of our squad, and it was fantastic to see him get on the score sheet. All through this season, he has done his job when called in and looked far more secure than any of the other centre-backs. He uses his experience to perfection, and plays well within his limitations.
Surprising goal scorers. Who would have thought that Nathaniel Clyne, Kolo Toure and Emre Can would get on the score sheet in the same game? Although Villa were poor, all three took their goals really well – especially Can. Goals from midfield will be a huge positive for us going forward, and Can's ability is there for everyone to see. He just needs to be more consistent, and we will have a mighty fine player on our hands. Also, Clyne, Toure and Can have more Premier League goals than Eden Hazard this season!